I've got another review for you today but this one is short, very short but it's of a product that I find and think you'll find very useful. Well you'll find it useful if you're like me and have many hard drive floating around. I reviewed something similar a few years ago but it was a bit more expensive than the one I have today. What I have for review has a long name but it's a very simple product that allows you to safely store and still access your hard drives. The product is called the Anti-Shock Silicone Protective Case with Ventilation for 3.5″ HDD Hard Disk Drives, and it's a silicone case for your hard drive basically. Anyway, read on to learn more…
Product Name:  Anti-Shock Silicone Protective Case with Ventilation for 3.5″ HDD Hard Disk Drives
Author: Kristofer Brozio
Tech Specs,Features or the Basic Info
Dimensions: 6.18 in x 4.25 in x 1.3 in
Weight: 3.67 oz
Price: $4.20
The Review
There's no special packaging for this product, just a basic plastic bag but much isn't needed really.
Here's the top view of the silicone case. If you notice the corner have indentations in them, when I show you the next picture of the bottom you'll see a mate for those half-holes. This was you can buy more than one and be able to stack your hard drives in the cases securely.
Then here's the bottom of the case, it does have many holes for ventilation. You can see the protruding parts that I mentioned earlier as well.
On the end is a rectangular opening, but the other three sides are sealed.
The next step of course is to put a hard drive in the case.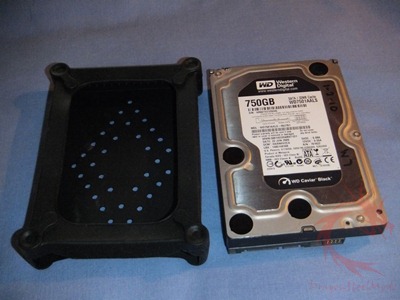 Getting your hard drive in the case is fairly easy, it's silicone so it's very flexible you just kind of stretch the case over the drive and fit it into place. The case isn't exactly a tight fit but your hard drive will not fall out, it is tight enough. I think the idea of not being skin tight is so that some air can get around the drive, this makes sense to me. I have to mention it's not loose at all, I may have given that impression, it is tight, just not skin tight.
Here's the bottom where you can see the green PCB board of the hard drive through it.
Here's the opening with the hard drive connections showing:
One thing nice about this case is that you don't have to take it out of the case to use it. Since it's silicone it can act as a vibration dampener as well while the drive is sitting on your desk and in use as an external drive.
Summary and Comments
For the price this product is well worth it I think as it will protect your drive and still offer access to it.
The case can act just like an external enclosure, but since it's silicone it will help dampen vibration while in use.
There's not much else to say about it really, it's simple product that I think is just extremely useful.
Now I need to go and order about 10 more to cover the rest of my stray hard drives I have floating around.
DragonSteelMods gives the Anti-Shock Silicone Protective Case with Ventilation for 3.5″ HDD Hard Disk Drives a 4.5 out of 5 score.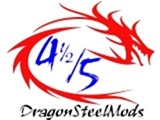 Pros:
+Protects your hard drive when not in use
+Acts as vibrations dampener if used as external HDD case
+Inexpensive
+Can be stacked with other silicone cases
+Very simple to use
Cons:
-Could be a tighter fit
review# 749
Disclosure: This product was given to DragonSteelMods for review by the company for review purposes only, and is not considered by us as payment for the review; we do not, never have, and never will, accept payment from companies to review their products.
To learn more about our review policy, testing methods and ratings please see this page.