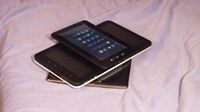 Are cheap or inexpensive Android tablets really worth it? I think so and
you could call this an article or you could say it's a rant, but with the
latest announcements of these tablets that cost hundreds of dollars it got me
thinking a bit. I've got inexpensive tablets and I like them very much, I don't
see anything wrong with them as long as you're informed and buy a decent
inexpensive tablet. Just like anything its buyer beware especially when you've
got many manufacturers making the same thing and competing for your hard earned
money.
Verizon just announced that it's getting the new Samsung
Galaxy Tab 7 which is just a Galaxy Tab but seven inches in size. Not
much special about it honestly except for maybe the price of $350 just for the tablet
and then of course you'll need to pay Verizon for a wireless data plan and pay
an additional $10 per month just to add it to your account. So say you have a
two year plan, the tablet costs $350, and then you'll need to pay an additional
$240 on top of that and then there's also the data plan costs. Without the data
plan you're already paying $590 for the privilege of owning and using the
tablet on the Verizon network. I picked the cheapest plan for pricing through
Verizon for just a tablet and for only 4gb of data which is ridiculous for a
tablet but it's just an example and it comes to $40 per month not including tax
and fees and other wonderful stuff they tack on. So right there you're talking
the total cost to own the tablet for two years is $1550 not including taxes and
fees and such and after all that you're talking at least $2000 for it when all
is said and done. I personally can't justify that especially when in about six
months or less a newer better tablet will be coming out and in two years that
nice new tablet you got now will be a dinosaur in technology terms.
Not to pick on Samsung but they also just released the Galaxy
Note 10.1 and from what I've already read it's not that great
especially for a price of $500. That doesn't include any carriers fees or data
plans and all of that either. Just not worth it especially since in a few
months a new version will be out.
I have three inexpensive tablets and the ones I have are of decent
quality.
The first one is the Le
Pan TC 970 which is an amazingly well made tablet and when new it only
sold for $250. Sadly the company stopped supporting it so we're all stuck with
a tablet running Android 2.2. That's the operating system of course; the tablet
itself is easily on par with the likes of Motorola and Samsung tablets in terms
of build quality. For that price you wouldn't expect much but it has GPS built
right into it where I can use it for apps like MapMyRun or Navigon for full fledged GPS navigation to where I need to go. Not that I
would use a tablet for running, but it's just the point that I can since it has
GPS built right into it. You'll find tablet from the bigger names companies costing
three times more that don't even have that.
The second one is a tablet that I just got recently the Kocaso
M760 7" Android tablet and it's not bad actually, especially considering
it's priced at under $100 ($89.99 at Geeks.com). It has decent specs and it's
running Android 4.0, it's very well made and it even comes with a very nice
quality carrying case.
The third tablet I have is from Idolian and it's called the TouchTab
10 and it sells for $240. This tablet is a beast with its ten inch
screen and it's also running Android 4.0 as well. It's fully feature packed,
well made and it just looks great overall and of course it works perfectly.
I do have a fourth tablet but it's honestly a piece of junk with a
resistive screen, a very cheap feel, and this thing doesn't even have access to
the android market. I
wouldn't mention it except of course I'm talking about cheap Android tablets in
this little article. That cheap is something that you just don't want, but
there are tablets like the three I mentioned above that are not only
inexpensive but very well made and packed with features that are well worth the
cost. The best part of course is you only pay once for it, sure there's no
mobile internet on it, just wi-fi, but I found that's all I need really. If I
take my tablet with me while I'm out I use it for movies and games which don't
require internet access. I have my phone, an HTC Titan for email and browsing
the internet if I need to. I don't need mobile internet access, and a lot of
places have free wi-fi if I really want or need it.
In my opinion it's just not worth it to purchase an expensive tablet and
still be stuck paying monthly for it when it's going to be obsolete soon
anyway, or when you've got a company that is going to stop updating it. Tablets
that came out last year are obsolete and no longer supported sadly; you spent
hundreds of dollars on this wonderful new tablet only for the company to stop supporting
it. The other bad thing is that you're most likely still paying for it since
you signed up for a two year contract through your carrier.
I would rather pay my money once to company that makes a decent,
inexpensive product that will support it fully through updates. Cellular
carriers are notorious for not updating their devices; it seems to me they just
don't care once they've got your money.
Oh well, I'm happy with my tablet choices, even though it's not one from
Samsung or Motorola, but I didn't pay several hundred dollars for it and that
makes me even happier.
Author: Kristofer Brozio