I've got another video review for you today of yet another case for the HTC One. Today I have the ArmourDillo Hybrid Protective case which features dual layers of protection to keep your HTC One safe from bumps and the rigors of daily life. Overall it's not a bad case in my opinion so read on…
Tech Specs,Features or the Basic Info
ArmourDillo Hybrid Rugged Case for HTC One Video Review
Two layered case protects from bumps, scrapes and drops
This Armour case has been designed for those with an active lifestyle. It provides great shock and impact absorption thanks to its lightweight TPU polymer with a precisely positioned hard skeleton for added protection. The design of the exoskeleton extends out to protect vulnerable parts of your device such as the corners and sides.
Includes an impact resistant polycarbonate exoskeleton
The ArmourDillo case features a tough exoskeleton which covers the back and vulnerable corners of your phone from damage. They are made from an impact resistant, polycarbonate plastic shell which will protect your phone from accidental damage. Keeping it looking as good as new.
Textured grid finishing improves grip and comfort
Complementing the protective properties of the polycarbonate shell is a textured finish which not only helps to improve grip when holding the handset but also makes it more comfortable in the palm of your hand.
Portable flip-out stand for landscape viewing
The hard attachable exoskeleton doesn't just add strength to the silicone shell but features an ergonomically designed stand that pulls out to give the perfect viewing angle for videos and pictures. The stand then simply clicks back into place and lays completely flat so there is zero bulk added to the case.
Cut-outs for the main ports and features of the phones
This case has been designed specifically for the HTC One and has cut-outs for the main ports and features of the phones such as the camera with flash. The power and volume buttons are covered but remain functional while encased to give unbeatable protection.
Price: $19.99
Video Review
Photo Gallery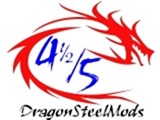 review# 790
Disclosure: This product was given to DragonSteelMods for review by the company for review purposes only, and is not considered by us as payment for the review; we do not, never have, and never will, accept payment from companies to review their products.
To learn more about our review policy, testing methods and ratings please see this page.