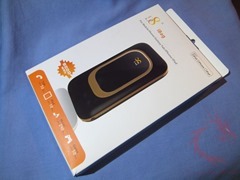 I'm back with another video review for you of another external battery from D8 but this one is called the iBag and it is 8000mAh in capacity and has dual USB ports. Included with the iBag you'll find several charging tips and an AC adapter to charge the iBag itself. Read to learn more..
Tech Specs,Features or the Basic Info
When you need to make the absolute most of your time on the road, look no further than the iBag 1209, featuring simultaneous, full-speed USB ports compatible with all of your USB devices
Apple certified external battery. "Made for iPhone" means that an electronic accessory has been designed to connect specifically to iPhone and has been certified by the developer to meet Apple performance standards. It has successfully passed FCC, CE and ROHS. D8 iBag 8000mAh external battery is designed to get you powered up, without getting in the way.
Our D8 8000mAh External Battery packs deliver 50h extra talk time to your Mobile Phone,240h Extra Music to your MP3 player,10 Extra time to your IPAD, or 50h Extra play to your Gaming time. It's perfect for using on traveling and outdoor activities.
Innovations in battery cell technology allow us to pack more power into less space – making this the most compact ever 8000mAh external battery. In addition to portability, the D8 iBag sports two concurrent, high-speed ports. So whether you're charging an Apple or Android device, you won't need to wait around.
Share the convenience of a portable charge with multiple devices. Simultaneously charge two devices with our D8 iBag dual USB external chargers.
Product Specification:
MICRO USB INPUT: 5VCD/1A
USB 1 OUTPUT: 5V/2.1A
USB 2 OUTPUT: 5V/1A
Size: 130*68*22.5MM
Price: $24.95 (from Amazon at time of review)
Video Review
Photo Gallery
review# 799
Disclosure: This product was given to DragonSteelMods for review by the company for review purposes only, and is not considered by us as payment for the review; we do not, never have, and never will, accept payment from companies to review their products.
To learn more about our review policy, testing methods and ratings please see this page.