Our lives are very mobile and sadly that means batteries, and from my experience most batteries don't last all day on smartphones even with light use. When you don't have power left on your phone what do you do? The answer of course is to charge it! What happens if you don't have your charger with you or maybe you do and don't have access to a power outlet? The answer then would be an external battery like what I have for review today. The battery is called the iPocket and it's a 5000mAh external portable battery that will provide up to an extra 250 hours a talk time for most smartphones. Like the name suggests this battery is small and very portable, small enough to just put in your pocket. The iPocket comes complete with several tips for various popular connector styles but it has a built-in microUSB cable so you might not even need the tips depending on what devices you own. So read on to learn more…
Tech Specs,Features or the Basic Info
Product Name: iPocket D8-1206
When you need to make the absolute most of your time on the road, look no further than the iPocket 1206, featuring simultaneous, full-speed USB ports compatible with all of your USB devices
Apple certified external battery. "Made for iPhone" means that an electronic accessory has been designed to connect specifically to iPhone and has been certified by the developer to meet Apple performance standards. It has successfully passed FCC, CE and ROHS.
Get powered up:
If you're a long-haul power user, our D8 5000mAh External Battery packs deliver 20h extra talk time to your Mobile Phone;150h Extra Music to your MP3 player;6h Extra time to your IPAD; or 20h Extra play to your Gaming time. It's perfect for using on traveling and outdoor activities.
Simple, reliable power
Designed to be functional and efficient-nothing else. The D8 iPocket comes ready to serve as an unobtrusive, lightweight solution to your daily power needs. Four small LEDs alert you as to how much capacity you've got left.
Product Specification:
MICRO USB INPUT: 5VCD/1A
USB OUTPUT: 5V/2.1A
Size: 120*62*17mm
Price: $15.05 (from Amazon at time of review)
Unboxing
As with any review we start out with the box, and it looks fine to me. There's a picture of the iPocket on the front along with some specs and features listed on the back for you.
When you open the box you'll find all the contents inside of a plastic tray for shipping and storage.
Once you get everything unpacked you'll find a bag of tips, two USB cables, user guide and the iPocket battery itself.
The first cable is just a standard microUSB style cable that's used to charge the iPocket or you could use it for charging other devices as well.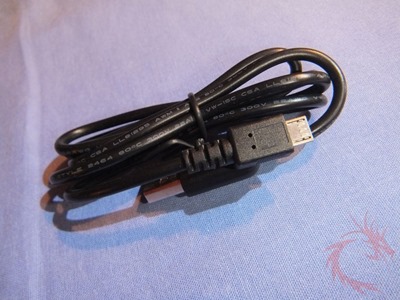 The second USB cable is a elastic or spring style and on one end you'll find a female connection that works with the included tips and the other end is just a regular USB connector.
There are four tips included for Apple and Samsung devices along with a microUSB and a miniUSB.
The iPocket itself is small and black but you can get it in white if you want. The casing is plastic as you'd expect and it has a nice looking wavy design on it. As the name suggests it's small enough to fit into your pocket with dimensions of about 120 x 62 x 17mm or about 4.7 x 2.4 x .7 inches and it weighs about three ounces. The build quality is great, I like the looks of it and it seems well made but there's no carrying case for it sadly.
On the front is a small yellow button that's for power and for checking the battery status.
One of the things I like most about the iPocket is that it has an integrated microUSB cable that wraps around the outside of the casing and locks into place. The cable allows you to just pull it out and charge your device without the need of any additional cables or adapters.
On the bottom or front of the iPocket you'll find two USB ports. A standard USB port which is 5v and 2.1 amps, and then a microUSB port which is used for charging the iPocket itself.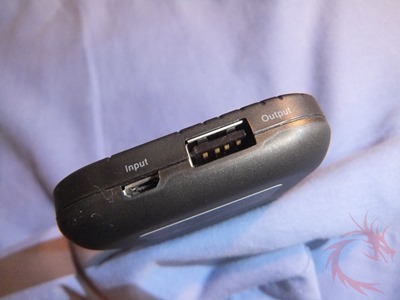 You won't find much on the bottom, just an ID labels with some basic information on it.
Usage and Testing
Before you use the iPocket you'll need to charge it with the included cable, simple, just plug it in and let it do its thing. When the battery arrived it was at 75% charge so it didn't take long to fully charge it, but according to the specs it should take about six hours to charge from a fully depleted battery.  The battery is 5000mAh so I guess six hours isn't bad really.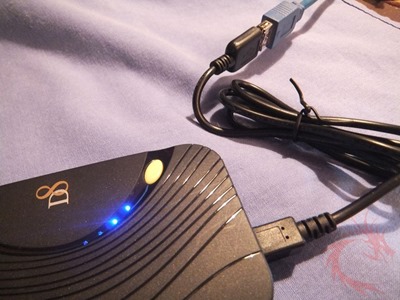 Once charged the battery should provide about 20 hours of extra talk time, 150 hours of extra music playback, 20 hours for gaming and about 6 hours for an iPad. Yes this little battery can charge an iPad thanks to it being 2.1amps on the USB output. The iPocket is fully Apple certified so it's safe to use with any and all Apple devices.
As I mentioned the button is power checking the status of the iPocket, just press it and the LEDs will light up to indicate power levels of the battery. There are four LEDs each representing 25% so you can get a good idea of the battery capacity you have left. The button is also used for turning the iPocket on to initiate charging. The iPocket doesn't charge automatically, you must press the button to start the charge process.
For testing I charged stuff and I started with the built-in microUSB cable as I thought that would work perfectly with my HTC One Android phone. I plugged it in and pressed the button and it started charging. No problems, no issues here at all.
Since it's Apple certified I figured I should test it with an Apple product and I used the included cable and tip to charge my iPod Touch. Here again charging was the same, just as fast as it would be if I was charging over standard USB connected to my computer.
I did try other things as well.  You can charge two things at the same time, you just use the built-in cable and then one of the others or one that you have. Double charging does use the battery more quickly, but that's to be expected.
Charging time for everything I tried took about as long as it would with a regular USB cable connected to my computer. No surprises here.
Summary and Comments
The D8 iPocket is a very small and portable powerhouse really, it's got a 5000mAh battery that you can comfortably fit right in your pocket so you've always got power on the go when you need it.
The iPocket is aesthetically pleasing, it's looks great and it's designed well. It's small and lightweight to fit in your pocket or in your bag and not add much weight at all to your daily carry.
The 5000mAh battery should provide a whopping extra 250 hours of talk time for the average smartphone, but you can use it with your portable gaming system or MP3 player or even a tablet like the iPad.
There are two things I very much like about the iPocket. The first is the standard USB port, you don't have to use the tips and cable if you don't want to, as long as you have the cable then you're ready to charge. The second thing, and my favorite, is the built-in microUSB cable so you really don't ever need to take anything else with your except the iPocket itself.
The iPocket is also capable of charging two devices at one time which can come in handy I would think.
I personally think the iPocket is a great little portable battery, but sadly they don't include a carrying case. If I was to carry this battery with me a case wouldn't matter much as my phone charges via the built-in microUSB cable, so it's not that big of an issue but if you want to carry the cables and tips you'll need something to put them in. The iPocket itself seems more than rugged enough for you to just toss in your bag and go, it should survive just fine I would think, so the case would be more for the accessories than the actual iPocket.
DragonSteelMods gives the  a 4.5 out of 5 score and our Recommended Award as well.
Pros:
+Inexpensive
+Built-in USB cable
+Simple to use
+Comes with popular tips
+Has standard USB port for charging most anything
Cons:
-No carrying case
review# 772
Disclosure: This product was given to DragonSteelMods for review by the company for review purposes only, and is not considered by us as payment for the review; we do not, never have, and never will, accept payment from companies to review their products.
To learn more about our review policy, testing methods and ratings please see this page.