Gadgets and our portable devices can be expensive, getting into tablets they can be very expensive. I have an Acer Iconia A500 Android tablet that I just love and it needs protecting. I do have a silicone case for it and a protective bag as well but I was thinking about getting some sort of skin for it, I was thinking of clear but I opted for something a bit more interesting. Today for review I have the DecalGirl Acer Iconia Tab A500 Green Dragon Skin that offers style and protection for your tablet. The skin covers the device front and back, but included is a voucher for a free wallpaper so you can match the skin to your screen. Read on to see what I mean and to learn more about the skin…
Product Name: Acer Iconia Tab A500 Green Dragon Skin
Author: Kristofer Brozio
Tech Specs,Features or the Basic Info
Acer Iconia Tab A500 Green Dragon Skin
DecalGirl skins for the Acer Iconia Tab A500 offer stylish protection for your Acer Iconia Tab A500 with form-fitting front and back coverage to help protect it from the minor abuse that makes a device look worn over time.
The premium adhesive-backed vinyl conforms perfectly, yet adds minimal thickness in order to retain compatibility with third-party cases and accessories. DecalGirl Acer Iconia Tab A500 skins arrive in attractive retail packaging, which means they are perfect for gift giving! Each includes a code for a matching background wallpaper for a virtually seamless look on the front of the Acer Iconia Tab A500!
This product is compatible with:  Acer Iconia Tab A500
Price: 14.50 GBP / $23.50
The Review
The skin came shipped to me in a very stiff and thick cardboard envelope to prevent bending and damage. It was just a plain brown envelope so I don't think a picture is needed.
The skin was provided for review by My Trendy Phone which specializes in mobile accessories.
The skin itself is in a clear plastic bag or envelope as well.
This skin is for the Acer Iconia A500 Android tablet so it's just two pieces really.
The top half of the sheet is for the front of the tablet. There's a bonus that comes with DecalGirl skins, and that's a free high quality wallpaper that matches your device. You just nee to go to the website listed and enter the included code to get your skin, it will be emailed directly to you.
The bottom of the sheet is the back of the tablet which is a full picture of the dragon.
The skin is nice and thick and seems durable , as with most skins it's made of vinyl. So no surprises here. The picture or art itself is very nice with attention to detail and it looks very professionally done.
Here's my tablet with the skins before I put them on: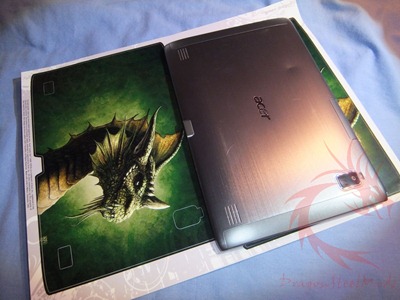 Like any skin or protector you'll need to clean your device first and then have some patience. This skin isn't too hard as it doesn't have a lot of small parts to it.
I applied the back first and that only required two pieces, the main skin and then one that covers the memory card door.
The skin does have cutouts for the camera, flash, speakers and docking port:
The memory card door extends to the back of the tablet so there's a small piece of skin that you can apply there to keep the look uniform.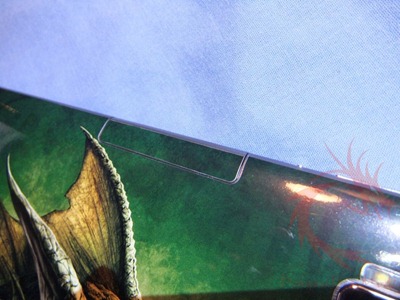 Before I started I went and got the wallpaper and put it on my tablet. I found the wallpaper was a bit larger than needed so I had to crop it, it took a few times to get it right but it looks good I think. The wallpaper fills in and the skin continues the picture on top and bottom of your screen. It makes for a very nice look.
Here's the lock and home screens with the skin and wallpaper in place.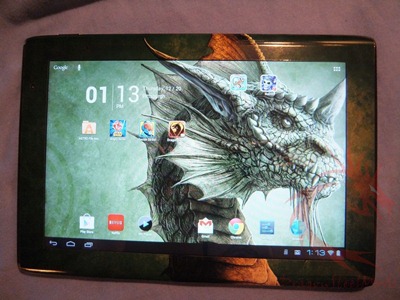 Getting this skin attached was a bit more tricky than the back piece as I had to get it lined up correctly with the screen, but overall it was fairly easy. Here's a couple shots of it in place:
One thing I noticed is that there wasn't any pieces of skin for the sides of the tablet. It would have been nice to have those I think, for the added protection but also to keep the look uniform. As is though I think it looks fine without it as well.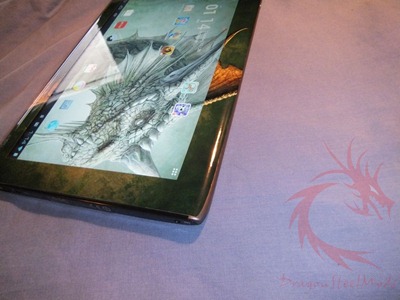 The front skin is cutout for the camera and sensor, you just have to make sure it's lined up correctly. That's where I had the issue with the application, I started at the other side when I should have lined up those holes first really.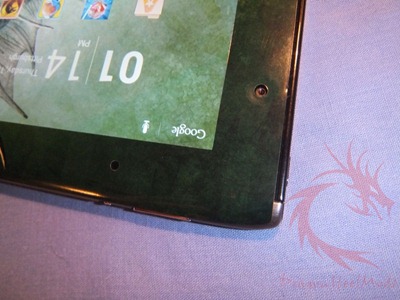 Summary and Comments
I'm the type of person that has to have a screen protector and case on my devices. I figure if I spent so many hundreds of dollars on it, it needs protecting. Sure you can get a clear skin but why not get something more interesting like a DecalGirl skin to add a bit more personality to your devices?!
The skin is just a skin, it's not meant to protect from drops but it should offer protection from scratches and light bumps. A case is nice, but you may not want to keep your tablet in a case all of the time so why not add a little bit of protection with a skin while it's out of the case?
The free matching wallpaper is a nice bonus I think, it completes the skin on the screen side and just makes it look better really.
The price is about $24 for the skin and that's well worth it really for the added protection you'll get.
DragonSteelMods gives the  a 4.5 out of 5 score and our Recommended Award as well.
Be sure to visit My Trendy Phone for the latest and some good deals on your mobile needs like iPhone 5 accessories and even Galaxy S3 accessories.
Pros:
+Well made skin
+Will protect tablet from minor bumps and scratches
+Looks great
+Includes free matching wallpaper for device
Cons:
-Doesn't cover sides of tablet
review# 748
Disclosure: This product was given to DragonSteelMods for review by the company for review purposes only, and is not considered by us as payment for the review; we do not, never have, and never will, accept payment from companies to review their products.
To learn more about our review policy, testing methods and ratings please see this page.