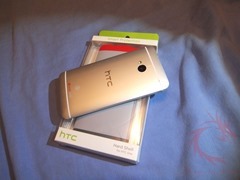 HTC not only makes phones and other devices but they makes cases for their devices as well and they're not bad overall. Today I've got another video review for you of the HTC Double Dip Hard Shell Case for the HTC One, so read on..
Tech Specs,Features or the Basic Info
HTC Double Dip Hard Shell Case
Protect the phone you love without changing its elegant looks. This stylish three-color wrap-around case features a premium hard shell that guards against damage with a front screen overlay.
SIZE:
140.9mm * 72mm * 12mm ( HTC One )
COLOR:
-Black/Grey/Black
-Red/Light Grey/Black
Material
Polycarbonate with matte UV coating
Special Features
-Front screen overlay for solid screen protection
-Easy to hold matte UV finishing
Price: $20.50 from Amazon at time of review
Video Review
Photo Gallery
review# 782
Disclosure: This product was given to DragonSteelMods for review by the company for review purposes only, and is not considered by us as payment for the review; we do not, never have, and never will, accept payment from companies to review their products.
To learn more about our review policy, testing methods and ratings please see this page.