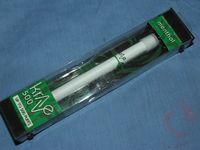 Last week I posted my review of an electronic cigar from
VaporCorp / Smoke51, this week I've got a couple electronic cigarettes from a
subsidiary of the Smoke51 called Krave. They kindly sent me along both sample
of menthol and regular or tobacco flavors. These Krave500 electronic cigarettes
are disposable ones, meaning you 'smoke' them and just toss them out. They're
certainly unique and very different than a real cigarette.
Product Name: Krave500 Disposable Electronic Cigarette

Author: Kristofer
Brozio
Sponsor: Krave / Smoke51
Tech Specs,Features or the Basic Info:
Product Information
Krave500 is the "no
thinking" approach to E-smoking. Krave500 is a 1 piece Electronic Cigarette – there are no separate
atomizers or filter or batteries to worry about. Simply remove your Krave500 from the package
and enjoy your electronic cigarette smoking experience virtually anywhere, up
to 500 puffs – which is the equivalent of 2 packs of traditional tobacco
cigarettes. Once you are done with your
Krave500, simply dispose of the entire unit.
Note: Overall puff
efficiency is estimated and can vary depending on the size, duration, and
strength of inhalations.
Price: $ 19.95
A Better Look at Things
:
Krave sent me both menthol and regular or tobacco flavors of their
Krave500 e-cigarettes. They come in a sturdy plastic box.
The e-cigs look very similar; the regular has a bronze colored band
while the menthol has a green colored band. They both have a silicone cap over
the mouth piece that just slips on and off, you can keep it for use and
transport of course. They both have a little leaf sticker on them with a pull
tab on it, you pull this off to reveal the air hole and to activate the e-cig.
They both have a little leaf sticker on them with a pull tab on it, you
pull this off to reveal the air hole and to activate the e-cig.
Here are both ends, the inhaling hole and the 'ash' end. It's gray
plastic and textured to look like an ash, but it has a red/orange LED in it
that lights up when you inhale.
The e-cigs are actually fairly heavy; it's mostly battery after all,
much different than a real cigarette.
Testing and Comparison:
I smoke menthols, Siler Eagle brand, fairly cheap menthols actually,
they cost about $5 per pack here in Pittsburgh, so they're not exactly generic,
but they cost less than national name brands. I used to smoke Newports
actually, but I've come to like what I smoke now as they're not as strong.
Here's the e-cig next to one of my regular cigarettes. The Krave500 e-cigs
would be considered 100's in size, something I don't care for but I'm curious
to try them out.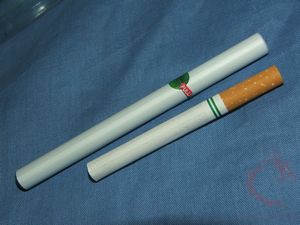 Smoking an e-cig is certainly a unique experience, at least with one of
these it is. Puffing or smoking one is actually kind of difficult when compared
to a real cigarette. When you smoke a real one you just inhale and it's very
easy and you get smoke on the first try. With the Krave500 you need to puff several times before you get any
significant amount of vapor or 'smoke'. Puffing or inhaling is much harder as
well, you really have to suck to activate it. The act of sucking or puffing is
what activates the heating element inside to vaporize the nicotine.
Here are a couple pictures of the tip lit up, one with no vapor and one
with a bit in the frame. I like the red better than the funky green of the
Smoke51 e-cigar.
With the e-cigs there really isn't much heat like a real cigarette has;
unless you really puff on it then you get an almost burnt taste with the vapor.
E-cigs take practice to get accustomed to using that's for sure. There is
plenty of vapor or smoke with them to inhale and exhale so it's a similar
experience to a real cigarette, but not quite.
The taste of the Krave500 menthol doesn't really have that much menthol
flavor to it, you can tell it's not plain but it's not like a real menthol
cigarette though. The regular or tobacco flavor tastes as it should though I'm
not exactly partial to them.
The cost is relative to where you live I think. For example if you live
up in New York you'll pay about $10 to $11 per pack, but here I pay about half
that. The Krave500 is supposed to be equivalent to two packs of cigarettes and
costs $19.95 each plus shipping. So yes they can cost more, but you have to remember
that you're not getting the other junk with them, just nicotine vapor
basically. I dare to say it's a healthier alternative, but at a higher cost.
Summary and Comments
The Krave500 electronic cigarettes are certainly unique and different
than a real cigarette. They do take quite a bit of practice to learn how to
'smoke' them.
They offer quite a bit of vapor when you get accustomed to how they
work.
The flavor of the menthol is very light; I would prefer a much stronger
taste myself.
DragonSteelMods gives the Krave500 Disposable Electronic Cigarette a 4
out of 5 score.
Pros:
+Better for you than traditional cigarettes…
+Not real smoke, vapor
+Fairly inexpensive, but relative to cost in your area of real
cigarettes
Cons:
-Not very strong menthol flavor
-Have almost a chemical aftertaste
-Large size
-Hard to puff
review# 685
Disclosure: This product was given to DragonSteelMods for review
by the company for review purposes only, and is not considered by us as payment
for the review, we do not, never have, and never will, accept payment from
companies to review their products.
To learn more about our review policy, testing methods and ratings
please see this page.