Noctua makes great coolers, but as time goes on the older ones just won't work with the new sockets that keep coming out. The coolers Noctua makes are excellent quality and perform well and they do come at a price, a higher price than most other out there, but they're well worth it as you know if you've ever owned any. I have several of them and I recently decided to upgrade one of my kids computers with my old Core i5 setup and wanted to use a good cooler with it, and that meant I grabbed one of the unused Noctua ones that I had sitting around but I found it wouldn't work with the socket 1156. Noctua has a solution for this though, the NM-I3 Mounting Kit that works with any of the new and old Noctua coolers so you can use them with newer sockets. The kit essentially makes them never become obsolete so that Noctua cooler you bought three years ago can still be used with the latest CPUs of today. The kit can be obtained free of charge actually from Noctua if you provide proof of purchase or it can be bought for only $10, which is well worth it I think to be able to use the older cooler with the newer platforms. So read on for a quick review of the NM-I3 kit….
Product Name:  Noctua NM-I3 Mounting Kit for Noctua CPU Coolers
Author: Kristofer Brozio
Tech Specs,Features or the Basic Info
The NM-I3 SecuFirm2 Mounting-Kit makes all Noctua CPU coolers compatible with Intel's LGA1156/1155 & LGA1366 sockets for Core i5 and Core i7 processors. Designed to combine outstanding reliability, optimal contact pressure and easy, straightforward installation, SecuFirm2 is an enthusiast-grade mounting system that meets the highest demands in safety, performance and ease-of-use.
Owners of Noctua CPU coolers can obtain the NM-I3 Mounting-Kit free of charge via this form. A proof of purchase (photo, scan or screenshot of the invoice) of both a Noctua CPU cooler and either a socket 1156/1155/1366 mainboard or socket 1156/1155/1366 CPU are required.
The NM-I3 SecuFirm2 Mounting-Kit is also available for purchase at some of our resellers. If you need the kit urgently, please consider ordering it via a local reseller.
Ultimate Reliability
Noctua's SecuFirm mounting systems are renowned for their excellent reliability, minimize the stress on mainboards and make it possible to transport the system without uninstalling the CPU cooler. With tens of thousands of units sold, there's not a single known case of failure.
Backplate with Screw-Threads
SecuFirm2 utilizes a backplate with screw-threads that simply installs on top of the stock LGA1366/LGA1156/LGA1155 backplate. Not having to remove the stock backplate significantly reduces overall installation time and eliminates the risk of damaging the CPU socket. Thanks to the screw threads, the backplate can't slip during the installation process.
Integrated Fastening Brackets
Fully integrated fastening brackets with fixed pressure screws and springs greatly facilitate the installation process. No more fiddling with screws and springs!
Maximum Convenience for Enthusiasts
Thanks to the use of separate mounting bars, uninstalling and reinstalling the cooler only takes two screws. Loosening two thumbscrews gives full access to the socket without the backplate falling off, making it a child's play to change CPUs even if the mainboard is installed inside a case.
Backwards Compatibility
SecuFirm2 is fully backwards compatible with all Noctua coolers since 2005, making them safe long-term investments that can be used for several CPU generations.
Socket compatibility: LGA1366, LGA1156, LGA1155, LGA775
Supported CPU series: Intel Core i5 & Core i7
Cooler compatibility: Noctua NH-C12P, NH-D14 SE2011, NH-U12P, NH-U12P SE1366, NH-U9B, NH-U12F, NH-U9F, NH-U12, NH-U9
Price: $9.99 (from Amazon at time of review
)
Unboxing
There's no special or fancy package for the NM-I3 mounting kit, just a brown box with a label on it.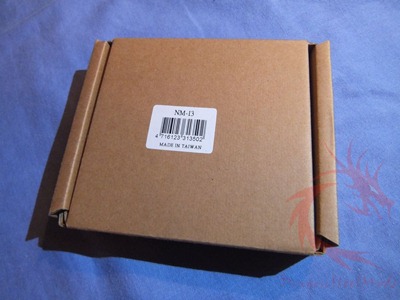 When you open it the first thing you'll see the instructions and then under that you'll find mounts attached to the cardboard and then under those is all the rest.
Then here's everything unpacked: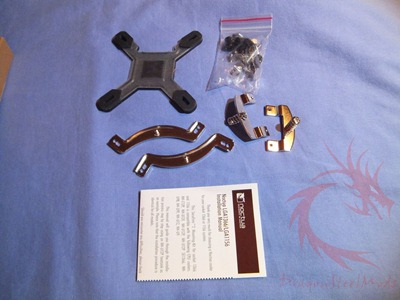 The two mounts that attach to your cooler has springs already attached to them: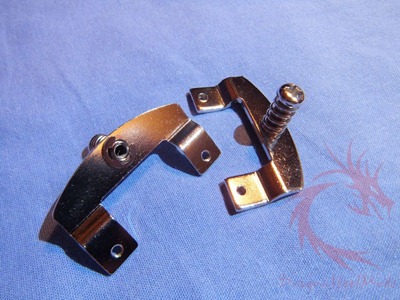 The mounting bars for around your CPU socket have a threaded bar sticking out of them where the cooler mounts attach to.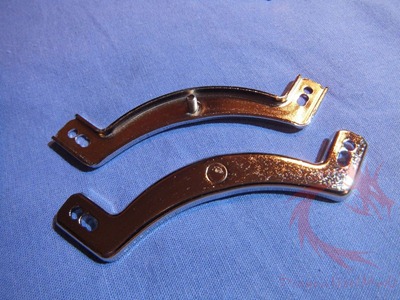 The back plate can actually be used with socket 775, 1155 or 1156. The plate has the cut-outs for the screws on the socket back plate.
Then here's the rest of the parts that comes in the kit: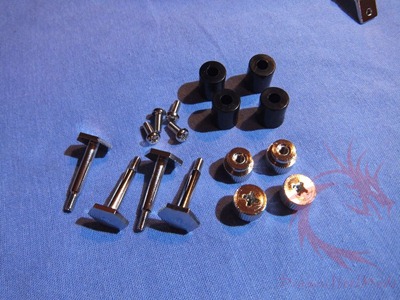 They give you the exact amount of screws and parts needed, I would have liked to have seen an extra of each but you just have to be careful not to lose any I guess.
Installation
Installation is very simple, just follow the instructions which are similar to the original ones that came with the cooler.
I wanted to use my Noctua NH-C12P with my socket 1156 board which yes can use socket 775 coolers, but the funky back plate with screws of the 1156 socket prevented me from using the original hardware that came with the cooler.
Here's a picture I grabbed from the NH-C12P review showing the original back plate and other hardware:
Then here's the one that came with the NM-I3 mounting kit which is made quite differently with cut-outs for the screws on the 1156 back plate: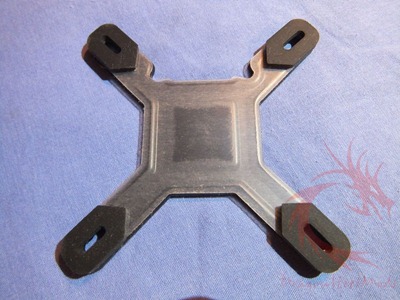 I just had to attach the new mounts to the cooler with the provided screws: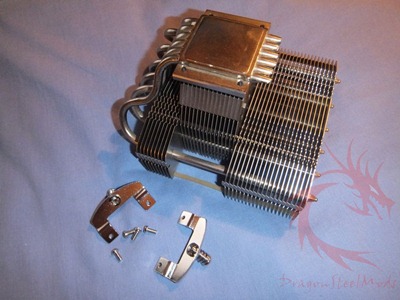 If you look at the above picture showing the original mounts that came with the NH-C12P you'll see they're different than these here:
Then here they are installed to the cooler:
Next was to install the back plate and mount, simple to do you just have to watch the orientation of the cooler when installing. Once the mounting brackets are installed to the motherboard you can install the cooler.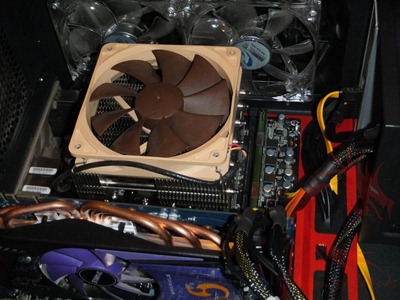 Very simple process, no real issues but now I can use my older Noctua cooler with my newer CPU socket setup.
Summary and Comments
The Noctua NM-I3 Mounting Kit can bring new life to your old and aging Noctua coolers and make them useful once again.
The kit is simple to use, just follow the instructions and you'll be done in a mater of minutes really.
Technology moves fast and not everyone including companies can keep up, but Noctua wants to make sure their older coolers can still be useful with new CPU sockets. I think this is admirable, I don't know of many companies that would support products that are no longer even produced. Most companies would be more than happy to just sell you a new cooler for that new socket style that just came out, but Noctua wants to make sure you can still use the cooler you bought for the last generation socket on the new socket. It's nice to see them doing this, they didn't have to, it just goes to show that Noctua is a company that will go above and beyond for their customers.
The kit can be obtained free of charge from Noctua or it can be purchased for about $10. I think that price is well worth it to be able to use an excellent cooler with a newer socket setup.
DragonSteelMods gives the Noctua NM-I3 Mounting Kit a 5 out of 5 score.
Pros:
+Simple to use
+Adds functionality to older coolers
+Inexpensive
Cons:
-No extra screws in case you lose any
review# 750
Disclosure: This product was given to DragonSteelMods for review by the company for review purposes only, and is not considered by us as payment for the review; we do not, never have, and never will, accept payment from companies to review their products.
To learn more about our review policy, testing methods and ratings please see this page.