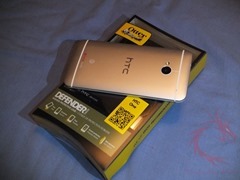 OtterBox makes what I think are the best cases you can get in terms of quality and overall protection. The OtterBox Defender series is the ultimate in protection with thick full body coverage and even a built-in screen protector. If you want the best protection for your HTC One the OtterBox Defender case is the way to go surely. Read on…
Tech Specs,Features or the Basic Info
With pristine sound quality, high picture quality, infrared features and the next big thing in user interface, this stellar device is screaming for protection from our number one selling case. So why should you trust the Defender Series as your go-to HTC One case? For starters, the Defender Series is practically indestructible with three layers of rugged protection. A screen protector is built into the polycarbonate shell, allowing the case to deflect anything your day might throw at it, and the included belt-clip has a kickstand for convenient media viewing. The Defender Series HTC One case has exceptional protective capabilities that accentuate the innovative design of the HTC One with a custom form, fit and function. Your HTC One is too valuable to take a chance on breaking it. Our Defender Series gives you the best chance at protecting your investment. Long live your phone.
Features:
Open access to all device features
All buttons are fully functional through the Defender Series
Power button is left exposed to allow for HTC's additional functionality
All microphones are exposed for call clarity
All sensors are exposed through the HTC One case for full functionality
Front-facing speakers transmit sound through the case
1-year warranty
Material:
Polycarbonate inner shell fits around the device to protect against impact
Built-in clear polycarbonate screen protector prevents scratches and dust intrusion
Silicone slipcover wraps around inner shell to absorb drops
Holster-style belt clip is included
Weight & Dimensions
Approximate Weight: 4.49oz / 127g
Approximate Dimensions (without holster): 5.73in x 3.07in x 0.68in / 145.5mm x 77.9mm x 17.3mm
Approximate Dimensions (with holster): 5.92in x 3.43in x 1.45in / 150.5mm x 87.2mm x 36.8mm
Price: $49.95 from OtterBox
Price: $29.99 from Amazon at time of review
Video Review
Photo Gallery
review# 789
Disclosure: This product was given to DragonSteelMods for review by the company for review purposes only, and is not considered by us as payment for the review; we do not, never have, and never will, accept payment from companies to review their products.
To learn more about our review policy, testing methods and ratings please see this page.