I've got a quick review today of something simple but yet a product that people might find useful, I know I do, they're micro USB cables but these are 6.6 feet long. They're from a company called Boxeroo and they're inexpensive but well made as they're braided making them rugged and durable. Decent product overall, read on to learn more…
Tech Specs,Features or the Basic Info
Micro USB Cable, Boxeroo 3-Pack 6.6ft/2m Rugged Nylon Braided Charging Cable High-Speed with Stainless Steel Connector for Samsung, HTC, Motorola, Nokia, LG, Android Cellphones and More
-6.6 feet Extra long of portable high-quality cables can meet your requirements meet your requirements which is ideal for data syncing and charging at home, workplace as well as on travel.No longer worry about reaching for the socket when lying on the bed or sitting on the back seat.
-High-quality durable nylon jacket is made from Eco-friendly material, anti-wearing,antioxidant and corrosion resistant. Durable yet soft enough to roll up for easy carriage and storage.
-3-Pack color collection allows more choices for use.
High speed charge & Sync cable at 480Mbps. More copper wires have been contained in each single cable to ensure you can enjoy fast charging and data transferring experience, thus saving your time greatly.
Extra Long Lengths
2M micro charging and data sync cable gives enough reach for you to use phone when keep your phone powered and data sync while at home, at workplace as well as on travel. Lightweight and portable design allows for easy storage and carriage.
Snug Connection
Connector head made of stainless steel snugly fits compatible devices even without taking off case. You can smoothly plug in and pull out of the port.
Hi-speed Charging & Data Sync
These cables can power phone or tablet and transfer data at speed of 480-Mbps by connecting it to USB adapter or computer. Fast transmission can save time effectively.
Price: $6.99 (from Amazon at time of review)
Testing and Usage
The packaging is just a heavy duty zipper style bag which is fine as they're not exactly fragile.
There are multiple colors available and I got black, yellow and pink in the pack for review.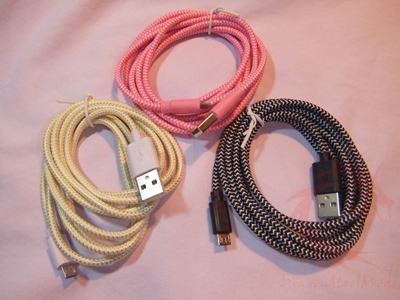 The ends or connectors are stainless steel and the microUSB end is small so it should fit fire with most phone cases that have charging ports in them.
The cables are a nylon braiding making them rugged and durable. These are 6.6ft or about 2 meters in length.
For testing I charged things and I'm happy to report that the small connector worked great with the Otterbox case I have on my Samsung Galaxy S6 phone.
I was charging my phone over the fast charring port which supplies 2.1amps and the cable handled it with no issues and the phone charged nice and fast.
Summary and Comments
The Boxeroo microUSB cables are very well made, they're a simple product that is needed. Most cables that come with out devices are short, 3 feet and under, and that isn't always the best for a lot of uses. Having a longer cable is nice sometimes and these are a good choice I think. I've been using them a couple weeks now with assorted devices with no issues.

DragonSteelMods gives the Boxeroo 3-Pack 6.6ft Rugged Nylon Braided microUSB Cables a 5 out of 5 score.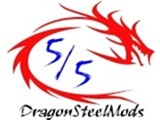 Pros:
+Small ends to fit most cases
+Rugged nylon braided covering
+Nice and long
+Inexpensive
Cons:
-None

Disclosure: This product was given to DragonSteelMods for review by the company for review purposes only, and is not considered by us as payment for the review; we do not, never have, and never will, accept payment from companies to review their products.
To learn more about our review policy, testing methods and ratings please see this page.