Everything anymore uses some type of memory card and  can remember when they were rather expensive but now you can get them very cheaply, and that's name brands not just off-brands. Most cameras use a stand SD or SDHC memory card, which is nice but I've found not all are created equal and the type you get or need to get depends on what you're going to be doing. Memory cards come with speed class ratings, and considering most things these days are HD you'll most likely want at least a Class 10 card which is meant for most any type of HD shooting be it video of consecutive stills. Today for review I've got the 16gb Sony Class 10 SDHC memory card which is not only rated at class 10 obviously but Sony boasts the card can reach speeds of up to 22mb/s. I've put it up against the 16gb class 10 card I've been using for comparison and I've found the Sony card actually went slightly over that 22 mb/s, which is a very good thing. So read on especially if you're looking for an inexpensive and fast memory card for your cameras….
Tech Specs,Features or the Basic Info
16GB Class 10 SDHC Memory Card
Store music, memories, media and more. This Class 10 memory card has a transfer rate of 22MB per second and is highly recommended for use with DSLR cameras.
Blazing fast transfer speeds of up to 22MB per second mean you'll spend less time transferring your creations and more time enjoying them. Shoot longer and faster since SDHC Class 10 memory cards are recommended for continuous shooting with DSLR cameras. Completely compatible with all SDHC/SDXC cameras and camcorder devices, it also comes with free file rescue downloadable software that helps recover photos and videos that have been accidentally damaged or deleted, even if they're AVCHD files. Create customized slideshows of your images with included x-Pict Story software.
Compatibility/Reliability
Sony SDHC Memory cards are compatible with multiple SDHC manufacturer devices providing the ultimate in flexibility. Sony SDHC cards have undergone rigorous testing ultimately providing optimized performance with your hardware device.

Free Downloadable Software
File rescue downloadable software helps recover photos and videos that have been accidentally damaged or deleted. It's the world's first software to support AVCHD files. x-Pict Story software is included in all Sony SD/SDHC cards and can be used for creating customized slideshows of your images.
Recording Time
Shoots up to 2,100 (16 megapixel) photos Records: Up to 6 hours 20 minutes of 5Mbps High Definition video Up to 1 hour 15 minutes of 28 Mbps full High Definition video
Storage
SDHC Class 10 cards are ideal for high-speed applications such as HD video recording and continuous shooting. Class 10 also supports fast file transfer.
Price: $13.68 (From Amazon at time of review)
Unboxing
Well it's not really an unboxing as the memory card just comes in a cardboard hang style package. You can see the memory card right on the front and there's specs and features listed on the back.
I'd like to point out one thing on the back that I think is of interest, Sony offers two free downloadable programs. File Rescue is what it sounds like, and then X-Pict Story which can help you make slideshows of your pictures.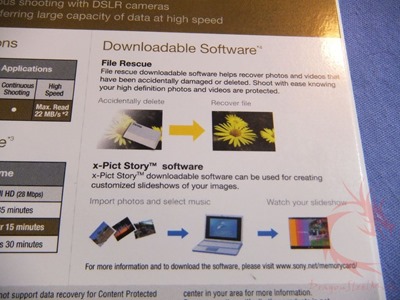 Then here's the card itself, it looks like most any other SD card. There is a sliding lock on the side so you can write-protect it if need be.
There's not much special at all about the back.
Installation and Testing
There is no real installation to this section, you just put the card in your camera, very easy to do.
I've been using the Integral Ultima Pro 16gb Class 10 SDHC card with my camera for a while now and it seems to work just fine, but since I got this Sony card I thought I'd compare the two.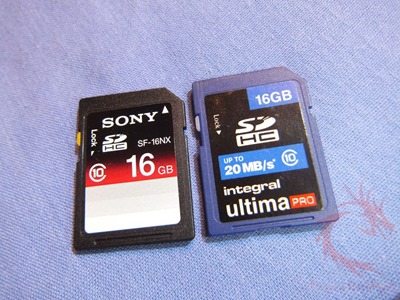 I've taken to using two types of card reader for testing.  My in-bay 3.5" USB 2.0 card reader that is attached directly to a header on my motherboard and a USB 3.0 card reader as I've found speeds can vary quite a bit and using the faster USB 3.0 can really show the potential of the card possibly.
The in-bay card reader is just a basic one, but here's the USB 3.0 reader, it's from Verbatim and it's an external one.
Now both of these cards are Class 10 which is pretty much what everyone should be using these days as most every camera is HD capable. The thing to look for is the minimum performance which should be at least 10 MB/sec for a Class 10 card. Some cards do come with special rating of their own as well. The Sony has the listed in the specs that it can do up to 22 mb/s and the Integral should do up to 20 mb/s. If they can do that great, if not then you want to see at least the rated 10 mb/s so you can have the ability to do HD video recording and consecutive recording of HD stills.
Now these are just memory cards so extensive testing isn't exactly required, I just use ATTO Disk Benchmark as it's well known and a reliable test for checking the speeds of storage devices.
I ran two tests on both cards, USB 2.0 and USB 3.0.
So first here's the USB 2.0 results:
The Integral reached speeds of very close to 20 mb/s for read and almost 17 mb/s for write. The Sony card hit slightly over 20 mb/s for read and just over 17 mb/s for write. Both cards hit the Class 10 rating of 10 mb/s, which is what you want to see.  The Sony boasts it can do up to 22 mb/s, and it feel short of that, while the Integral listed it can hit up to 20 mb/s and it feel short as well but came very close.
I then used the USB 3.0 card reader and ATTO:
Using the USB 3.0 interface we see the the Integral hit almost 23 mb/s for read speeds and just over 18 mb/s for write speeds. The Sony card hit over 23 mb/s for read speeds and it was about the same for write speeds, at just slightly over 17 mb/s.
So the Sony card I think is slightly better, and personally I think I'd rather use it with my camera, every little bit helps right?!
Summary and Comments
The Sony 16gb SDHC card performs very well, it goes well above the class 10 rating  so you'll have no problems recording HD video and stills with this card. The card is rated by Sony to go up to 22mb/s but in my testing it went over 23mb/s which is decent.
I found the card on Amazon for just under $14 which is a pretty good price for a name brand card like this.
The software is optional, you can head on over to the Sony site and download it and I guess it's useful especially the recovery software. Personally I don't have any use for making slideshows, but the recovery software can be very useful and worthwhile.
DragonSteelMods gives the Sony 16GB Class 10 SDHC Memory Card a 5 out of 5 score.
Pros:
+Useful software available for free
+Fast
+Inexpensive
+Performs above specs
Cons:
review# 756
Disclosure: This product was given to DragonSteelMods for review by the company for review purposes only, and is not considered by us as payment for the review; we do not, never have, and never will, accept payment from companies to review their products.
To learn more about our review policy, testing methods and ratings please see this page.