Tablets are great, I have a few of them myself and I very much enjoy them and I really enjoy taking them with me as entertainment, but that's just me. Many people use their tablets for work, but if you use your tablet for work or play you need a case for it when you take it with you. Tablets can be expensive, and accidents happen, and having a case of bag for your tablet is more than just protection, it will let you take things with you like your work or accessories for that tablet. Targus is well known for making cases and bags and an assortment of other accessories and for review today I have a case or bag from Targus that's actually called the Clamshell Laptop Case XS. These days laptop cases do double duty, they're being sold as not only laptop cases but with the rise in popularity of tablets, they're also sold as something to protect and transport your tablet. This is a good thing I think as it gives us more options when choosing a case or bag for our tablets. The type of bag you'll choose is of course up to you and your personal needs, today I have one such option for you to take a look at. This bag from Targus is fairly inexpensive, and it's got plenty or room inside with padding and plenty of pockets for your accessories.  So read on…
Tech Specs,Features or the Basic Info
Targus 10.2" Tablet Bag With Pockets – Black
Keeps your tablet safe whilst you carry it with ease
This high quality bag from Targus is perfect for protecting any tablet. It looks stylish and professional and also allows you to carry your essential accessories around with you.
Comfortable grab handle and optional shoulder strap
Making it easy to carry the bag at all times, you have two comfortable choices to carry around your tablet and accessories. Firstly, there is the built-in comfortable grab handles that make it easy to carry your device over short or busy journeys, and secondly there is an optional shoulder strap which makes it comfortable to hold over longer distances.
Multiple storage pockets and added organization
As well as having a separate pocket solely for your device, there are also other interior pockets for documents, accessories, phones and more. This helps to keep things well protected and organized at the same time.
High quality zips
Finished with high quality zips, you will always be able to easily access your device when needed with no fear of them catching.
Compatible with any tablet between 8.9" and 12"
This case has been designed to protect any tablet between the sizes of 8.9" – 12" perfectly, which includes the majority of manufacturers' tablets.
Price: £17.95 / $27.58
The Review
There's no special packaging for this bag, just a plastic bag, but then again it's a cloth bag and it doesn't really need any kind of protection.
The bag is primarily black with small red accents on the top.  The case is made from a nylon material and it's not what I would call clamshell, at least not what I think of when someone says clamshell case. The case is hard, but not inflexible.
The back of the case or bag is rather plain, just black really, no pockets or anything like that to be found.
The main compartment has two zippers that have large holes in then so you could put a small lock on the case if you want.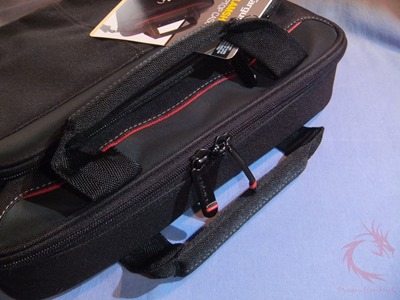 There is another smaller compartment on the front of the bag that also has dual zippers.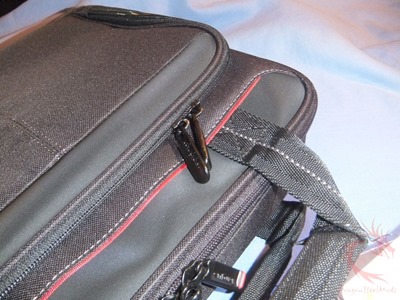 Inside of the front zippered compartment you'll find plenty of pockets for all of your stuff that you might want to bring along like your phone, adapter and other accessories.  There are five pockets in all.
In the back is a large velcro closing pocket that spans the entire width of the zippered section.
On the right side is actually two pockets, there is a mesh one in the front and a solid in in the back.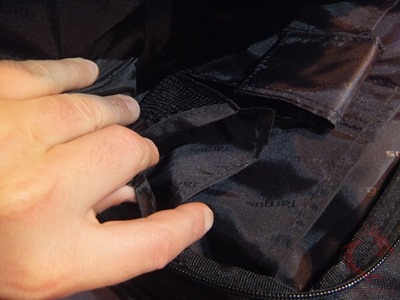 In the middle is a thin velcro closing pocket that would great for a cellphone or something similar.
Then off to the left a single larger pocket.  None of the pockets in the front section are really padded but the entire front is and the so is the back or bottom.
When you open the main section up you'll find the shoulder strap in there.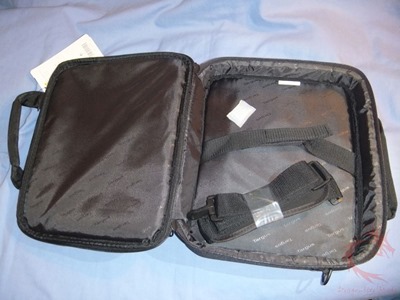 The top, bottom and all four sides are well padded for protection for whatever you're carrying.
There is a thick nylon strap with velcro on it to hold your tablet, netbook or small laptop in place while traveling.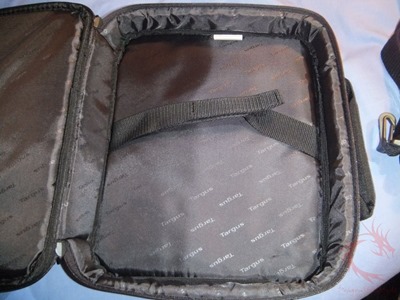 The shoulder strap is adjustable of course and it comes with a shoulder pad along with thick plastic clips.
On the sides of the bag are the rings for the strap, you clip them on and go.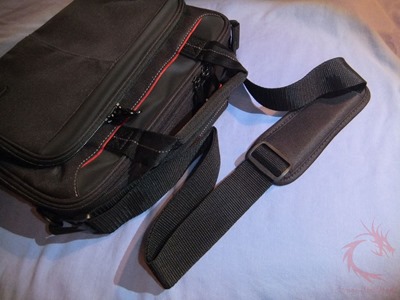 You can't exactly test a bag, as there's nothing to test, you just really see what fits and what doesn't and that's about it I think.
I grabbed my three biggest tablets, a 10.1", 10" and a 9.7" and put them in the bag and they fit fine with a whole lot of room left over. The tablets might be similar in size but the shapes are different. The 10" TouchTab10 tablet is actually larger than the 10.1" Acer Iconia A500 as it's more widescreen.
So yes there's plenty of room inside. That's one thing bag I guess about laptop bags being used for tablets, all the extra room inside. That extra room can be used for other things of course, like it would be great for folders or other papers and things that wouldn't damage the tablet. Overall this bag is bit too big for a tablet, but I guess it really depends on your needs.
Summary and Comments
This Targus bag can be used with laptops, netbooks or tablets and there's plenty of padding inside to offer more than enough protection for your daily commute to and from work or if you just want to take it with you for entertainment purposes.
The bag has five smaller pockets away from the main compartment that well let you take additional accessories with you like phones, chargers or whatever and those things will be protected thanks to the padding around that pocket. Your other stuffs won't come into contact with your tablet or laptop as it's a totally separate compartment, so you're safe carrying hard things like a charger than might cause damage.
The bag has a lot of padding in the main compartment, the top and bottom and all four sides have thick padding for protection from drops or just carrying it around with you as you go about your business. The bag offers an optional shoulder strap which can come in handy when you're overloaded with other stuff.
A tablet in this bag works but there's a lot of room left over really, I'm not sure this bag is really meant for a tablet but it can work if you want or need it to surely.
Overall it's not a bad bag really, there's plenty of protection and room for everything you need for your day.
DragonSteelMods gives the Targus 10.2" Tablet Bag With Pockets  a 4.5 out of 5 score.
Pros:
+Nicely made
+Plenty of pockets
+Lots of room
+Strap to hold tablet in place
+Lots of padding all around
Cons:
-A bit big inside for a tablet
Be sure to check out Gear Zap for Galaxy Note 10.1 Cases, phone cases and plenty of other tablet accessories.
review# 761
Disclosure: This product was given to DragonSteelMods for review by the company for review purposes only, and is not considered by us as payment for the review; we do not, never have, and never will, accept payment from companies to review their products.
To learn more about our review policy, testing methods and ratings please see this page.