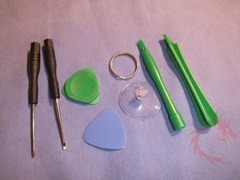 Hello and I'm back with a quick review for you of a tool kit from Tmart, it's a cellphone repair kit but it's officially named the Repair Opening Tools Kit Set for iPhone 2G/3G/3GS. Just because that's what it's called doesn't mean that's all it can be used for. I like collecting little tool kits like this, I find they come in handy often when working with electronics. As far as I'm concerned you can never have enough little tools floating around as I always seem to be needing another one. This little kit it meant for opening cellphones, but it can be used for tablets and such as well. The idea is that they are made of plastic and shouldn't damage your devices while you're opening them up to fix them or change the battery or whatever reason. This little kit contains eight pieces and it only costs $2.72 with free shipping, and for that it's worth it I think.
Tech Specs,Features or the Basic Info
This is Repair Opening Tools Kit Set for iPhone 2G/3G/3GS. New and high quality, you will like.
Features:
-New and never used
-High quality tools kit
-Perfect and impressive quality
-Extremely durable and useful
-Compact design and lightweight
Package Includes:
-2 x Plastic Prying Tools
-2 x Screwdrivers
-2 x Picks
-1 x Suction Cup
Extra Info: Compatibility: iPhone 2G, 3G, 3GS
Price: $2.72
The Review
There is no unboxing for this review as there is no box as it comes in a plastic zip style bag.
Here are the eight pieces for you:
There are two green plastic what I would call pry bars or prying tools, these have different thicknesses and widths. They are plastic so who knows exactly how long they'll last, but with care I would think they should last a while and you might be able to re-sharpen or re-shape the tips and edges if you damage them.
Then there are two of what very much resemble plastic guitar picks, these can be used for prying as well. These are plastic, and well that's a about it, the three corners on each are beveled to fit into the thin crevices on gadgets to help pry them open.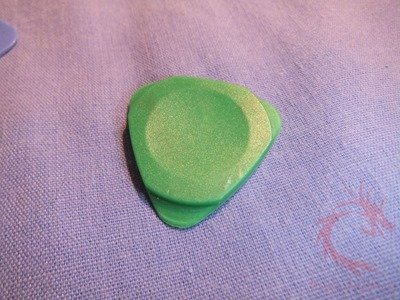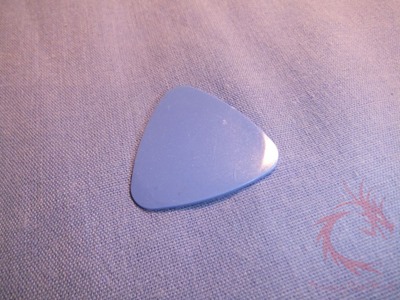 Then you'll find two small screwdrivers, one flat or slotted and one Phillips head. The heads are very small for access to the small screw head in most gadgets and electronics.
The last thing or things is a suction cup and a standard key ring. These are used together, you put the key ring through the hole on the top of the suction cup and you can used it to safely and easily remove a screen or back of a device by sticking it to it and gently pulling.
There's no testing part to this review as you can't really test this stuff, but it's an inexpensive kit that should work well when disassembling small devices.
Summary and Comments
So that's it really, there's not much too it but I thought it was worth sharing. I find stuff like this interesting and very useful in all the things that I do. My kids always want me to fix their toys and I dabble in fixing my own electronics as well, a kit like this is great for getting things open without damaging them.
Like anything though, you need to take care, even if they are plastic tools you could still damage your devices, so just be careful no matter what type of tools you use.
They are plastic and who knows how long they'll last, but it is inexpensive so it wouldn't be that great of a loss if you happened to break them…
Still it's not bad, as I said I personally like stuff like this and I know for me a kit like this will come in handy..
DragonSteelMods gives the Repair Opening Tools Kit Set for iPhone 2G/3G/3GS a 4.5 out of 5 score.
Pros:
+Very inexpensive
+Multiple uses
+Plenty of parts included
Cons:
-Plastic might not last
review# 767
Disclosure: This product was given to DragonSteelMods for review by the company for review purposes only, and is not considered by us as payment for the review; we do not, never have, and never will, accept payment from companies to review their products.
To learn more about our review policy, testing methods and ratings please see this page.