Yep I smoke, I want to quit and I've been trying electronic
cigarettes with little success honestly. Having collected different eCig kits
I've got accessories to go with them and that's one I have for review today,
the Vapor King Portable Charging Case. This case works very well; it lets you
charge on the go without the need for a power outlet. The case has a battery
built into it that charges via any USB port so you can charge on the go and
take a couple cartridges with you.
Product Name: Vapor
King Portable Charging Case Review
Author: Kristofer Brozio
Sponsor: Vapor4Life / Vapor King
Tech Specs,Features or the Basic Info:
Vapor
King Portable Charging Case
Our V4L Portable
Charging case makes charging your batteries quick and easy. Just insert your
battery into the PCC and go!
When it comes time
to recharge the PCC, simply plug it into a compatible USB port or adapter while
at home, at work, or in your car.
It's the perfect
e-cigarette accessory for when you're on the go.
Features:
-Portable
e-cigarette battery charger for V4L batteries
-Each PCC charge
can recharge a single battery up to 8 times
-PCC includes USB
cable for easy recharging
-Perfectly sized
for carrying in your pocket or purse
-Available in a
variety of popular colors
Note: The majority
of our V4L accessories can be used with KR808D-1 electronic cigarette
compatible products. For best results, always choose genuine V4L e-cigarette
products. Vapor4Life is not responsible for compatibility issues.
SKU: VK-PCC-black
Weight: 0.30 lbs
Price: $25.00
The Review
So there's no special packaging, just a plastic bag really.
When you pick up this case the first thing you'll notice is the weight of it, it's rather heavy for being so small. I have to say though, it's very
well made with nice strong hinges, the material is metal and plastic combined.
When you open it up you'll see the name and model information along with
a UISB connection, two LEDs and specs for an e-cig battery and two cartridges.
The USB connection is your standard type and there's a short thin cord
for charging the internal battery.
The battery gets plugged in, or actually screwed into the connection
that rotates out for easy access.
To charge you just plug it into a free USB port and a red LED on the top
will light up letting you know it's charging.
When charging an electronic cigarette battery the bottom LED will light
up to let you know it's charging.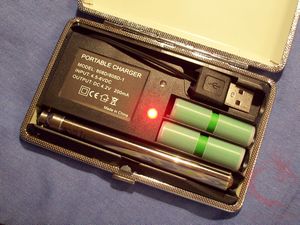 In the above picture you'll see the battery charging, but you'll also
see two cartridges as well. The Vapor King Portable Charging Case allows you to
charge your battery on the go and take a couple cartridges with you basically.
One charge can re-charge your batteries up to eight times, that's not
bad. How many charges you get will depend on how much your batteries are
depleted of course; you may get more charges or less out of the charging case.
Summary and Comments
The Vapor King Portable Charging Case works well, it's well made and
it's very handy.
I think it's a great little accessory to go with your eCigs, you'll
always have power and won't have to worry about finding an outlet for power.
DragonSteelMods gives the Vapor King Portable Charging Case a 5 out of 5
score.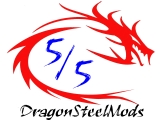 Pros:
+Works great
+Space for cartridges
+Charges via USB fairly quickly
+Very well made case
+Decent price for the quality and usefulness
Cons:
-None really
review# 725
Disclosure: This product was given to DragonSteelMods for review
by the company for review purposes only, and is not considered by us as payment
for the review; we do not, never have, and never will, accept payment from
companies to review their products.
To learn more about our review policy, testing methods and ratings
please see this page.