Today for review I have another product from our friends at Antec, it is the Neo HE 500 Watt power supply. The Neo HE has received praise around the world for its excellent performance, high quality and stability, so I can expect this to be an excellent PSU. So let's just jump right into the review…
Antec NEO HE 500Watt Power Supply
Reviewed by: Kristofer Brozio
Tech Specs,Features or the Basic Info:
Neo HE 500
High Efficiency 500W PSU
Neo HE combines the most desired features in PC power supplies with unprecedented efficiency in design. These new power supplies' energy-efficient operation reduces power consumption by up to 20% compared with traditional power supplies, saving users money. Also generating less heat, and enabling cooling with a smaller, slower, quieter fan. Active PFC circuitry further reduces impact on the power infrastructure. The result is cooler, quieter, and more environmentally friendly power.
Features:
AQ5 – 5 year warranty
Highly efficient (up to 85%), one super-silent 80mm fan keeps Neo HE cool; less than 18dBA noise
level.
Advanced Cable Management System improves internal airflow and reduces system clutter by allowing
you to use only the cables you need.
Universal Input with Active PFC: Use anywhere in the world without worrying about input voltages; Active PFC improves voltage stability and delivers environmentally-friendlier power.
Dedicated Power Circuitry: Delivers safer, more reliable output to your system's delicate components. Includes dedicated voltage outputs, triple +12V output circuits, voltage feedback circuitry, and tighter
±3% regulation for improved system stability.
ATX12V v2.2 and EPS12V compliant; backward compatible with all ATX12V v2.01 systems. Special
4+4 pin connector allows multi standard compatibility
Three +12V output circuits provide maximum stable power for the CPU independently of the other
peripherals.
Accurate power rating allows Neo HE to deliver its full rated power, 24 hours a day rated at 50ºC.
Low-speed 80mm fan delivers whisper-quiet cooling and ensures quiet operation by varying fan speed
in response to load and conditions.
SATA connectors for your Serial ATA drives.
Industrial grade protection circuitry prevents damage resulting from short circuits (SCP), under
voltage protection (UVP), power overloads (OPP), excessive current (OCP) and excessive voltages
(OVP).
Approvals: UL, CUL, CE, CB, FCC Class B, TÜV, CCC, C-tick.
MTBF: 80,000 hours
Size: 5.9" (W) x 3.4" (H) x 5.9" (W)
Tech Specs,Features or the Basic Info Continued:
FEATURES:
Switches: ATX Logic on-off/Additional power rocker switch
Maximum Power: 500W
Transient Response: +12V, +5Vand +3.3V independent output circuitry provides stable power and tighter cross regulation (+/- 3%)
P. G. Signal: 100-500ms
Over Voltage Protection:
recycle AC to reset
+5V trip point < +6.5V
+3.3V trip point < +4.1V
+12V trip point < +14.3V
Special Connectors:
-ATX12V/EPS12V Compatible 4 + 4 pin +12V
-Molex Peripheral
-Floppy
-SATA
-PCI Express
Leakage Current: <3.5mA @ 115VAC
DIMENSIONS:
Unit Size: 5.9"(W) x 3.4"(H) X 5.9"(L) 15cm(W) x 8.6cm(H) x 15cm(L)
Net Weight: 5lbs.2.3kg
OUTPUT:
Output Voltage +3.3V +5V +12V1 +12V2 +12V3 -12V +5Vsb
Max. Load 23A 17A 17A 17A 17A 0.8A 2.5A
Min. Load 0.5A 0.3A 1A 1A 1A 0A 0A
Regulation 3% 3% 3% 3% 3% 6% 3%
Ripple/Noise(mV) 50 50 120 120 120 120 50
Available Power 75.9W 85W – 456W – 9.6W 12.5W
Total Power 500W continuous output @ 50C ambient temperature
INPUT:
Input Voltage: 100Vac to 240Vac +/- 10%
Input Frequency Range: 47Hz to 63Hz
Inrush Current: 60A @ 115V , 100A @ 230V
Input Current: 9A @ 115V, 4.5A @ 230V
Hold-up Time: 20ms at full load
Efficiency: Up to 85%
115V – Full load 76%; Typical load 82%, Light load 77.9%
230V – Full load 80%; Typical load 85%, Light load 79.45%
EMI/RFI: FCC Class B
A Better Look at Things
:
The Antec Neo box is rather cool, sort of like and abstract painting.
The back and sides list all the specs and features of course. Antec does very well when it comes to details.
Of course opening the box we get a better look at everything, Antec uses cardboard padding to protect the Neo HE and wraps it in plastic as well. Of course there is a manual, installation screws, and power cord included as well.
The Neo HE is a cool gunmetal gray color, not very flashy, more of a subtle styling…
The side of the Antec Neo HE has all the specs listed again on the sticker.
A Better Look at Things
Continued:
The Antec Neo HE only uses one 80mm fan for cooling, which is located on the rear of the PSU, the fan is for exhausting the hot air from the PSU.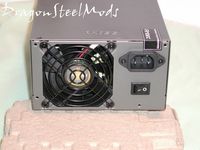 The Neo HE is a semi modular style PSU, there are five female plugs on the inside of the Neo. The inside section is essentially one big vent, this allows for quite a bit of airflow to keep the Neo HE cool.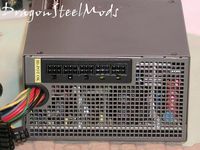 The Neo HE comes equipped with power connectors for the newest boards and even supports older ones as well, backwards compatibility is a nice feature. It is compatible with Intel and AMD motherboards.
One thing I like about the Antec Neo HE psu is that they don't come standard with the floppy connector, it is an optional connector through a molex. Lots of systems today don't use floppies anymore, so why have that loose FDD connector just hanging around. Antec includes four SATA connectors, six standard Molex, two PCIE and the dual FDD Moles adapter. More than enough for most systems out there today.
What would a power supply review be without cracking it open and checking it out? We get to see the nice large heatsinks and components inside…
There is some heavy duty industrial sized components in there, along with some spaghetti wiring as well…
The Antec Neo HE Psu seems to be something that can handle most systems out there today, there is more than enough amperage and wattage for even a high end system. The fact that it is billed as a high Efficiency PSU is a bonus, we all like to save money on our electrical bills.
–
–
–
–

Installation, Testing and Comparison
Installing the Antec Neo HE is like installing any other PSU, four screws and hook the cables up to your devices. No problems here at all.
The system I have the Neo HE in is based on an ASUS P5WD2-E Premium mobo with Intel p4 CPU, I also have 1 DVD/Cd drive, 1 hard drive and an ATI x1300 Video Card in there.

For testing I got out my trusty multimeter to check the voltages of the 12v and 5v lines and see how stable they are at load and idle. To get load on I ram Prime95, one instance on each core of the P4, or one on the real core and one on the virtual core.
Idle:
12v= 11.97v
5v = 5.07
Load:
12v= 11.96v-11.97v
5v = 5.07v
While the 12v rail is under 12v, it is still within tolerances and very stable, it fluctuated very little no matter what I did. I even decided to run 3dMark05/06 and see if adding more load to the video card made any difference and the result was the same. Not bad overall, the Antec Neo HE will be staying in that system for some time to come, I'm very happy with it. The Antec Neo HE is also very quiet, I couldn't even hear it over the case fans and CPU cooler fan, it added barely any additional noise to the system.
Summary:
What can I say, Antec has great products that never cease to amaze me in their quality and performance. The Neo HE is proven to be a great PSU time and time again from many reviewers, and like those that came before me, I can't find anything really wrong with the Neo HE power supply from Antec.
DragonSteelMods gives the Antec Neo HE 500 Watt PSU a 5 out of 5 score.
Pros:
-Quiet
-Stable
-Efficient
Cons:
-None really
I would like to thank Antec for the chance to review the NEO HE and for their continued support of DSM.