There are many PC case manufacturers out there, but for me, one name really stands out, Antec. If you have ever owned an Antec case then you know the reasons why I like Antec. If you have never owned one, then I can easily recommend the one I have for review today to be your first Antec. When I receive an Antec product for review I get a little excited as I know I am going to be reviewing a product that is just top quality, and the Antec NSK6500 I have for review today is just that, an excellent, high-quality case with lots of features and the looks and functionality to go with it. Curious? You'll have to continue reading to learn all about the NSK6500 from Antec.
Antec New Solution Series NSK6500 Super Mid Tower ATX Case
Reviewed by: Kristofer Brozio AkA Dracos
Sponsor: Antec
Tech Specs,Features or the Basic Info:
Antec NSK6500
Super Mid Tower Case
The ultimate in quiet versatility.
It actually is possible to get a case that combines versatility, capacity, quiet and high-efficiency power. The NSK6500, part of Antec's new Solution Series of enclosures, combines ease-of-use features like a removable 3.5" HDD cage that holds 5 removable trays with Quiet Computing™ technology and a high-efficiency 430W ATX12V v2.0 power supply with universal input and active PFC. Indirect front bezel vents and silicone HDD mounting grommets minimize noise while the crisp, understated styling minimizes attraction in your office.
Features:
High-efficiency 430 Watt ATX12V v2.0 power supply
-Universal input
-Active PFC and high efficiency design for superior environmentally-friendly operation
Advanced cooling system:
-1 Rear 120mm TriCool 3-speed fan
-2 Front mount for optional 92mm fan
-1 Advanced Chassis Air Guide, with mount for optional 80mm fan
-VGA vent
9 Drive Bays
-Front Accessible: 4 x 5.25" (with one 5.25" to 3.5" adapter)
-Internal: 5 x 3.5" with silicone grommets to isolate drive vibrations
7 Expansion Slots
2 x USB 2.0 front bezel ports
0.8mm cold-rolled steel construction
Fits Micro ATX (9.6" x 9.6") and Standard ATX (12"x 9.6") motherboards
Dimensions:
– 18.3" (H) x 8.25" (W) x 18.6" (D)
– 46.5cm (H) x 21cm (W) x 47.2cm (D)
Weight:
– Net: 26.5 lbs. / 12 kg
The NSK6500 is part of Antec's New Solution Series of cases, I got a sneak peek at these at CES this year and I was very impressed by them.
Antec's site best describes their NSK series of cases:
The new NSK series of cases continues Antec's tradition of providing high quality and affordable cases. Made with a sturdy 0.8mm cold-rolled steel construction with sizes ranging from full tower to micro ATX, these high quality cases are designed to be environmentally friendly as well as highly efficient. Antec's quiet computing technology has been integrated into each case with noise reducing features like quiet TriCool fans, and drive trays equipped with silicone grommets. The NSK series cases have a solution for everyone, making them perfect for home, office and anywhere in between.
–
–
A Better Look at Things
:
First up, of course we have the packaging, Antec's boxes are always very colorful and have lots of information on them so you know exactly what you are buying. The front of the box has a nice front view of the NSK6500, with a brief list of specs, while the back gives you a nice side view and an interior view along with a complete listing of specs and features. The sides of the box also give you different views of the case and a bit more information as well.
Antec always packs their cases well to make sure they arrive safely and in great condition. The NSK6500 is wrapped in plastic and protected by formed cardboard instead of stryofoam. The NSK6500's box was actually inside of another larger box that was filled with air pillows, they make sure to pack their products very well.
The NSK6500 is a very subtle, yet very stylish case. My first impression of this case was that is was rather plain, but then I opened it up and started taking pictures and really exploring the case during the review and I found my first impression to be totally inaccurate. The NSK6500 could be considered a work of art, I am truly impressed by this case and pictures cannot do it justice really,this is a case you need to see up close and personal to truly appreciate.
The Antec NSK6500 is mostly black with a silver front. The case opens from the left side, as do most cases. The paint is a textured flat with a hint of gloss to it, not a semi-gloss, but it might be considered an eggshell finish. The texturing, if you look at it very closely, looks like paint spatter actually,it is very fine though and done very well.
On the front of the case we find three 5.25" bays, and one 3.5". On the left side of the front of the case, nicely lined up, are your buttons and i/o ports. The top one is the Reset button, it is recessed but can be accessed easily if need be, under that is the HDD activity LED, it is very tiny, it looks like a pinhole, but there is a very bright blue LED behind it. Under that is the power button, nice and large, with a clear ring around it that is back light by another bright blue LED when the system is powered on. Under the power button we find the usual i/o ports, audio, USB and Firewire. You'll notice toward the bottom, an empty square, this is for the included Antec case badge, or you could possibly use your own if you wish.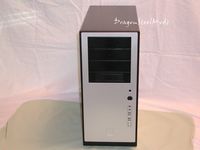 Moving around to the back of the NSK6500, we find a power supply already installed, it is one of Antec's own 430Watt, high efficiency PSU's. You might think 430Watt's isn't much but, unless you have an uber system, that should suffice. You'll see soon the system I installed in the NSK6500, and the PSU handled it with no problems. The right side panel also features thumbscrews for easy access.
Beneath the PSU, we find an Antec Tri-Cool 120mm fan pre-installed as well, next to that is the universal i/o shield. Honestly I don't know why any case manufacturer includes i/o shields, as I have yet to find one that fits any of my motherboards, and I have a lot of them…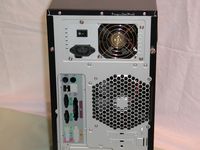 Under the fan and i/o shield, we can see the PCI slots, seven in total, that should be enough for most anyone's system.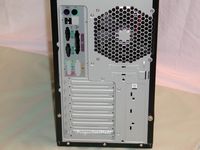 Moving to the bottom of the case, yeah there are feet there, but these are silicone rubber feet we have here. They are made to be non-slip, but also absorb vibrations from your case to further reduce noise. From the bottom view we can also see the bottom of the bezel, it is open to allow fresh ai into your case.
Now, back to the case itself, specifically the left side access panel, here we find a honeycomb style vent for extra cooling of your PCI cards, or specifically where your VGA card might be located. Above that there is another honeycomb style vent for the CPU to receive fresh cool air, there is no fan included but you can install any 80mm style fan you wish to. The locks on the side panel are the spring type, where you need to pull them forward to release them, after of course, removing the thumbscrews, they do a great job of keeping the case closed tightly. The side panel actually swing out, and doesn't slide in a track like other do, this makes access much easier.
Getting a look at the backside of the front panel, we find an air guide, and we can get a better look at the locking mechanism, also a ice added touch is that the thumbscrews will actually stay in the side panel after you unscrew them, you can remove them all the way, but why, I always loose mine and have to hunt around for them.
The air chassis guide is actually adjustable, you can adjust the depth of it to make it site closer to your CPU cooler or farther away, and even has millimeter markings right on it for easy adjustment.
Here is a shot from the inside of the VGA vent, and again of the lock and the still attached thumbscrew.
Now let's check out the inside, the motherboard tray is not removable, but there is enough space to work inside because the HDD cage is removable, so not being able to remove the tray is not that big of a deal.
Inside the case we find the usual suspects, all of our front panel connectors, and the hardware for installation. The Antec case badge is actually pretty cool, and they even include a couple extra silicone grommets and 92mm fan screws if you want to install 92mm fans as the holes in the case are not the typical fan screw sized holes.
The included Antec power supply is as we already know a 430Watt model, it also has dual 12volt rails, each have 32amps on them. The PSU is equipped with SATA, PCIE, floppy and of course your standard Molex connectors, along with motherboard connectors for all types of systems.
The Antec Tri-Cool 120mm fan is powered by a pass through Molex, and it features a speed control switch for high, medium and low speeds. No fan grill, that's a personal gripe of mine, I can't figure out why companies don't include fan grills on their fans, especially 120mm exhaust fans, you have these wires hanging there right, what's to stop them from going into the fan? A fan grill…
Heres' a nice shot of the PCI slot covers from the inside, they are not held on by screws but by tension and a little tab that fits into the screw hole. They are removable and replaceable.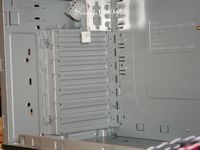 –
–
–
–
The three 5.25" bays are kind of special, while not actually tool less, they do only require one screw to install a device, they could be called easy install… The left side is where the screw would be inserted, while the right side features a sort of tension system that involves the actual metal of the case in the form of tabs with bumps on them that fit where the screw would go on your device. This system does work very well actually, the devices do stay in place.
You can fit five hard drives in the Antec NSK6500, the drives fit into the cage that is removable as well, and behind the cage we find the spaces for the 92mm fans to be installed.
While I had the case open exploring it, I first notice the detail on the front of the case, the bezel actually sits higher than the front, the sides of the bezel are actually vents, and all around the bezel, framing it is a dot pattern. Sorry to jump around, back to the front but I just had to point it out.
Well you might be wondering about the motherboard tray and the hard drive cage, but don't worry, in the next section I will be covering that. It seemed like it fit better into the installation section to put the details in there and it flowed better that way as well. So continue on to the next section….
Installation, Testing and Comparison
Well here we are, let's install a system in the Antec NSK6500 and see what happens!
First thing would be the motherboard of course, and with that the motherboard tray gets involved. There was one stand off pre-installed, and it was just a nub, for lack of a better word, and it fit up into the center hole of my motherboard. No screw can be installed in this one, it is more for centering purposes I assume, that stand off is located right next to a nice chart that tells you which holes to use for which type of motherboard you have, each hole is labeled by a letter..
The hard drives would be the next thing to install, the cage is easily removable by loosening two thumbscrews, that also stay in place, and sliding the cage out.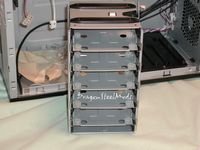 Each hard drive has it's own separate tray, and the hard drives are attach through the bottom through the silicone grommets with the included screws. Very easy to install.
Once installed to the tray, the tray then can be slid back into the cage and is held in place by the tension of the handles that act as springs and clips into the cage itself. The hard drive does stick out a bit on the back side, but it is flush with the front of the cage. Then of course slide the cage back in and continue your installation.
For this installation I used an Asus p5wd2-e Premium motherboard, 2 gigs of Crucial Ballistix ram, an Intel P4 Cedar Mill 631 CPU, a Power Color X1300 video card, along with one hard drive and one dvd/rw drive. The CPU cooler you see in an Nmedia IceCone, that review will be up shortly so be sure to look for it.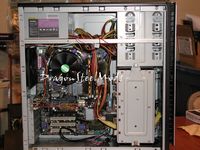 You can see there is room in the case left over, but a bit of wire management is needed to make it look nice and promote better airflow. It would have been nice to see sleeved cables on the power supply…
That was the first basic system I installed in the Antec NSK6500, it was to be that system permanent home. Then disaster stuck and my main systems motherboard died and this system had to become my main system till I get a replacement motherboard, so I had to take everything out of my main system and put it in the Antec NSK6500. So with a 430Watt PSU I ran that basic setup, but I swapped the PowerColor X1300 for my XFX 7800GTX, and put my three hard drives in there are well, along with the ICYDOCK Modiflash drive enclosure. The Antec 430Watt PSU handled it all with no problems at all I am happy to report!
Installing a sysem in the NSK6500 is very easy, especially with the removable hard drive cage, I encountered no problems during the install.
When I powered the system on I was actually shocked at just how quiet it is, I had to check to make sure it was really on, I took the side panel off to make sure everything was running. I personally like my system to be as quiet as possible and this has to be the quietest case I have ever had the pleasure of reviewing.
Transferring the system to this case I saw no real drastic change in the temperatures, and the Antec NSK6500 only has one fan, the 120mm exhaust. The other case I had this system in had a 120mm intake fan and a 120mm exhaust fan. I actually thought the temps would go up with having just one fan, but they went down a degree or two in reality, not that one or two degrees is much but going from two fans to one fan and having the temps drop is significant and really says something about the design of the case. I have to add that the Antec 120mm Tri-Cool fan is silent when on low and even on medium and high speeds it is still barely audible over the CPU fan, and does not add much overall noise.
As for the hard drive cage, I can say that I can't hear them now, but then again, the entire case is pretty much silent. An excellent case overall.
Summary:
I think you can tell by the review that the Antec NSK6500 is truly a great case, it is very well made, perfectly designed and looks great. This is a case that I could see in an executive's office somewhere, but also I could see it turn up at a lan party as well. The NSK6500 truly surprised me, for all it's subtlety, inside lies a chassis that is just amazing in it's design and performance.
This is one case that I can easily recommend anyone getting, and of course it's going to get high scores from DSM, but I feel the NSK6500 deserves DragonSteelMods first Editor's Choice Award.
DragonSteelMods gives the Antec NSK6500 Super Mid Tower ATX Case a 5 out of 5 score.
Pros:
-Stylish looks
-Excellent performance
-Easy to use, (installation of system)
-Very quiet
-Included PSU that can handle quite a bit
Cons:
-None
I would like to thank Antec for the chance to review their products and for their support of DragonSteelMods.