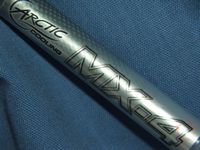 Today for review I've got the new
Arctic MX-4 thermal compound from Arctic Cooling. This new compound
improves on the MX-3 in that it's easier to apply and it's less
expensive as well. The performance isn't exactly record shattering,
but it does better than the couple others I put it up against, so I
guess that counts as something right? Read on….
Product
Name: Arctic
MX-4 Thermal Compound
Author: Kristofer Brozio
Sponsor: Arctic
Cooling
Tech
Specs,Features or the Basic Info:
Normally this would be the place
where the specifications would be about the product, but as of now
there aren't any. The MX-4 compound isn't even listed on the Arctic
Cooling website yet..
I can tell you it's going to sell
for $5 US Dollar and it will come in the familiar syringe for easy
dispensing.
Once I get the specs etc I'll add
them in here.
A
Better Look at Things:
There's not much to really look at
it's a syringe of thermal compound..
The paste is much thinner than the
MX-3 compound making it easier to apply, which is very nice truly.
It's not too thin to be runny, but it's less than peanut butter
consistency, it's thick enough to stay in place but thin enough to
easily spread on the CPU.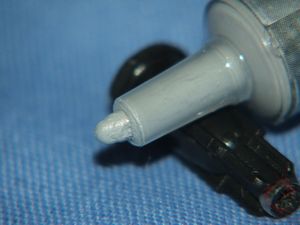 Installation,
Testing and Comparison:
My test system consisted of an
Intel C2Q9650 using the Noctua NH-C12P cooler with one Noctua Fan on
it. The CPU is running at the stock speed of 3ghz.
The motherboard is a DFI Lanparty
UT X48-T3RS.
The case is an NZXT tempest Evo
using six Noctua Fans, two in the front, two in the top, one in the
back and one on the side. These are non-controlled fans, meaning they
stay at the same speed at all times.
The Ambient room temperature was
24.3C (+/- .3C) during testing.
For comparison I grabbed the
Notcua NT-H1 and the Gelid GC1 thermal compounds.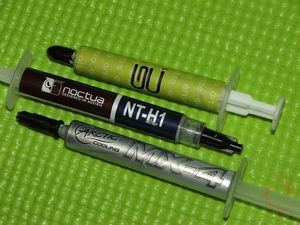 I used two instances of Orthos
Stress Prime to get 100% load on the CPU for 30 minutes at a time.
For idle I just let the computer
sit for 30 minutes doing nothing.
I used CoreTemp to record the
temperatures and then I averaged them out to get a single temperature
for the graphs.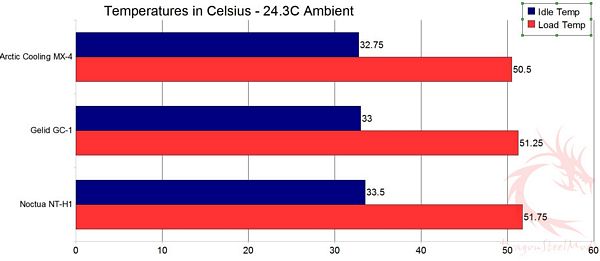 As you can see there's really not
much of a difference between them at all, yes the Arctic MX-4 does
do a little bit better than the other two compounds, and I guess
that's what counts right?
Price wise though, the MX-4 is
cheapest, they told me it would sell for $5 US for the tube.
Looking at Amazon pricing:
The
Gelid GC1 is $5.99
The
Noctua NT-H1 is $9.99
Even if we look back at the MX-3
compound we see it's selling for $8.99 on Amazon, so this new version
is less expensive…
Summary
and Comments:
There's no doubt that the Arctic
MX-4 will give you an improvement in the temperatures of your CPU or
whatever else you might want to use it with.
The Arctic MX-4 is also
inexpensive and a lot of it comes in the convenient syringe so you'll
get many applications with it. There's more than enough in the
syringe for several applications on your CPU, VGA or even chipset, so
you can keep everything cool.
The paste is thin and easy to
apply, I noticed that when it got warmer it actually got a little
thinner, so it was easier to get off then it was to put on.
For what it is it's worth it,
you'll see a decrease in temps, just not anything drastic or earth
shattering.
DragonSteelMods gives the Arctic
MX-4 a 5 out of 5 score and our Recommended Award as well.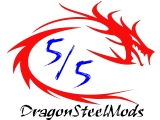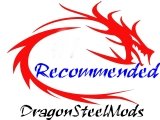 Pros:
+Inexpensive
+Comes in syringe for easy
application
+Thin and spread easily
+Slight improvement over other
compounds
Cons:
-None really
review# 661
Disclosure: This product was given to DragonSteelMods for review by the company
for review purposes only, and is not considered by us as payment for
the review, we do not, never have, and never will, accept payment
from companies to review their products.
To
learn more about our review policy, testing methods and ratings
please see this page.