Today for review I've got another
product from Grow Up Japan, yes it's another mouse pad, but this one
is soft surface pad, the last one I looked at was a hard surface. I
have to admit I'm impressed by the quality of these pads so far from
this company. The one I have today though is small, a bit too small
for my tastes, but the quality is still there.
Product
Name: ARTISAN
KAI.g3 HIEN – SOFT Gaming Mouse Pad
Author: Kristofer Brozio
Sponsor: Grow Up Japan
Tech
Specs,Features or the Basic Info:
ARTISAN
KAI.g3 HIEN – SOFT Gaming Mouse Pad
The surface is more like rough,
like apple skin. However those roughness is so even which make mouse
moves smoothly. Plus, those dents may help you to feel the distance
how much you move the mouse during play. New level pc gaming mouse
pad.
– Those roughness on the
surface truck the mouse easily. Not too fast and Not too slow. Fairly
Size: 9.8 x 8.25inch / 25 x 21
x 0.3 cm
Price: $23.90
A
Better Look at Things:
Like the other Artisan pad I
reviewed, this one just comes in a cardboard sleeve.
The one I got for review is blue
in color and if you read the specs above you'll know it's rather
small, smaller than a piece of paper. The surface feels smooth but it
kind of looks rough, the weave is not as tight as the pad I reviewed
last. That was a hard surface pad, this is meant to be soft.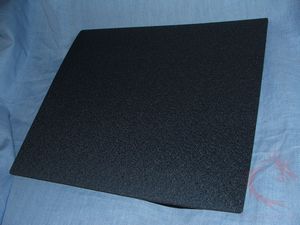 The pad is three layers, the top
layer, a pad, and then the non-slip base.
Here's a closer picture of the
surface:
The
Review:
To give you an idea of size,
here's the the Mionix 3200 on the pad:
The pad is great really, the mouse
just glides across the surface. Tracking is excellent, never once a
skip or a jump.
It's padded so it's soft and
comfortable to have your hand on it resting.
The back is very non-slip,
wherever you put it it will stay in place.
Summary
and Comments:
The Artisan pads are nicely pad,
the quality is truly top notch.
I just have to question the size
choices, the 'small' size is just too small in my opinion.
The pad works well overall, but
for my tastes it's just too small. I guess if you're short on space
it would be fine, but I've got a big desk and I'm accustomed to
having a lot of room to move.
DragonSteelMods gives the ARTISAN
KAI.g3 HIEN – SOFT Gaming Mouse Pad a 4.5 out of 5 score
Pros:
+Smooth surface
+Excellent tracking
+Well made
Cons:
-Small size, very small in size
review# 679
Disclosure: This product was given to DragonSteelMods for review by the company
for review purposes only, and is not considered by us as payment for
the review, we do not, never have, and never will, accept payment
from companies to review their products.
To
learn more about our review policy, testing methods and ratings
please see this page.