Must be a good day to launch a new NAS product?! I've never heard of Asustor before but browsing their site them seem to make some fairly decent products, in terms of specifications and looks really. Their NAS boxes are rather attractive, at least a attractive as a NAS box can be anyway…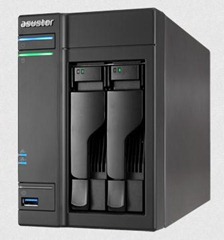 ASUSTOR Inc., a leading innovator and provider of network storage solutions, has announced the launch of its all new AS 6 Series Network Attached Storage (NAS). The AS 6 Series NAS devices come in two, four, six and eight-bay models and feature System Sleep Mode (S3) along with near instantaneous wake up times. Equipped with the Intel® Atom™ 2.13 GHz dual-core processor and 1GB RAM (expandable), the 6 Series combines supercharged performance with low power consumption. Intel® technology also makes it possible for the devices to boast HDMI outputs which allows for the playing of HD video and multimedia directly to HDMI ready displays.

"In the last ten years we have seen exponential growth in the amount of digital assets worldwide. Properly securing and managing these assets has become a big issue," said Shawn Shu, President at ASUSTOR. "At ASUSTOR we truly understand how to secure our customers' most valued digital assets while providing dynamic new ways for them to interact with and access these assets."

All models in the series come preloaded with ASUSTOR Data Master (ADM), an ideal operating system for storage devices that provides users with a fresh and intuitive user interface. Additionally, the 6 Series also provides added functionality through ASUSTOR's App Central which offers an expansive variety of Apps for users to enjoy. Featured Apps by ASUSTOR include Download Center, an easy to use download manager, and Surveillance Center which gives users the power to manage an array of IP cameras. Furthermore, there will be Apps developed by third parties and the open source communities such as Plex Media Server, a complete media solution, and Piwik, a popular and free alternative to Google Analytics.

"Small businesses and consumers are both experiencing ballooning data, requiring a simple, centralized way to protect and access their vital digital information." said David Tuhy, General Manager, Intel Storage Division. "Powered by the Intel® Atom™ processor, the AS 6 Series is a great way to provide business continuity. With the new HDMI connector consumers can play directly from the AS 6 NAS. And the web feature enables access anytime, anywhere, on any intelligent device creating a personal cloud."

The AS 6 Series also features:

▪ Apple Time Machine support for multiple users

▪ Military grade AES 256-bit encryption for individual shared folders

▪ Remote replication via FTP & Rsync

▪ Internal and external disk hibernation

▪ Push and pull backup for flexible backup topology deployment

▪ Built-in firewall and Network Defender to prevent malicious attacks

▪ Cloud Connect technology for easy access to the NAS

▪ Energy Saver for power conservation

▪ UPnP Media Server to stream multimedia to your DLNA devices

▪ iTunes Server to share your music and movies among all your computers

▪ Active Directory support for more than 500,000 records

▪ iSCSI targeting for easy IT integration

▪ Add-on App and HDMI output that allows the NAS to become an HD media player

Key Specifications for the AS 6 Series are as follows:

▪ Intel® Atom™ Dual-Core CPU

▪ 1GB DDR3 RAM (Expandable to 3GB)

▪ USB 3.0 (5 Gb/s)

▪ SATA III (6 Gb/s)

▪ VMware, Citrix and Hyper-V Ready

▪ RAID 0, 1, 5, 6, 10

▪ Hard drive hot swapping

▪ Read and write speed of 200+ MB/sec

For more product information please visit: http://www.asustor.com

Availability

ASUSTOR AS 6 series is now shipping globally.