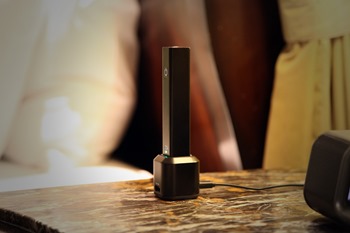 I've got a thing for good flashlights, and I've come to like rechargeable ones as lately when we get a storm the power goes out and batteries are just expensive really. BiteMyApple has just introduced what I think is the ultimate emergency accessory called the ChargeLight. Now I've got external battery packs and rechargeable flashlights, both of which are great for emergencies but the ChargeLight is both of those in one very small package, it's a 250 lumen LED flashlight and a battery pack for any USB device. You could keep it at home or take it with you in the car and you're set really, you've got light and extra power for your phone for emergencies.. Price is $99.99 and I think it's well worth it…

The ChargeLight offers two tools that are essential to our connected lives: power and light.  It's an elegant, portable LED flashlight that doubles as a battery pack for any USB device including iPhone, iPad, Android and more.  Lightweight and sleek, the ChargeLight is easy to carry around in a pocket or purse ensuring that you'll never deal with dead batteries again. 

The ChargeLight is a practical and essential item for every travel bag or briefcase as it can charge any USB device anytime, anywhere.  It has an extremely low internal discharge rate, and can last more than one year without ever being recharged.  LED lights display the battery level so you will always know when you have power; but, when the time comes to juice it back up, you can either recharge it on the included dock or with a USB adaptor.  The user can also use the dock as a charging hub for multiple devices at the same time. 

"Aside from the charging capabilities, the ChargeLight rivals a tactical-grade LED flashlight.  It's extremely powerful, and actually maintains 100% of its light power during the entire charge cycle," says Chris Johnson, Founder of BiteMyApple.  "What's even more incredible is that the ChargeLight's lithium-ion battery can be charged over 1,000 times- which is equivalent to more than 3,000 AAA alkaline batteries.  That'll save you a lot of cash over the years!"

Crisp and clear, the ChargeLight offers an amazing lighting experience with zero hot spots or halo effects.  Users can choose between 100%, 50% and 10% light power based on your needs.  There's even a strobe light option that can act as an emergency beacon.  The ChargeLight is 5 times brighter than regular flashlights.

All of this power is wrapped in an elegant package.  Developed from anodized 6000 series aluminum, the ChargeLight is simple and sleek which fits into any décor or style whether it be for a bedroom, office or kitchen. 

The ChargeLight is available to preorder on www.bitemyapple.co for $99.99.  It will begin shipping in September.