There's a plethora of choices when I
comes to bluetooth headsets, with more being added on a monthly basis
to those choices. The new laws in many areas that have been enacted
have forced consumers to go handsfree and that means big money for
headset makers so it seems everyone is jumping on the bandwagon for
their piece of the pie. Is this a good or bad thing though? That
depends on how you look at it, in some it's good for the consumer as
it brings rise to competition and therefore lower prices in the long
run, but th bad part about it is with so many of them, not all of
them are good and worth your money.
Today for review I've got the BlueAnt
X3 Micro Bluetooth headset, and it's from our friends at The Wireless
Boys. The X3 micro has a few nice features, including and most
importantly, it is lightweight, for me that's a very important
factor. It also has a 7 hour talk time, along with a 180 hour standby
time and it includes both an AC adapter and a car charger. Being
lightweight and looking good are not much if the headset doesn't
perform though, so continue on to learn more…
Product
Name: BlueAnt
X3 Micro Bluetooth Headset
Author: Kristofer
Brozio
Sponsor: The
Wireless Boys Online
Tech
Specs,Features or the Basic Info:
BlueAnt
X3 Micro Bluetooth Headset
The award winning X3 micro
Bluetooth headset is one of the smallest and best performing headsets
available in the world. Lightweight, stylish and comfortable, the X3
micro is the ultimate Bluetooth accessory for people on the move. The
X3 micro can be paired to 3 different Bluetooth devices and connect
to any one of them when requested. The BlueAnt headset includes
multiple charging options including USB, wall and in car chargers.
The X3 micro is a high quality full duplex Bluetooth headset backed
by a 2 year hardware warranty.
This headset incorporates many
features:
* Talk time: up to 7 hours
* Standby time: up to 180 hours
* Bluetooth Version: 1.2
* Weighs 14 grams
* Freedom to roam up to 33 feet
from your device while talking on your headset
What's in the box:
-Bluetooth headset
-USB charging cable
-user guide
-AC wall charger
-car lighter adapter for USB
charging cable
-1 soft gel earbud cover
-2 foam earbud covers
-removable ear-hook
Price: 47.95
A
Better Look at Things:
The BlueAnt X3 Micro BT headset
comes in a n attractive display style box.
Inside we find another plastic box
that houses the headset and the accessories which include earloops,
earbuds, AC adapter, car charger, lanyard, user manual and a very
nice USB charging cable. The charging cable is more of a flexible
wire than a cord, it's thick and will stay however you bend it.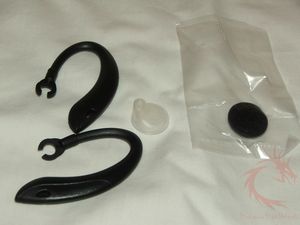 The X3 Micros itself is black with
blue and silver accents. There are only three buttons on the X3,
power and volume up or down, but these act as multifunction buttons
as well and can be pressed in combinations for different uses.
On the top of the headset is the
charger connection, it resembles a small hole.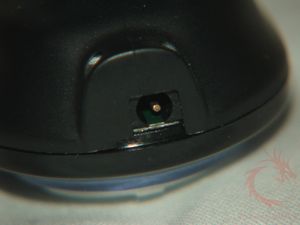 The X3 comes with a silicone
earbud attached but also comes with a common foam style as well if th
user prefers that. The silicone bud is shaped with a protrusion that
fits into the air to direct the audio.
Installation,
Testing and Comparison:
The first things you'll need to do
is charge the X3 Micro, that can be done three ways actually, via USB
of your computer, the AC Adapter or the car adapter, since I'm at my
computer most of the time that's what I used. Inside the X3 are three
LEDs that can be either blue or red, they're red when charging and
will turn off when complete and blue when connected. You can turn
the LEDs off if you wish, or else you've got blue LEDs blinking on
the side of your head…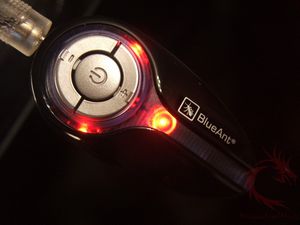 Before I got the BlueAnt I was
using the Zivio Boom and I also have the Jawbone2 that I use as well
at times so those are what I've got for comparisons here.
The first thing I noticed about
the X3 Micros is that the earpiece is very large compared to the
other two headsets, and the largest of any headsets that I've got on
hand, including the Callpod Dragon V2 and the Jabra BT530.
I knew this was going to be a
problem for me, I couldn't get the headset to stay in my ear, I tried
with the earloop but that just made matters worse actually, the
earloop pulled the X3 micro from me ear.
Eventually I figured out how to
get the X3 Micro to stay put in my ear, kind of jam it in there and
twist a bit, and this was without the earloop.
I used the X3 in place of my
normal headset for a week and I found that it's not very comfortable
at all, it seems to be too big for my ear really. It's fine when it's
in there, but when I take it out my ear hurts.
Call quality is ok, it's clear and
I can hear people fine, but it's not very loud at all.
Wind doesn't seem to affect the
X3, so that's a good thing.
I seemed to have got the rated
battery life, and charging time is quick, and seeing as you can
charge it from most anywhere it's rather easy to recharge if need be.
I used the X3 with my AT&T
Tilt and it paired without a problem the first time and every time
after that, range also seemed to be the rated distance.
The X3 Micro also has the ability
to pair with three devices, and switch connections between them if
need be. The buttons allow for answering and ending calls as expected
but also for rejecting them. It can also redial, mute, voice dial and
switch between the handset and headset.
Summary
and Comments:
The BlueAnt X3 Micro Bluetooth
headset is not a bad product, many people love it, and it didn't win
awards for being a bad product. It's all in the end user, and the X3
Micro just isn't my style of a product honestly.
The fact that it wasn't
comfortable after wearing it for a while bugged me, and the reason it
wasn't comfortable is that it has a large earpiece and my other
headsets do not, so I'm not accustomed it it at all. I gave it the
old college try though and used it for a week, and still I found it
just wasn't for me. I like my headsets to be loud, I've got three
kids and if there in the car with me chances are they're making a lot
of racket, the X3 Micro just didn't cut it for volume levels either,
it just isn't loud enough for me.
This isn't to say it's a bad
product of course, but it's my experiences with it, take that as you
may, you may be like me or you may no be.
DragonSteelMods gives the X3 Micro
a 4 out of 5 score.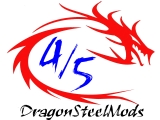 Pros:
+Small and lightweight
+Easy to use
+Flexible USB cable
+Includes extra parts
+Dual chargers included
+Three ways of charging
Cons:
-Large earpiece not comfortable
for me personally
-Not very loud
-Not comfortable for long periods
I
would like to thank The
Wireless Boys for the chance to review the BlueAnt
X3 Micro and for their support of DSM.
review# 581