This is a combination review, I've got two very useful product from our friends at Boxwave .
So you've got a new phone and of course since it's new you really want to take care of it, one of the most annoying things with touchscreens is the fingerprints that get on them from touching it. With a touchscreen you have to be careful not to scratch it so you really can't just use anything to clean it, you need something soft and non-abrasive, that's where Boxwave comes in with their Screen Puff. The Screen Puff resembles a pillow and has a small strap on it to attach to your phone so it's always ready when you need it.
The Stylus that comes with your ATT Tilt / TyTn II is adequate for what it needs to do, but if you're like me you're bound to lose it, so you'll need a replacement, but why just get any plain replacement stylus, why not get something better? Most people think that a stylus is just a stylus, but the one I got from Boxwave for review is nice. I've shown it to people that have phones with styli and they were truly impressed with it. It looks similar to other styli out there, but it's much heavier, in fact I could guess that it weighs twice as much as the stock stylus that comes with the phone. Being heavier makes it much easier to use and more comfortable in your hand as well, if you need a replacement stylus then this is what I can recommend you get…
Boxwave Screen Puff and Replacement Stylus for ATT Tilt / TyTn II
Author: Kristofer Brozio
Tech Specs,Features or the Basic Info:
Clean your screen with this puffy, ultra-handy wiper! BoxWave's new Screen Puff is made of non-abrasive and lint-free material that can clean your screen easily and quickly. It comes in your choice of seven colors: black, blue, green, orange, pink, silver, or yellow. Just attach it to your phone or case and clean your screen wherever you go.
Screen Puff Features:
-Keeps your screen clean from dirt, grease, dust, and more
-Non-abrasive and lint-free
-Pillow-shaped puffy foam
-Comes with an elastic band that is short and unobtrusive, yet it's stretchable to reach the corners of your screen
-Easily attaches to your phone or case
-Small and lightweight
-Black, blue, green, orange, pink, silver, or yellow color
-Replacement is recommended every 2-3 months
-Happy Pack bundle is the perfect choice for the whole family
-Size: Approx. 20mm H x 28mm W
Price: $2.95
Replacement Stylus – AT&T Tilt
Now you don't have to worry about missing a stylus again! BoxWave's Replacement Stylus is specifically designed for your AT&T Tilt. This lets you replace a missing stylus or keep an extra stylus at home, the office, and in the car.
Replacement Stylus Features:
-Fits into your AT&T Tilt's built-in stylus holder
-Custom designed for your AT&T Tilt
-Durable construction
-Perfect as a replacement or spare stylus
SINGLE PACK
Regular Price:
$15.95
Web Special:
$9.95
A Better Look at Things
:
Both products come packaged in bulk style, nothing special just a basic plastic bag.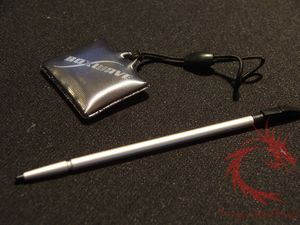 The screen puff is very small, measuring 20mmx28mm, or about 1 inch by ¾ inch. Once side of the screen puff has the Boxwave logo while the other side is the actual 'Puff' part of it, the part you'll use to clean your screen. There is a small elastic cord to be able to attach it to your phone.
Here's a couple pictures of the original ATT Tilt stylus and the Boxwave Replacement Stylus next to each other, the Boxwave Stylus is on the top.
The tips are very different, you can see that most of the Boxwave stylus is metal with just a small plastic tip insert, while the Tilt stylus has a large plastic tip.
The back of the Boxwave Stylus is removable to reveal a pin that can be used to reset your phone.
Installation, Testing and Comparison
For testing the Puff you just need a dirty screen… after using my phone I used the Puff to clean the screen, it worked well and left no visible marks or dirt on the screen. It works, and works well, it's easy to use and it's one of those things that makes life easier.
I've been using the Replacement Stylus for a while now and I love it, it's so much nicer to use than the stock stylus that came with my phone.
It's nice and heavy and you can 'feel' the difference when it's in your hand compared to the stock version.
Since it's heavier it actually makes it easier to use the phone, you don't have to press as hard as you would with the stock stylus.
Summary:
Both of these products are excellent, the Screen Puff is one of those things that you could live without, but the Stylus is highly recommended.
Even if you didn't lose your stylus and need a replacement, I can recommend just getting this one to replace your current stylus.
DragonSteelMods gives the Screen Puff and the Replacement Stylus a 5 out of 5 score and our Recommended Award as well.
Pros for Stylus:
-Heavy
-Very well made
-Back tip comes off to reveal reset pin
Pros for Screen Puff:
-Soft, non-abrasive
-Lightweight, small, portable
-Attaches to phone
-Available in different colors
Cons for both:
-None really
I would like to thank Boxwave for the chance to review the Replacement Stylus and Screen Puff and for their continued support of DSM.
review# 430