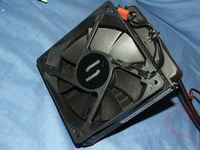 I've had an interesting morning, I went
to the gas station and got to see my first 'real' counterfeit bill.
It was a $10 bill and he was showing the other employee how it shows
black instead of yellow with their special marker. I'm in there all
of the time and they know me and he showed it to me, the thing looked
very real to me, but looking closer you could see the watermark
portrait was missing from the back. He was putting it in an envelope
I guess to turn it in or something, I wonder what they have to do
with them, do they give them to the police or is that like some
federal thing?! Oh well, that's how I started my morning…
Today for review I've got another CPU
cooler, but this one is a bit special in that it's a liquid cooling
system that's truly an all-in-one solution. It's called the ECO
A.L.C. and it's from CoolIt. The ECO ALC is very small, and it's
compatible with most every CPU out there. The pump is actually
integrated into the water block that goes onto your CPU and the fan
and radiator are attached to each other so all you've got to do is
take a few minutes and install it like you would most other coolers
out there. There's no fuss, no mess, no running tubing, it's ready to
go out of the box, there's even thermal compound pre-applied so you
don't even have to do that. I've put it up against a couple other air
coolers for comparison so read on to see how it performs..
Product
Name: CoolIT
ECO A.L.C. CPU Cooler
Author: Kristofer Brozio
Sponsor: CoolIT
Tech
Specs,Features or the Basic Info:
Quick to Install Into Any
Chassis – The extremely compact ECO A.L.C. comes pre-assembled making
it easy to install into any chassis with a few simple steps. Unlike
heavy air cooled solutions, the ECO exerts little weight on the
motherboard keeping the solution well below the maximums specified by
Intel and AMD.
A Revolutionary Leap in Design
that Delivers Industry Leading Reliability, Performance and Value
The ECO Advanced Liquid Cooling
(A.L.C.) system is an elegantly engineered ultra low profile thermal
solution positioned at an economical price point.
CoolIT's engineers have
focused on offering a superior propriatary cooling technology that
delivers the ultimate performance in a compact design.
The whisper quiet ECO cooler is
widely compatible with the majority of PC cases featuring a 120mm fan
and can be installed in 3 easy steps.
CoolIT's selection and design
of each component has been scrutinized to ensure the ECO provides
industry leading performance and reliability resulting in the
ultimate maintenance free cooling solution.
Specs:
CoolIT CPU FHE (Fluid Heat
Exchanger)
Copper Micro-Channel
Universal Retention System
Out of the box support provided
for Intel 775, 1156, 1366 and
AMD AM2, AM2+, AM3 sockets.
CoolIT Proprietary Pump
Quiet, compact, long life CFF1
pump
Ceramic bearing
Life Cycle: 50,000 Hours MTTF
CoolIT Coolant
CoolIT Systems low toxicity
with anticorrosion/ anti fungal additives
CoolIT Radiator
Custom engineered for low noise
high heat dissipation
CoolIT Fan
High reliability, Quiet 12V
Speed: 1800 RPM MAX
CoolIT CPU Thermal Grease
CoolIT Systems Pro A.T.C.
(Advanced Thermal Compound)
CoolIT 2 Year Manufacturer
Warranty
Price: $74.99 USD (From CoolIT)
Price:
$72.86 / $62.49 (From Amazon)
Video
Unboxing and Still Pictures:
So we'll start this off with the
video unboxing and then there's a few still pictures for you.
And here's the pictures: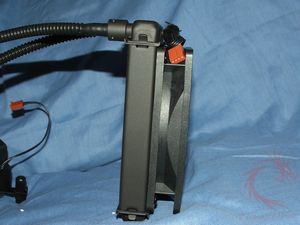 As you can see it comes with
thermal compound pre-applied, so the system really is ready to be
installed with little or no effort from the end-user. If you're
installing it on one of the Intel CPUs on Socket 775, 1366 or 1156
then you don't even have to change the mounting brackets as it's
ready to go out of the box.
Installation,
Testing and Comparison:
I'm using the CoolIT ECO A.L.C.
with my Corei5 750 Socket 1156 CPU.
The installation process is very
simple for the Socket 1156, it comes with the mounting bracket
already installed for you and you just need to slide the mounts to
the correct position or spacing. This is down by pulling to unlock it
and sliding it to the marks on the four mounts.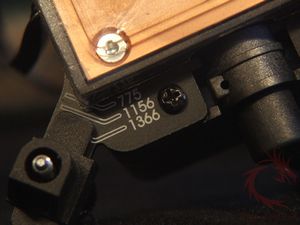 Here it is installed in my case: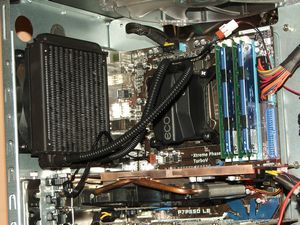 And here's the back view, you just
use the included screws to attach it to your case.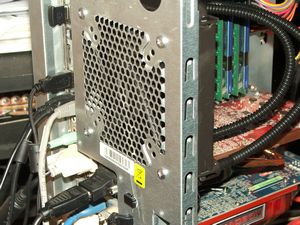 My
case is the Cooler
Master Sniper which
has the motherboard cut out for easy installation of CPU coolers, if
your case does not have the cut out then you'll need to remove your
motherboard from the case for installation which of course will make
things a bit more time consuming. It might have taken me five minutes
total to install this cooler in my system, which makes it one of the
easiest coolers to install that I've come across.
It's a liquid cooler yes, but the
design of it is all-inclusive meaning you don't have to worry about
tubing, or blocks, pumps, fans and radiators, it's a sealed system
for a no fuss installation. It's probably the easiest liquid cooling
solution you'll ever come across. The ECO ALC is small overall really
and it's actually very lightweight.
The
design of the system is well done, it's easy to install and it seems
well made. A little over two years ago I reviewed the CoolIT Domino
ALC cooler (review HERE)
and I thought it was well made, but I found it really wasn't or maybe
I got a defective one. I left it running in my test system that was
my second computer at the time, but I liked it and decided to use it
with my main computer so I decided to take it out and put it in
there, but it broke during the un-installation leaking cooling fluid
all over my PC. Luckily at the time the computer was disconnected
from the power source and I let it all dry out and had no issues with
it. I wasn't stressing it at all, I was just uninstalling it and the
hose just snapped off right at the radiator with very little force
applied to it. Now I've not heard of any one else having this
problem, but as I said I thought that it was well made. Since it was
broke the way it was there was no way of fixing it so it was
effectively garbage and into the trash it went. These pre-built
systems are nice yes, but they're really not user serviceable if
something like what happened to me happens, so that's just something
to keep in mind.
So let's move onto the testing
shall we?
Ambient room temperature was 22.8C
(+/- .3C) during all testing.
I'm comparing the ECO ALC to the
Noctua NH-U12P SE2 and the Thermaltake FRIO.
Just an FYI: Normally I like to
use the same thermal compound for CPU cooler reviews, but for those
that come with compound pre-applied I use that as the end-user is
most likely not going to scrape it off and use their own. Yes I know
some of you will, but most people won't. The Noctua and the
Thermaltake coolers both had Arctic Cooling MX-3 compound on them
during their testing.
So I'm using the Corei5 750 for
testing on an ASUS P7P55D LE motherboard.
I'm testing it at the stock speed
of 2.6GHZ and then with a modest overclock of 3.6Ghz to see how it
handles the heat.
To get the temperatures I use
CoreTemp with logging enabled and then average the temperatures to
get a single temperature for the charts.
The idle testing temperature is
the result of turning the system on and just leaving it run for 30
minutes doing nothing but running Windows processes.
To get load temps I use two
instances of Orthos Stress Prime to get 100% load on all four cores,
running for 30 minutes as well.
Here's the stock speed tests: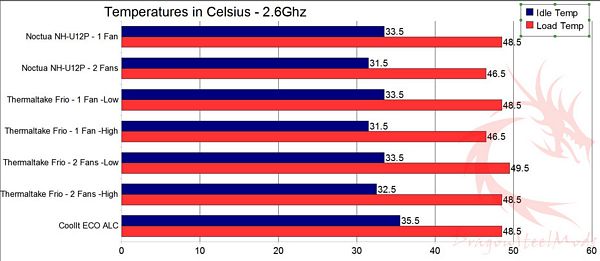 As you can see the results are
similar to the other coolers, the FRIO though with the fan on high
performs a bit better, but it also sounds like a small jet engine
inside of your PC, not exactly quiet.
The noise level of the ECO ALC is
relatively quiet, but it's still a bit too loud for my tastes. Don't
get me wrong, it's not loud at all, just for my personal preferences
it is. I like my system to be as quiet as possible and it is louder
than the Noctua, but it's about the same at the Thermaltake Frio when
it's on low.
Then here's the testing with CPU
overclocked: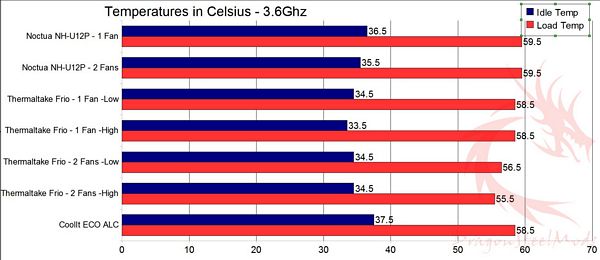 Again the Thermaltake Frio
performs a bit better when running two fans and with the fans on
high, but to get that performance you need to be able to handle the
extreme noise you get from the fans running on high.
Overall the performance is not bad
at all, the ECO ALC performs well against the air coolers as you can
see.
Sure the results aren't amazingly
low, but the two air coolers I put it up against are very good
performers in their own right. The Noctua is well know to have very
good cooling performance and low noise levels, the Thermaltake Frio
is a newcomer, but yet it's very good as well.
As
far as price is concerned, CoolIT lists it as $74.99 but I found it
on Amazon for as low as $62.49,
which isn't bad at all. The Thermaltake FRIO is selling for $59.99,
while the Noctua NH-U12P SE2 is selling for $64.95.
As you can see it's price very competitively, and it's probably the
least expensive liquid cooler on the market today. The price is what
really makes the ECO A.L.C. attractive, there's no way you could
build a liquid cooling system for such a low price, and I don't know
of any kits out there with such a low price. The kits also require
assembly, while the ECO does not, it's ready to go out of the box,
just mount it to your cooler/case and you're cooling with liquid.
Summary
and Comments:
The CoolIT ECO ALC is something
that I think most users will appreciate, in that it's very simple to
install, inexpensive and it has decent performance.
The idea of liquid cooling was, at
one time, something that was considered a way to cool your CPU that
required a lot of work and preparation and more for hardcore
enthusiasts but CoolIT has changed that. This cooler from CoolIT
eliminates a lot, if not all of the hassles of liquid cooling,
there's no worries about leaks and/or anything like that.
The ECO ALC is very simple to
install, it couldn't be easier really, just a few screws and you're
done.
The thermal compound that comes
pre-applied seems to work well, but I would like to see what happens
when I try something else.
The ECO ALC is quiet, but not
exactly silent. If I was to use this as my permanent cooling solution
then I would most certainly swap out the fan for probably something
from Noctua.
DragonSteelMods gives the CoolIT
ECO A.L.C. CPU Cooler a 4.5 out of 5 score and our Recommended Award
as well.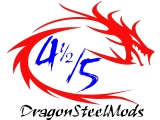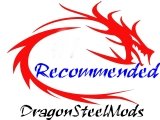 Pros:
+Easy installation
+Seems well made
+Decent performance
+Low price
+Small and lightweight
Cons:
-A bit too loud for my tastes
review# 645
Disclosure: This product was given to DragonSteelMods for review by the company
for review purposes only, and is not considered by us as payment for
the review, we do not, never have, and never will, accept payment
from companies to review their products.
To
learn more about our review policy, testing methods and ratings
please see this page.