Crucial… The name in itself is extremely well known among enthusiasts and non-enthusiasts alike. Today for review I have some special ram from Crucial, it is their 10th Anniversary Edition DDR2 ram, running at 667Mhz or PC5300 speeds. I've found that I can easily get this ram to PC8500 speeds and higher with ease, you'll have to read on to learn how I did it and just how far I did get this excellent ram to go…
Crucial 10th Anniversary DDR2 PC5300-667Mhz Ram 2Gb Kit
Reviewed by: Kristofer Brozio AkA Dracos
Sponsor: Crucial
Tech Specs,Features or the Basic Info:
Crucial 10th Anniversary PC5300-667Mhz DDR2 Ram 2gig Kit (2x1gig)
Module Details:
Part Number: TY2KIT12864AA663
Module Size: 2GB kit (1GBx2)
Package: Tenth Anniversary 240-pin DIMM
Feature: DDR2 PC2-5300
Configuration: 128Meg x 64
DIMM Type: UNBUFFERED
Error Checking: NON-ECC
Speed: DDR2-667
Voltage: 2.2V
Memory Timings: 3-3-3-12
Specs: DDR2 PC2-5300 • 3-3-3-12 • UNBUFFERED • NON-ECC • DDR2-667 • 2.2V • 128Meg 
A Better Look at Things
:
I've had a bit of experience with Crucial products and they always send their ram in these little nondescript boxes with just a bright blue Crucial label on it. Very cool actually, it doesn't have to be all flashy because you know that what is inside is going to be good.
As I mentioned this is the Crucial 10th Anniversary ram, and to celebrate the occasion Crucial sent along a chocolate bar as well in the shape of the ram modules.
The chocolate bar was packaged very well in its own special decorative box, and I have to say it is pretty good chocolate. It is the homemade kind, not the factory stuff, at least that's what it tasted like anyway.
Crucial individually wraps their sticks of ram in anti-static bags to keep them nice and safe. Along with the ram came the installation guide and a special offer from System Mechanic.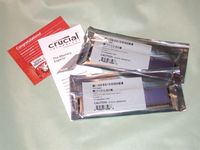 I have to say that this is some of the coolest looking ram modules I have ever seen, the bright blue heat spreaders with the silver/chrome trim and lettering just makes this stuff really stand out.
A Better Look at Things
Continued:
The Crucial 10th Anniversary ram just looks so good I felt it needed a page of it's own, it's just so photogenic.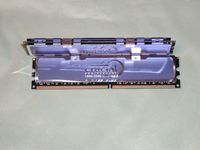 The blue heat spreaders really show off the ram, they have the date printed on them 1996-2006 to celebrate their anniversary.
Of course we also have the very cool black PCBs for the ram itself, the black, blue and silver make an excellent color combination.
Well enough of that, we know it looks good, but let's jump into the next section and see if it performs as well as it looks.
Installation, Testing and Comparison
For testing first I should let you know the specs of my machine where the Crucial is installed:
Asus P5wd2-e Premium Motherboard
Intel P4 Cedar Mil 631 CPU 3.0Ghz cool by a Coolermaster Hyper TX CPU Cooler
Biostar 7600GS videocard
Aspire Iceberg 680Watt PSU
DVD/RW drive and of course a hard drive
Now for testing I run quite a few tests and in the end of course I overclock the ram to see how far I can get and if it is really worth the overclock or not. I use several tests for these purposes, and they are ran several times and then averaged out. During each FSB increase Prime95 is run for at least two hours to insure stability of the ram and system itself. After that the testing can begin for which I use:
Sandra 2007 (mem latency and mem bandwidth)
Super Pi Mod1.4 (time it takes to calculate 16k)
Tmpgenc (time to convert a .AVI file to .MPG)
and I like to get a little gaming in to see if the ram is up to it by playing:
Far Cry
Prey
and Halo.
All games were run at 1024×768 resolution with maximum playable settings or playable frame rates.
For some of these test results you will see I threw in other ram as well for comparison, others I did not as I really just wanted to see how much performance gain there was at said FSB increase.
In these comparison charts you will find Crucial Ballistix, Super Talent and also Corsair ram, the 10th Anniversary ram will be a different color than all the others to make it stand out. Also you will see CAS ratings as well and these will all be explained as the tests are shown.
As for the other Ram latencies they were all running at a CAS5 latency when tested.
Before we get really into this here is the basics of what I got and what it took to get me there, voltage wise. Keep in mind that 2.2 volts is stock for this ram.
Not touching anything on my motherboard and letting it automatically select the ram timing it gave me 5-5-5-15 so we start there, I had to manually adjust the timings to the rated specs of 3-3-3-12.
5-5-5-15 @ 2.2v @667Mhz or PC2-5300
3-3-3-12 @2.2v @667Mhz or PC2-5300
5-5-5-18 @2.2v @800Mhz or PC2-6400 (letting the mobo select the timings)
3-3-3-12 @2.25 @800Mhz or PC2-6400 (note the slight voltage bump to get stable at Cas3)
5-6-6-18 @2.3v @1066Mhz or PC2-8500 (letting mobo select the timings/another voltage bump)
4-5-5-15 @2.3v @1066Mhz or PC2-8500 (note on voltage bump)
5-6-6-18 @2.3v @1100Mhz or PC2-8800 (voltage same and manual latencies)
To achieve the 1100Mhz that put the ram at 550.9Mhz or basically 217Mhz over the rated speed. Not a bad overclock at all.
Installation, Testing and Comparison Continued:
First up is the Sandra 2007 memory Latency Test, the results are in nanoseconds and of course the lower the score the better. There's a lot of data on the chart so click it for a big picture so you can understand it more clearly.
As you can obviously see from the chart that I reach 1100Mhz with the Crucial 10th Anniversary Ram modules, very nice indeed. This was very stable, but I found that not even more voltage would allow me to go any higher and still be stable, I could get higher but just not stable. Still going from pc5300 speeds to over pc8800 speeds is something to brag about indeed.
The next test would be for Sandra 2007 Memory Bandwidth Test, here higher scores are better. The colors are a bit different for the Crucial to differentiate it again, but the placement is the same, Integer score is on top with Float on the bottom.
Here again the Crucial is pretty much on top all the way through, even beating the Corsair which is rated for PC-8500 speeds but not by much.
For the next test I used TMPGEnc to see how long it takes to encode or re-encode a video file. The file is an AVI file that is being converted to MPG. It is 3 minutes and 48 seconds long, with 5720 frames and is 70.5 MB in size. The comparison scores you see for the other ram are those only at 800Mhz and 1066Mhz, this test is mainly to see the time taken to convert the file. Of course here the lower the score the better, and please click it to see the larger graph for a better view.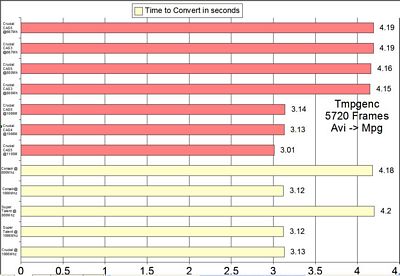 For the most part there is no clear winner unless tenths of seconds count that much to you then the Corsair and Super talent at 1066Mhz would be the winners, with or course the Crucial 10th Anniversary coming in on top but running at 1100Mhz.
The next test would be SuperPi mod 1.4, time it takes to calculate 16K. No comparisons here with other ram, just to see what difference it makes with latency changes and FSB changes.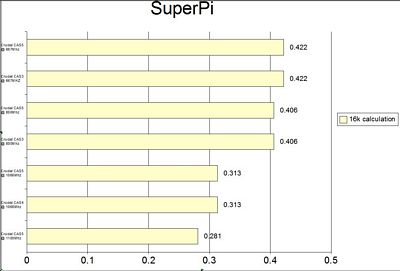 from the chart we can see that there is no real speed gained by dropping the latency of the ram in calculating pi, but of course there is a gain when upping the FSB which in turn speeds up the CPU.
Well that's enough of that, let's get into the gaming testing.
Installation, Testing and Comparison Continued:
Let's find out how much of a difference all this makes in gaming. First up is Prey:
Running at:
1024×768 Resolution
Shader Detail is High
Antialiasing: 2x
Anisotropic Filtering: 2x
No comparisons here again or for any of the games testing just raw scores to see what happens with the latencies and FSB adjusted.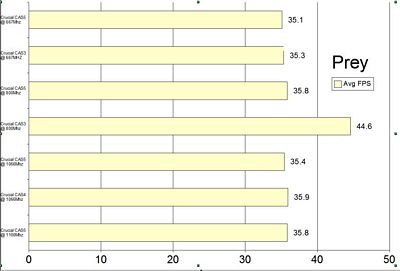 We can see the sweet spot of running the ram and CPU in stock configuration at 800Mhz, there we get the highest frame rates. Other than that there is not much of a difference, obviously the bottleneck is the video card here.
Next up for the testing is Far Cry
1024×768 Resolution
Game Recommended Settings
We can see that FarCry really likes the increased speed of the ram and CPU and the lower latencies as well.
Finally we have HALO, yeah it's old but it's a nice test to get some frame rates and see how they are affected by the speeds/latencies.
1024×768 Resolution
All settings Maxed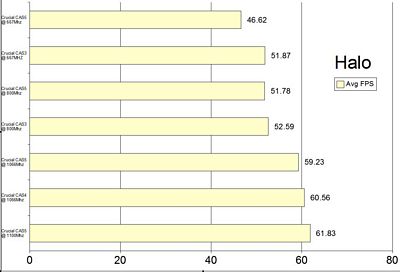 And here again we can see that HALO likes the speed and lower latencies as well.
What did we learn from all this, well the faster the ram better for the most part, except when the video card is lacking then there isn't much you can do except find a better card. I personally learned that my Corsair PC-8500 isn't all that that I thought it was, hmm, I think the Crucial will be staying in my machine.
Summary:
What can I say more about this great ram? It's some excellent stuff and it shows that Crucial knows exactly what it is doing, and one of the main reasons it just celebrated its 10th anniversary. I'm really just blown away by the fact that this ram can run at PC8800 speeds with just a slight voltage bump, and everything in between is very impressive as well. Overall this is some excellent ram and well worth the money, that is if you aren't afraid of a little voltage. This stuff will be staying in my machine for some time to come.
DragonSteelMods gives the Crucial 10th Anniversary DDR2 PC5200-667Mhz Ram 2Gb Kit a 5 out of 5 score and our Editor's Choice Award as well.
Pros:
-Looks great
-Overclocks well above rated specs
-Nice low latencies
Cons:
-None
I was originally going to put this review as our 100th review for DragonSteelMods, but it seems I mis-counted so it is actually review 101. Yep we just passed 100 reviews on DragonSteelMods with many more to come!!!!