Summary and Comments
The TankBot is fun way to pass the time while you're sitting at your desk. You can even get another one and wage a small scale war right on your desk surface.
It's a tank so the treads allow it to be used on pretty any surface besides your desk, it does work great on carpets.
One of the great things about the TankBot is that you can use it with either Android or iOS devices so you're not limited to just one.
The TankBot has three modes, two of which you don't even need to control it as it works all by itself.
The only real drawback to the TankBot is the fact that it's infrared and you need to be pointing directly at it and the angle is rather tricky to find. Other than that though the TankBot is cool little gadget.
DragonSteelMods gives the  DeskPets TankBot a 4.5 out of 5 score.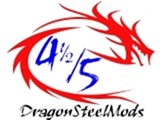 Pros:
+Fun and cute
+Three different modes
+Works great on most any surface
+Easy to control
+Works with both iOS and Android
Cons:
-Infrared control not the best
review# 753
Disclosure: This product was given to DragonSteelMods for review by the company for review purposes only, and is not considered by us as payment for the review; we do not, never have, and never will, accept payment from companies to review their products.
To learn more about our review policy, testing methods and ratings please see this page.