We all like to take pictures but what
if you take lots of them? You either have to carry around your laptop
to transfer them to, or several memory cards which can easily get
lost, not really a couple great choices there…
Today for review our friends at USBGeek have sent me over the Digimate III Touch Screen – SATA Edition hard
drive enclosure. This enclosure is very special in that is features
an OLED display and, as the name suggests, a touch screen. The
Digitmate III also have several memory card slots located on the top
and sides, the idea of the device is to eliminate the need to carry
your laptop or many memory cards, with this device you can just pop
in a memory card and transfer everything to the enclosed hard drive.
It's not only good for pictures but for anything that is on a memory
card like data, videos etc, you are only limited to the size of the
hard drive inside as to what you can store on the Digimate III.
DigiMate
III Touch Screen – SATA Version
Tech
Specs,Features or the Basic Info:
DigiMate
III Touch Screen – SATA Version
Copy/Backup contents of flash
memory cards to the DigiMate III without a PC!
Features
& Specifications:
# USB 2.0 interface, 480 Mbps
maximum transfer rate.
# 6.6 x 5.0 cm Touch Screen
OLED Color Display.
# Support 2.5-inch SATA hard
drives
# Huge storage capacity for
thousands of digital photographs, digital video and audio, and data
files too.
# Copying data files, pictures,
videos, music from memory cards to Digimate III without a computer.
# Dimension: 114 x 77 x 25.4mm
# Weight: 110gm
# Power Supply:
# Internal Lithium-ion
rechargeable battery (1350mAh, 3.7V)
# Removable battery.
# Charging times: 3 hrs
(approximate)
# Battery Life: 2 hrs
# Supported system: Windows
Vista, XP, ME, 2000, 98SE, MacOS 8.6-9X
Supported
Memory Cards:
# SDHC, Secure Digital card
(SD)
# Mini SD card (without
adapter)
# MultiMedia card (MMC)
# Memory Stick
# Memory Stick Pro
# Memory Stick Duo
# Compact Flash card Type I/II
# MicroDrive
Package
Contents:
# DigiMate III Touch Screen –
SATA Version
# User Guide
# CD-ROM disk with Windows 98SE
device drive
# USB Cable
# AC Adapter (110-220V, 1000mA)
# Carrying Case
Price:
US$ 49.00
A
Better Look at Things:
The Digimate III comes in a nice
box that has a window on the front so you can see the device itself,
on the back are listed specs and features as one would expect.
Opening the box we find everything
packed nicely in compartments, included with the Digimate II is a
battery, USB cable, power supply, driver disc, extra screws, user
manual and a nice carrying case.
The Digimate III is rather plain
really with just a screen on the front with two buttons under it, of
course there's also the Digimate III name there are well, the back of
the device is just plain metal.
On the right side we find the
battery cover and SD/MS Pro/XD Slot.
On the top is located the CF/MD
card slot with protective cover as well.
On the left side is where the
MSDuo and MiniSD slot is located.
and finally on the bottom we find
the USB port and power jack connection.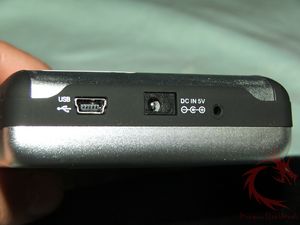 Installation,
Testing and Comparison:
For installation you need to
unscrew a few screws on the sides and then just slip the HDD into the
connection inside of the Digimate III, then of course put the screws
back in.
You'll need to charge the Digimate
II before using it, it takes about 4 hours to fully charge, just plug
it in and it's ready to go. You can use the Digimate III while it's
being charged, the charger acts like a power source as well, so you
can get the hard drive ready.
I ran into a problem with getting
the hard drive ready though, the Digimate III can only read FAT32,
but my SATA hard drive is 160GB which Windows will not format to
FAT32. Luckily I found a way around this with a little program called
Fat32Format, it worked perfectly for me the first time I tried it.
You
can visit their site HERE to get the program and learn more if you wish about it.
The specs don't list it, but the
Digimate III does accept and work with XD cards, so that's a bonus
for me as that's what my main camera uses, my secondary camera uses
SD cards so that's not a problem.
When you first power on the
Digimate III a colorful spinning hard disk appears and the battery
indicator lights up, pop in your card and it will let you know how
many megabytes is being used on your card.
Touch the arrow button and the
Digimate II begins to copy the pictures to the hard disk, it shows a
percentage to let you know how much longer it will take.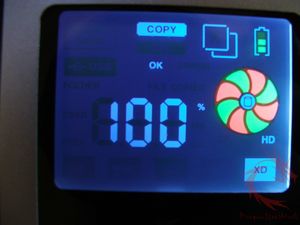 and that's it you're all done, it
took about the same amount of time to transfer the pictures to the
Digimate II as it would when I used my standard card reader.
When you want to transfer them to
your computer just plug in the USB cable an it is recognized as hard
disk, for my computer it was labeled as drive 'M'. It automatically
creates folders for you which you'll have to navigate through to
reach your pictures. One nice thing I noticed is that it named the
file with the prefix 'XD' so I would know the contents were taken
from and XD memory card.
That's about it, it's very easy to
use, except of course the formatting it to FAT32 as I mentioned
already, but of course if you've got a smaller hard drive then it
might not matter about that.
The battery life isn't that great,
but it could have been the unit I got for review as well… but I
only used the unit a couple times and then it sat for a few days,
when I tried to power it on again the battery was dead.
Summary
and Comments:
The Digimate II is a great little
device for those that like to take a lot of pictures and don't want
to carry around a laptop or many memory cards. With the Digimate the
amount of pictures you can store is only limited by the size of the
hard disk.
The Digimate II is fairly quiet, I
could barely hear the HDD while it was spinning, it works well and
it's easy to use.
DragonSteelMods gives the DigiMate
III Touch Screen a 4 out of 5 score.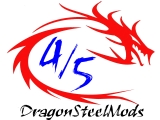 Pros:
-Small and portable
-Ability to carry many pictures
and data
-No need to carry laptop of
multiple memory cards now
-Easy to use
-Seems well made
-Comes with carrying case
Cons:
-Battery life not that good
-Must use FAT32 for HDD/difficult
with large HDDs
I
would like to thank USBGeek for the chance to review the DigiMate
III Touch Screen and for their continued support of DSM.
review# 491