Up for review today I have a set of headphones from Earjax called the Gig series and these are meant to be for budget minded people who would still like quality sound. The Gig series are very inexpensive coming in at well below $20 some places I've looked and if you take the price into account, these are a very good set of headphones. The one thing I love about these is the physical size of the earphones themselves, they're tiny so they fit very well in the ear and they stay there. Included is a nice cloth carrying bag and three sizes of earbud covers so you're sure to find the perfect fit for you. So read on to learn more..
Tech Specs,Features or the Basic Info
Earjax BZ-EGG00-0611 Gig Series Headphones
A game-changing offering, Gig offers uncompromised audio at an entry-level price. Delivering crisp bass and a full frequency range while eliminating all the external noise and nonsense, Gig is a great choice for cost-conscious customers who don't want to sacrifice sound quality to stay within budget.
Though not featuring all the accessories of our other models, Gig still includes 3 sizes of tips as well as a sleek felt carrying pouch. Durable enough to outlast any competitor in its class, Gig is a great value all the way around.
Specifications:
Speaker Type: High-Def mini speaker
Speaker Diameter:  6mm
Freq. Response: 20 Hz – 23kHz
Power Handling: 3 mW
Sensitivity: 99 dB 1mW
Impedance: 10 ohm
Cable Type: Rubber (PVC)
Plug Type: Aluminum, gold-plated
Included in box:
-Gig earbuds
-S,M,L standard tips
-Felt Pouch
Price: $19.95 (from Earjax site)
Price: $14.53 (from Amazon at time of review)

Unboxing
The Gig Series earphones come in a plastic semi-transparent box and you can plainly see the earphones themselves.
When you open it up you'll sort of a plastic rack that the first thing I thought of was a skeleton, but anyway this holds them in place while shipping.
Once unpacked you'll find the earphones, two sets of extra bud covers, a user manual and a cloth drawstring style bag for storage and transportation.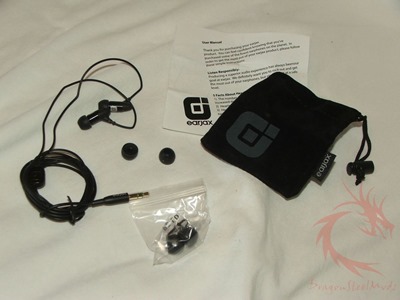 You get three sizes, small, medium and large earbud covers, one is already installed for you on the earphones.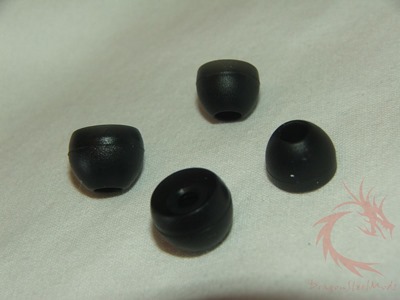 The bag is nice, it's a soft felt with a locking drawstring to keep it closed and there's plenty of room for the earphones and the extra bud covers.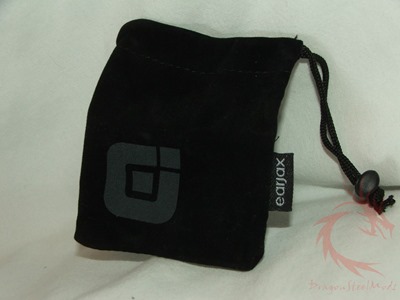 The cord is nice and long at about 127cm or about 50 inches from connector tip to the earphones themselves. The cord is a rubber or PVC material making it sturdy. You can't really see it but there is a plastic slider in-line that can move up and down so you can adjust the earphone cords tighter or looser.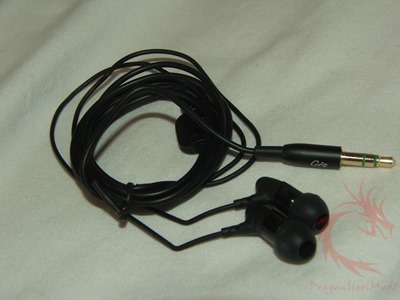 The earphones themselves are very small and I mean tiny, they just slip right into your ears, but more on that later. When you look inside of the earbud covers you'll see the right one is colored red so you know which is which, or which goes in which ear. R for Red and R for Right and I like the color idea as I hate having to look and try and find the letters on my headphones, sometimes they're well hidden, this way the red color you can't miss.
Testing and Usage
I used the Gig earphones with my HTC One and my ZuneHD for testing and of course I listened to music.
Comfort:
The Gig earphones are very small and when you put them in your ears you don't feel the plastic housing, you only feel the soft silicone rubber of the bud covers. The way they're shaped they slide in your ears very snugly and they stay put. Some earphones have large plastic housing that you can feel in your ears and I personally don't care for that type, these are great in that the silicone covers are larger or wider than the plastic housings.
The soft rubber is comfortable, as comfortable as it can be I guess, but no complaints there.
They're small so they're very lightweight, you really don't even noticed that they're in your ears.
Since they fit snugly in your ears they stay in place so you can walk or run with them in and not worry about them falling out.
Sound:
Let me first say that overall the sound is decent from these, especially if you consider the price.
There is bass but not overly so, just right for me, I like bass but not heavy thumping in my ears.
I like a lot of treble in my music and these actually offer a bit more than I like honestly. Then again, I'd rather have a little too much than too little, having not enough really ruins my music experience.
Sound from headphones is a subjective thing, so what I like you might not.
Noise Reduction:
As far as noise reduction yes it works great, it keeps the outside noise out. The reason they do this is the same reason they fit so well, they're small and fit very snugly in your ears thus keeping external noises out.
Cord Noise:
I don't know what the exact term is for this but I call it cord noise. It's the noise you hear in your ears when you move the cords, the vibrations translate into noise in your ears basically. Some headphones are better than others when it comes to this. You can greatly reduce cord noise by looping the cords over your ears, but that doesn't work with stiff cords as they tend to pop off your ears or stick out and you look like you have wires coming out of your head like a Borg, and no one wants that.
There is some cord noise with these but I noticed it's only from above the divider in the cord. The cord splits into two sections about 3/4 of the way up the line and then goes to the left and right ear and I noticed that moving or touching those two pieces do cause some line noise, but nothing at all if you wiggle or touch below the divider.
I do have to mention one small thing about the carrying case or bag and that is that it's felt and it really attracts dust and the dust clings to it so much so that you have have to like forcefully rub it off. Other than though, the bag is nice and thick and will do a good job of protecting the earphones for the most part. Yes it's not a hard case, but it works.
The cords is long yes, this is nice but I found that it gets tangled very easily. If you do not wrap them up with a twist tie or something and just shove them in the bag you'll be spending a minute or so untangling them before you use them.
Just an aside here, or some notes: My youngest son is eight and he just loved these things because of their size. When he first saw them he was like "they're so small!" He likes them because they fit his ears better because of the small size. I think these would be excellent marketed to kids, maybe change up the colors a bit, some bright colors and kids would love them! I've given him many sets and he likes these the best as they fit his ears. Sure other earphones come with different sized earbud covers but they're still rather big, the main part is, the speaker and the housing, but the Earjax Gig are small overall and that is what makes them great I think and so does my son.
Summary and Comments
The Earjax Gig Series headphones are very good for the price, I don't think you'll find a better sounding set in the under $20 price range.
Overall I think the sound is very good from these, nice full range of sounds from them. Sure they aren't like my Atrio M5s that cost about $300 originally, but for the price of less than $20 they sound very good.
I love the size of these, they're tiny making them fit very well and making them very comfortable actually. They stay in your ears even while walking or running or whatever vigorous activity you might be doing with them on, they should stay in your ears I would think.
The cord is nice and long, good enough for any position of your phone or MP3 player on your body. The only problem is that the cord tangles very easily so you need to wrap it and secure it when you're not using them.
The carrying bag is nice, but it does collect dust like a magnet if you leave it sit out.
DragonSteelMods gives the Earjax Gig Series Headphones a 4.5 out of 5 score.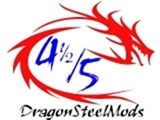 Pros:
+Very small
+Included pouch
+Extra size bud covers included
+Long cable
+Lightweight
+Well made
+Inexpensive
+Great for kids
+Color coded
Cons:
-Gets tangled kind of easily
review# 773
Disclosure: This product was given to DragonSteelMods for review by the company for review purposes only, and is not considered by us as payment for the review; we do not, never have, and never will, accept payment from companies to review their products.
To learn more about our review policy, testing methods and ratings please see this page.