These days CPU Coolers come in all shapes and sizes and it seems that pretty much everyone makes them, but which ones are the best? One way to know you are getting a good CPU cooler is to get one from a company that is know for its' cooling products and that has been around for a long time. One such company is Evercool, the name itself sounds cool, and they have sent us over their Buffalo Heat Pipe CPU Cooler for Intel LGA775 for review today. The Buffalo is an interesting mix of style and performance, so read on to learn more…
Evercool Buffalo Heat Pipe CPU Cooler
Reviewed by: Kristofer Brozio AkA Dracos
Sponsor: Evercool

Tech Specs,Features or the Basic Info:
Evercool Buffalo Heat Pipe CPU Cooler (Intel775)
Features:
HPFI-10025: for INTEL
HPFA-10025: for AMD
Compatible for all kinds of high-end CPU version.
Dual 6 heat pipe cooler with high thermal conductive technology and special welding techniques enable seamless connections between fins and pipes.
By using 10cm fan with more strong air flow and quiet.
Easy to install for all users.
Bullfight design to make it unique and characteristic.
Compatibility:
Intel : Pentium 4 (LGA775)All speed
Pentium D all speed
AMD: Athlon 64 / FX / 64 / X 2 All speed
Opteron All speed
Dual-Core Opteron All speed
Sempron All speed.
Specs:
Overall Dimension : 110 x 72 x 142.7 mm (4.3×2.8×5.6)
DC Fan Size : 100 x 100 x 25 mm (3.9×3.9x.98)
Base Material : Heat Pipe
Bearing Type : Ever Lubricate Bearing
(Long Life bearing)
Speed : 1800 10% RPM
Noise Level : <33 dBA
Rated Voltage : 12 V
Weight : 500 g (17.63oz)
Find great deals on Evercool at ShopZilla!

A Better Look at Things
:
As usual the packaging is the first thing we look at, and the box for the Evercool Buffalo is very interesting and eye-catching. There's a nice big picture of the Buffalo on the front, along with installation instructions on the side.
The box for the Buffalo is very flashy, but yet contains a lot of information about the product inside the package, or at least enough so you know exactly what you are getting, sometimes less is more…
Opening the box we find there are no instructions, they were on the side of the box, on top of the Buffalo is a pack of generic thermal compound and that's it. The Buffalo is packed in formed,shaped plastic to protect it during shipping.
I have to wonder though, why it's called a Buffalo, when there are Bulls on the cooler itself and the fan… oh well. I like the red blades of the fan though, they make a striking contrast with the black frame and silver color of the aluminum of the cooler itself.
Find great deals on CPU Coolers at ShopZilla!

A Better Look at Things
Continued:
The Evercool Buffalo is a fairly lightweight cooler actually, the find are made of aluminum and the heat pipes are copper.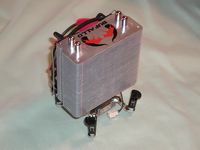 There are 60 fins on the Buffalo CPU cooler, and yes I counted them, and they are very thin making them able to bend relatively easily, so care must be taken in handling and installing the Buffalo.
The mounting bracket is pre-installed for the LGA775 platform, it is the standard style we see most everywhere, push and twist. Honestly I hate this system and wish it would just go away… One thing to note is that the fins of the Buffalo, while being thin, are not sharp, Evercool made sure to round all the corners off and smooth the edges, a nice touch, I've had some cooler that were like a razor and actually cut myself installing them.
There is a copper plate attached to the bottom of the Buffalo where it meets the CPU, there are four copper heat pipes coming out of that.
The base of the Buffalo isn't the smoothest I've ever seen, but I've learned that smoothness doesn't always mean to much, a cooler can be a great performer ever with a rough base, but here are some pics of the base close up… overall though the base isn't that bad, as I said I have sen worse…
Overall the Evercool Buffalo seems like a very well made CPU cooler and looks like it should perform better than the stock and possibly on par with other well known cooler out there. I really do like the colors of the Buffalo, this is the type of cooler that needs to be installed in a case with a window to show it off.
Find great deals on CPU Coolers at ShopZilla!

Installation, Testing and Comparison
The normal installation of the Evercool Buffalo CPU cooler is very easy, just remove your stock heatsink and replace it with the Buffalo. Of course I had a CPU cooler with a backplate already installed so I needed to pull my motherboard out to install the Buffalo, but normally that won't have to happen. It's nice to see an after market cooler that does not need the motherboard removed to install it.
My CPU is an Intel Pentium Extreme Edition 955, installed on an Asus p5wd2-e Premium mobo.
I had no clearance issues with the Buffalo, installation was very easy and took about five minutes.
Ambient temperature during testing was approximately 22C. To get my idle temps I turned the system on and let it sit for 30 minutes, to get load temps I ram Prime95, two instances, one on each core for the same amount of time.
In the following graph you will see the temps for the Buffalo, the Noctua NH-U9F, and the Intel Stock CPU Coolers.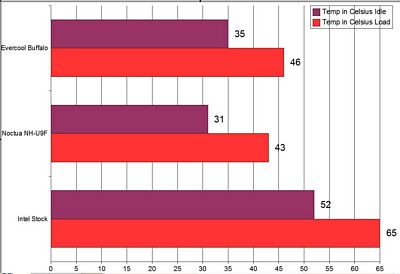 As you can see from the results that Evercool Buffalo comes fairly close to the temps of the Noctua CPU Cooler, and of course just blows the Intel Stock Cooler away. Not bad really, honestly I wasn't expecting temps this good, I was expecting them to be better than the stock of course but not that much better, a nice surprise…
During testing at idle and load I could barely hear the Evercool Buffalo, it is nice and quiet.
Find great deals on CPU Coolers at ShopZilla!

Summary:
The Evercool Buffalo CPU Cooler looks great and performs very well, I was pleasantly surprised by its performance in my testing. It's nice to see a CPU cooler that is quiet, performs well and looks nice. But I still would like to know why it's called the Buffalo when it has pictures of Bulls on it?!? Oh well, why not right?
DragonSteelMods gives the Evercool Buffalo CPU Cooler a 5 out of 5 score.
Pros:
-Performs well compared to others
-Easy to install
-Looks cool
-Quiet
Cons:
-None really

I would like to thank Evercool for the chance to review the Buffalo CPU Cooler and for their support of DSM.
Find great deals on Evercool at ShopZilla!