Designers and photographers know how it is hard to find a nice filter or a decent photo-editing program online, especially when you need to edit your images as fast as possible. The clients are waiting, the deadline is closer than ever, and you still do not have those pictures ready to be used in your articles or posts.
Macphun photo editor is a simple and excellent tool to edit your photos quickly and easily. In the time it takes to edit three pictures in other editing programs you can easily do twenty of them with Macphun photo editor surely. If you have a Mac you have plenty of options when it comes to photo editing software but most of them can be overwhelming for the beginner and honestly most people don't even use a small percentage of everything that's built-into them. I have Photoshop and I don't think I've even used 25% of everything it has to offer, I really just use the basics. Macphun Creative Kit offers the basics yes but it still does have some more advanced features if and when you need them. Here's a brief list of some of the features you can find:
· Intensify
· Tonality
· Snapheal
· Focus
· FX Photo Studio
· Noiseles
Each feature is very useful and has its own particular function I cannot imagine my work and my life without. Now when I look at any shot I have taken, I already know what I should use there. I really love the Intensify. It literary makes the photos 'live', revealing their hidden beauty. It highlights the tiniest objects and makes all the details visible.
Tonality is the most stunning black and white editor in the world. If that is the type of photography you adore, you should get this tool as soon as possible. It contains thousands of patterns for black and white picture editing to reveal the objects you have not noticed. Do you want to style your images retro or give them that futuristic look? Open the bars and see what you can do.
Snapheal is a real treasure in the whole pack. An instrument to delete any objects no matter if they are of the size of an ant or an elephant. Two clicks and no stranger will spoil your flawless stills. Delete anything you want instantly and enjoy the amazing shots.
FX Photo Studio is an adjusted multi-tool that lets us to experiment with the image styles. Over a hundred of customized filters and photo effects to turn your pictures into masterpieces. You can combine them and apply to your taste. It is amazing how a regular image changes within less than a minute.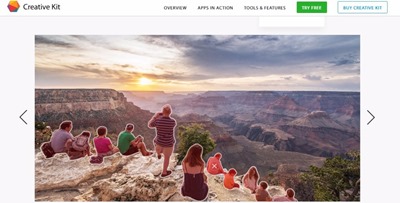 There is no need to explain what this instrument is used for. If you want to highlight one particular object, just click on it. And all the other objects in the image will turn blurry. A perfect option for portraits or urban sceneries.
Everyone knows how hard it is to get rid of the digital noise. Now it will take you thirty seconds with the newest Noiseless tool. Any image can look perfect if you edit it right. Apply any structure you want – with Noiseless it will still look amazing. If you're looking for a simple to use but yet powerful photo editor then make sure you take a looks at the Creative Kit 'http://macphun.com/appstore' and I'm sure you'll be happy with what you get.