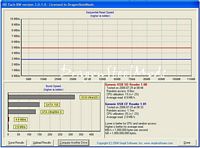 With the ever changing landscape of writable media, be it, hard drives, flash drives, memory card etc, sometimes there comes a need when you want to know more about your devices. Manufacturers advertise speeds for their various products, but just how do you know that that memory card or USB thumb drive you bought is performing that fast? Or just how fast is that new hard drive? There are many answers to this question, but here is one answer: HD TACH from Simpli Software Inc. This software can measure the read and writes speeds and tell you some other information about your devices along with the ability to compare a couple devices to each other to see just which one is faster. Read on to learn more about HD Tach RW…
HD Tach RW V 3.0.1.0 from Simpli Software
Reviewed by: Kristofer Brozio AkA Dracos
Sponsor: Simpli Software Inc
Tech Specs,Features or the Basic Info:
Hd Tach 3
HD Tach 3 is a complete rewrite of the Tach benchmarking engine for Windows 2000 and Windows XP. Windows 2000 and XP users will find that HD Tach 3.0 is a major upgrade in convenience and features.
NOTE: Windows 95, 98, ME and NT 4.0 are no longer supported. If you need to test under these operating systems you may download the unsupported version (2.70).
HD Tach will test the sequential read, random access and interface burst speeds of your attached storage device (hard drive, flash drive, removable drive, etc). All drive technologies such as SCSI, IDE/ATA, 1394, USB, SATA and RAID are supported. Test results from HD Tach can be used to confirm manufacturer specs, analyze your system for proper performance, and compare your performance with others. HD Tach is very easy to use, quick, and presents data in easy to read graphs, including the ability to compare two storage devices on screen at the same time for easy analysis.
HD Tach 3 free/non-commercial
The non-commercial version of HD Tach gives you access to all the functionality, ease of use and reliable benchmarking you expect from HD Tach. In addtion, we have added the ability to save benchmark results and graph your saved benchmark results against previous results or results from the new, included, drive database. We have created this database from benchmark results sent in by our users through the new 'Upload' feature of HD Tach – after running the test you are given the option to send your drive benchmarks in to Simpli Software for inclusion in our database.
The non-commercial version of the software may also be used for up to 14 days by commercial users as an evaluation, as stated in the license agreement.
HD Tach 3 Commercial
HD Tach 3 commercial is an inexpensive, licensed copy of HD Tach 3 for business and corporate users. The features are identical to the non-commercial version of HD Tach 3. You may purchase HD Tach 3 Commercial for $19.95 per user using our online shopping cart.
HD Tach 3 RW
HD Tach 3 RW is a more advanced version of HD Tach containing all features of HD Tach 3 Commercial, plus the ability to perform sequential write tests, perform full read/write tests of the drive and save test data to Excel compatible CSV files. HD Tach 3 RW is available for $49.95 per user using our online shopping cart.
Installation, Testing and Comparison
Since this is a downloadable software program there are no box shots to show you, so we skipped a section and moved right into this section.
Installing is easy just download and install, once finished just click the HD Tach icon on your desktop and away you go. You are greeted with the main screen which gives you some choices as what to do next. You can select which device you wish to test from a drop down box, then you need to select the type of benchmark you wish to use, and if you wish to use the write option (if available for the benchmark type you choose).
After you click the 'Run Test' button, a screen pops up that lets you know the status of the tests you are running. The test that are run are, in order, Burst Test, CPU Test, Random Access Test and finally the Sequential Read Test. If you wish you can cancel the test at anytime with the 'Cancel' button at the bottom of the screen.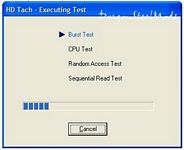 Once the tests are finished you get to see a a nice summary screen with graphs and data about the device you tested. I tested my ATP 1GB CF card and in the following picture you can see the results.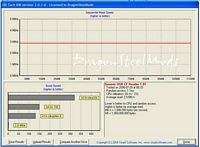 From the HD Tach RW results we learn just how fast our tested device is in several categories, and Simpli Software provided a nice comparison graph as well with the average times of several types of hard drives in the bottom left corner.
Once we are done examining the data we can save it to use to compare to another device if need be by clicking the 'Save Results' button. On the Save Results screen we can fill in lots of information about our tested device so when we compare in the future we can have an exact idea of what we are comparing.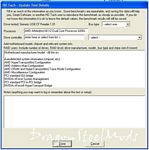 I like the idea that you can compare a couple devices together and see the results in an easy to read format. In the following picture I compared the ATP CF card to my Simpletech CF Card, here we can really see the differences in the cards.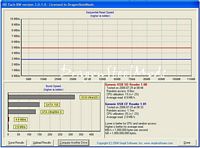 When you want to compare your tested device you can access the extensive library provided by Simpli Software that comes with HD Tach RW, or you can access your own saved benchmarks as well. When accessing these libraries you can also sort them in various way as well to make things easier to find.
HD Tach RW is a small yet very powerful and useful tool that anyone can utilize from the average user to the computer enthusiast or power user. It is full featured and very easy to use. The only complaint I could have about HD Tach RW is that it cannot compare more than two devices at a time, but oh well, maybe a future release will.
Summary:
In closing, yes this is a small review, but HD Tach is a small program. It is small but don't let the size fool you, it is very powerful and very useful. I use it all the time in my work as a reviewer, and even not with reviews, I have four CF cards and I wanted to know just which one was the fastest to use with my digital camera, well I used HD Tach to find out, now I have the fastest card in my main camera to maximize its performance. So HD Tach is not only for enthusiasts or technology related people it can be very useful for the average 'Joe' as well.
DragonSteelMods gives HD Tach RW V 3.0.1.0 from Simpli Software a 5 out of 5 score, and our Recommended Award as well.
Pros:
-Small installation
-Powerful
-Very informative
-Ability to save and compare devices.
-Large data base of included benchmarks
Cons:
-Lack of ability to compare more than two devices
I would like to thank Simpli Software for the chance to review and utilize HD Tach Rw.