A few days ago I took a look at a basic audio adapter for my AT&T Tilt cellphone, most HTC phones, and many others use min-USB instead of standard 3.5mm headphone jacks now for audio, so you have to get an adapter. The adapter I looked at before was just a basic one, it allowed you to hook up your favorite pair of headphones to use with your phone, today though I've got one that is even more useful.
The HTC Stereo Handsfree with Volume Control is from our friends at USBFever and it's really three things in one, a mini-USB to 3.5mm jack adapter, volume control and a microphone. This little gadget essentially lets you turn any headphones or earbuds you have into a handsfree setup. There are many choices out there for handsfree sets but really most have sub-par headphones included with them, and it's usually only one earpiece, with this gadget from USBFever you get to use your own headset. Being able to use any headset is very nice indeed, also you can get this for about $15.00 shipped to you from USBFever, so not only is it very useful but very inexpensive and well worth it…
HTC Stereo Handsfree with Volume Control
Tech Specs,Features or the Basic Info:
HTC Stereo Handsfree with Volume Control
Product Code#:AL021-A639
Price: US$12.99
Features:
– Free your hands off
– No need for extra power
– Stereo
– Lightweight
– Clip to collar, shirt…
– Suitable length: 92cm (or 3 feet), not too long, not too short
Functions:
– Spring loaded Clip allows you to clip at your most convenient places.
– Answer / End calls
– Volume Control (see options below)
– Microphone
Compatibility List: (more are available, pls see note below)
– HTC Trinity / HTC P3600 / Dopod D810 / Orange SPV M700 / Vodafone VPA Compact GPS
– HTC P3300 / HTC Artemis / Dopod P800W / Dopod M700 / T-Mobile MDA Compact III/ Orange SPV M650 / Qtek G200 / O2 xda Orbit
– HTC Herald / HTC P4350 / Dopod C800 / Dopod C858 / Vodafone VPA Compact IV
– HTC S620 / HTC Excalibur / Dopod C720W / O2 xda Cosmo / T-Mobile Dash / Orange SPV E600
– i-mate JasJam / Qtek 9600 / O2 XDA Trion / Dopod CHT 9000 / T-Mobile MDA Vario II / HTC TyTN / HTC Hermes / HTC Z / Orange SPV M3100 / Cingular 8525 / Dopod 838Pro / Vodafone V1605
– Dopod C500 / HTC Vox / HTC S710
– HTC Cavalier / HTC S630 / Dopod C730 / SoftBank X02HT
– HTC Touch / HTC P3450
– HTC Breeze / HTC MTeoR / Qtek 8600 / Orange SPV C700 / Dopod 595 / i-Mate SP JAS
– HTC Gene / HTC P3400 / Dopod D600
Color:
– Black
Option: Volume Control (see last picture)
– With Volume Control
– Without Control (out of stock)
Package Contents:
– HTC Stereo Handsfree with Volume Control x 1
Note:
HTC is a manufacturer for its own brand – HTC and HTC also OEM for the following brands(part of or whole series)
– Qtek
– iMate
– Dopod
– O2
– T-Mobile
– Orange
– Vodafone
– Cingular
– As long as the connector in your device is a 11 pin (USB like) connector, it will be compatiable to.
Packing:
– Polybag
A Better Look at Things
:
There's no fancy packaging for this product, just a plastic bag or 'bulk' type packaging.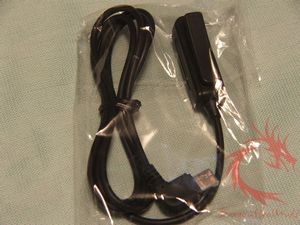 There's not much really to the HTC Stereo Handsfree with Volume Control, it's all one piece, one end has the mini-USB connection while the other is the microphone and volume control with the 2.5mm jack on the end.
On the front is the answer call/end call button and a small hole which is the microphone.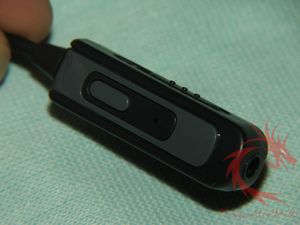 The volume control is a slider that is fairly easy to move, but will resist accidental movements to it like bumping it and such. The spring clip is fairly tight as well and should stay put to whatever you attach it to.
The whole thing seems well made, the cord is about three feet long so it will add quite a bit of length to your headphones as well, and it should be more than long enough to be able to be clipped anywhere you need it to be.
Installation, Testing and Comparison
There's really nothing to installation, plug your headphones in and then plug it into your phone and you're ready to go, it worked perfectly from the start for me.
Sound quality was perfectly fine, just as if I was using my mp3 player with my headphones, the headphones I use are SteelSeries Siberia In-Ear style, they sound great and do well at blocking out noise from the outside.
I had no complaints with the microphone while in call, people said they heard me just fine.
It's easy to use and inexpensive, what more could you ask for?
Summary:
The HTC Stereo Handsfree with Volume Control is one of those products that is very simple, yet very useful and versatile. One of things I like about it is the fact that you can use any headset with it, you can be listening to your favorite music in stereo and then answer your phone without doing much of anything.
I'm not quite sure that hearing conversations in stereo is the greatest thing though… I mean I really don't want to hear my wife complaining in stereo?!
But hey, it works and works great, a great product overall!
DragonSteelMods gives the HTC Stereo Handsfree with Volume Control a 5 out of 5 score and our Recommended Award as well.

Pros:
-Very useful product
-Low price
-Seems well made
-Long cord
-In-line volume controls
-Converts any headset into handsfree set
Cons:
-None really
I would like to thank USBFever for the chance to review the HTC Stereo Handsfree with Volume Control and for their continued support of DSM.
review# 437