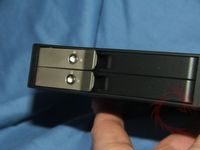 Being a reviewer I get a lot of stuff
for review, and I'll be honest, I don't keep quite a bit of it, I'll
give it away, donate it etc, but some I find very useful and keep for
my own use, like what I have today for review.
Today for review I've got a drive cage
from iStarUSA called the BPU-2535V2 that holds two 2.5" SATA hard
drives, in the space of a single 3.5" bay. Each bay of the cage
locks individually, and you can use either one or both or just swap
drives as needed. I swap a lot of drives in and out of my computer
for testing and I found this to be a very useful product to have in
my computer. So read on to learn more..
Product
Name: iStarUSA
BPU-2535V2 2 x 2.5″ SATA Hot-Swap Drive Cage
Author: Kristofer Brozio
Sponsor: iStarUSA
Tech
Specs,Features or the Basic Info:
BPU-2535V2
1 x 3.5″ to 2 x 2.5″ SATA I/II Hot-Swap Drive Cage
BPU-2535V2
BPU-2535V2 internal drive cage
is a compact and cost effective solution for an internal 3.5" drive
cage with two 2.5" hard drives. It provides an extra storage
within a compact design to
satisfy many application needs. BPU-2535V2 is constructed of aluminum
material that provides best heat dissipation required for high
performance 2.5″ laptop
SATA drives. It is easy and quick to install it into any tower or
rackmount chassis.
Features:
* Aluminum Frame
* Hard Drive Interface: SATA
I/II
* Fit one 3.5" Drive Bay for
2 x 2.5" Hard Disk Drives (thickness: up to 9.5mm)
* Point to Point, Free from
Master/ Slave Setting
* With one SATA Power and two
DATA Connectors
* JBOD Support (two individual
hard drives)
* Energy Saving on Using 2.5″
HDDs or SSD
* LED Indicators for Power &
HDD access
* Security Key Lock
* RoHS Compliance
Specs:
Model Number: BPU-2535V2
RoHS Compliance Version: Yes
Standard Drive Bays: 3.5″
Drive: 1
Host Interface:
-SATA Power Connector x1
-Data Connector x2
HDD Interface: SATA I/II
Material: Aluminum &
Plastic
Weight: 1 lb
Packaging Information:
Enclosure, Manual, Screws, Keys
Dimensions (W x H x D): 101 x
25 x 150 mm
A
Better Look at Things:
The BPU-2535V2 comes in a stylish
looking box with pictures and specs listed on it. Inside you'll find
the cage wrapped in bubble wrap and a brief instruction sheet.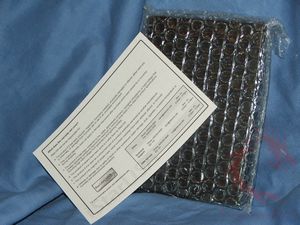 The cage itself is metal and
plastic, it's mostly all black with silver handles on the front.
What's interesting is that on the back you'll find only one power
connection and two data connections. On the bottom you'll find some
ventilation slits. The cage is metal so it acts as a big heatsink to
help keep the drives inside cool.
The handles on the front just pull
to open the bays individually, there's a lever inside of the cage at
the back attached to the handle so that when you pull the handle it
pushes the drives out for easy access.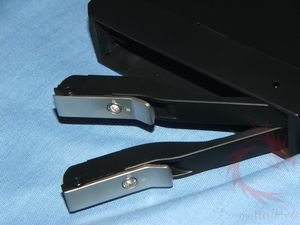 Inside of the case I found another
brief instruction sheet, a set of key and screws for installation.
The keys are hexagon to match the holes on the drive bay handles to
lock them.
Installation,
Testing and Comparison:
Installation is very easy, you
just need a free 3.5" bay in your case, which of course I had.
Installing the drives is easy as
well, just push them in and lock the bay. I actually used two SSD
drives.
There are LEDs on each of the bays
to indicate power and activity.
I tested the drives before and
after installing them in the iStar BPU-2535V2 and I found that the
speeds were exactly the same.
So that's about it really, it
works and works well.
The only complaint I could have is
that the keys don't do anything but lock the bays, I would like if
they were actually a switch to power the drives on or off.
Summary
and Comments:
The iStar BPU-2535V2 is a great
product really, if you need something like this, it works and works
well, there's no doubt about that.
I think it's a must have product
for those of us that test a lot of drives, or use a lot of them. The
average consumer could find this useful as well I'm sure for quick
access to drives.
If you run more than one computer,
I'm sure you might need more than one of these if you plan on
swapping drives often, or to transfer large amounts of data to and
from computers.
I've got a few hot swap docks in
my various computers, and they're great for transferring large
amounts of data when a USB drive just won't do, with the BPU-2535V2
now I've got an option besides using 3.5" drives for transferring
my data.
DragonSteelMods gives the
BPU-2535V2 a 4.5 out of 5 score and our Recommended Award as well.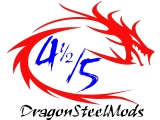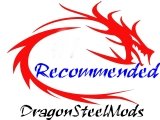 Pros:
+Easy to use
+Single power connection
+Individual locks on bays
+Can run one or two drives
+Hot swap
+Well made
Cons:
-Keys don't power bays
review# 651
Disclosure: This product was given to DragonSteelMods for review by the company
for review purposes only, and is not considered by us as payment for
the review, we do not, never have, and never will, accept payment
from companies to review their products.
To
learn more about our review policy, testing methods and ratings
please see this page.