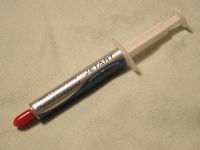 If you want the best performance out of your computer components and/or you intend to overclock your components then you need to replace that stock heatsink compound with something much more effective. I personally replace all of the compound that I can as soon as I can on all heatisnks everywhere, the performance gained is always worth the trouble. There are a couple big names out there that are known for their high performance thermal compounds, but today I have a new entry that gives these big names a run for their money, it is Nano-Silver Thermal Compound from JetArt. From my testing I have found that it performs on par with the others on the market today, it appears to be just as good as the top name thermal compound maker. Read on to see the comparisons…
JetArt Nano-Silver Thermal Compound (CK4000)
Reviewed by: Kristofer Brozio AkA Dracos (me@dragonsteelmods.com)
Sponsor: JetArt
Tech Specs,Features or the Basic Info:
Nano-Silver Thermal Compound
Model: CK4000
Description:
This high conductivity thermal compound is produced particularly for overclockers. It is made of silver material by a nanometer production process. It's other various materials also have better properties than regular thermal compounds. Spreading a small amount thermal compound on chipset surface or heatsink bottom will enhance heat dissipation performance tremendously.
Specifications:
Color: Grey
Thermal Conductivity: > 8.5 W/m . C
Thermal Resistance: < 0.205 C – in / W
Specific Gravity: > 2.5
Operation Temperature: – 50 ~ 240 C
Net Weight: 3 g
A Better Look at Things
:
The packaging for the JetArt Nano-Silver Thermal Compound is the hang card style that you sight see hanging on the rack of your local computer store. The front of the package features the tube of Nano-Silver front and center with a blue background and the name of it at the top.
On the back we find the specs and a brief description, along with instructions for use.
The JetArt Nano-Silver comes packaged in a syringe as do most thermal compounds, this just makes it easier to transport and apply.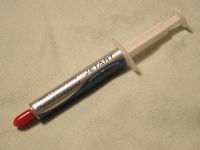 Squeezing a bit out and examining it closer, I found that the Nano-Silver is a bit thinner in its consistency than Arctic Silver and a shade lighter in color as well. Does this matter? not really.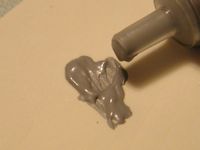 Well obviously there isn't much to see in the way of pictures for a review of a thermal compound, so just continue on to the next section to learn how it performs against Arctic Silver 5 and Zalman Super Thermal Grease.
One thing I noticed is the tube is very large compared to what other companies offer, you can get many applications for many things out of a tube of JetArt Nano-Silver.
Installation, Testing and Comparison
For testing I used my main system which consists of an AMD Athlon X2 4200+ CPU, DFI SLI-DR motherboard and I am using a Corsair Nautilus 500 liquid cooling system to cool the CPU.
Ambient temperature during testing was approx 27c. Idle temperature was recorded after letting the system sit for approximately 30 minutes. Load temperature was achieved by running Prime95 torture test, one instance on each core of the Athlon X2 for approximately 30 minutes.
The JetArt Nano-Silver Thermal Compound has been applied for 5 days, so it has gone through a few thermal cycles.
IDLE:
JetArt NanoSilver: 31c-32c
Zalman: 31-32c
AS5: 32-33c
LOAD:
JetArt NanoSilver: 38c-39c
Zalman: 38c-39c
AS5: 38c-39c
Not bad huh? We can see that the JetArt Nano-Silver Thermal Compound can hold it's own against the 'big boys' of cooling out there today. Compared to the others used in the testing, with the JetArt you get more than double the amount of thermal compound.
Summary:
Well what can I say? The JetArt Nano-Silver Thermal Compound performs very well in comparison to the others out there that are available to us. The Nano-Silver is easy to apply, as it has a thinner consistency than the Arctic Silver 5, there doesn't seem to be as much work involved in the application process. If you are looking for a excellent performing thermal compound then this is what you want. I can easily recommend this and I can say I will be leaving it on my CPU for some time to come, or at least until the next tube of whatever come along for review!
DragonSteelMods gives the JetArt Nano-Silver Thermal Compound a 5 out of 5 score and our Recommended Award as well.
Pros:
-Great performance
-Easy application
-Large quantity
Cons:
-None