Today I have another video review for you of a case from one of my favorite case manufacturers named Krusell. The case is called the Kiruna FlipCover and it's made of leather and it will most certainly protect the HTC One in style. The Kiruna case also features a pocket to carry your ID or credit card so you can travel light and it allows access to all the ports and buttons thanks to nice large cut-out sections. So read on to see the video review..
Tech Specs,Features or the Basic Info
Krusell Kiruna FlipCover for HTC ONE
This timeless and well-made cover for your precious smartphone is a must-have! A sleek model specific design and easy-access to your most important possessions. A beautiful piece of accessory for all occasions – a state of the art!
Item number75580
For: HTC ONE
Color: Black
Features:
Cut-outs and openings for flexible use
Talk with lid closed
Credit card slot
Genuine leather
Magnetic closure
Superior fitting
Price from Krusell Store: £25.90 / $42.45
http://www.krusellcases.com/uk/p_krusell_product.aspx?i=249757
Price: $50.63 from Amazon at time of review
Video Review
Photo Gallery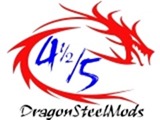 review# 780
Disclosure: This product was given to DragonSteelMods for review by the company for review purposes only, and is not considered by us as payment for the review; we do not, never have, and never will, accept payment from companies to review their products.
To learn more about our review policy, testing methods and ratings please see this page.