Music is everywhere, the Ipod, the Zune, and on any other Mp3 player out there. You'll find these devices in use by an extremely diverse group of peoples, from children to construction workers and up to the executive levels of corporations. It seems everyone is plugged in these days in one way or another. One thing I quite never figured out though is why most people settle for the blah stock earbuds or headphones that come with these devices, you like your music enough to take it with you so why not really enjoy it with a quality set of headphones, and why be wired to your device? This is where Logitech comes in with the introduction of their FreePulse wireless headphones, which of course is what I have for review today. I love my music, and it is enhanced even more with the excellent quality of the FreePulse. Read on to learn more about these excellent headphones…
Logitech FreePulse Bluetooth Wireless Headphones
Reviewed by: Kristofer Brozio AkA Dracos
Sponsor: Logitech
Tech Specs,Features or the Basic Info:
Logitech FreePulse Wireless Headphones
P/N: 980461-0403
Price: USD $99.99
Overview:
Your music, set free.
Love your iPod or MP3 player, but hate the cords? With Logitech's FreePulse Wireless headphones you can enjoy your music without being tied down or tangled up. Integrated volume controls and Bass Boost mode let you take control of your music, while advanced Bluetooth 2.0 with Enhanced Data Rate wireless technology ensures clear, interference-free audio with up to 33 ft. range. Extended life rechargeable batteries provide up to six hours of play time. The high carbon spring-steel headband is lightweight yet rugged, and the soft-touch comfort rings provide a secure fit. The FreePulse Wireless headphones are compatible with most audio players, and include custom-fit iPod adaptersjust charge, plug, and play!
Features:
Soft-touch comfort rings
Thin, flexible rings cradle your ears; enjoy up to 6 hours of play time in comfort.
High carbon spring-steel headband
Ultra lightweight yet rugged construction for a secure, reliable fit
Compatible with most audio players
Patented stereo plug can be repositioned for device compatibility
Specifications:
System Requirements:
Music playback device with 3.5mm stereo audio jack (not included)
Logitech Music Anywhere Wireless Specifications:
Protocol: Bluetooth v2.0 with Enhanced Data Rate
Range: up to 33 ft
Frequency: 2.4 GHz
Transmission format: digital
Package Contents: 
Wireless headphones
Wireless receiver
International voltage AC power adapter (100 V – 240 V)
Custom fit iPod adapters
Quick-start guide
2-year limited warranty
A Better Look at Things
:
The packaging for the FreePulse is actually two boxes in one, the outside cardboard box, and an inside plastic box that contains everything. The packaging is done very well as is expected from Logitech, it is very stylish and shows off the actual product, the FreePulse headphones.
The back of the box has lots of information is a couple different languages. The features and specs are listed on the back and sides.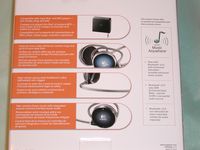 As I mentioned it is two boxes, the plastic box slides out and is where everything is housed.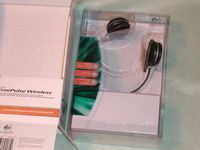 Unpacking the box we find lots of various parts, which we will examine individually.
A Better Look at Things Continued:
The first thing we will look at is the transmitter. The transmitter is covered in a protective plastic to prevent scratches/damage during shipment.
Taking the plastic off we find a nice glossy black finished plastic shell that houses the transmitter.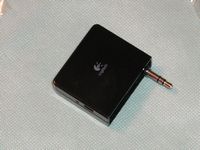 On one side we have the charging port we a reset button.
On the bottom is where the headphone jack is located, what's neat about this is that it actually slides back and forth and a bit side to side to make it more compatible with the majority of devices out there today.
The side opposite the charging jack is located the power/connect button and the LED indicator.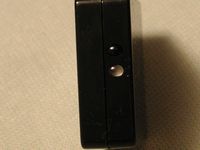 A Better Look at Things Continued 2:
Included with the FreePulse are six small plastic adapters to make the transmitter fit to an Ipod. This is partially where the sliding headphone jack comes into play to make it fit the adapters and thus the Ipod.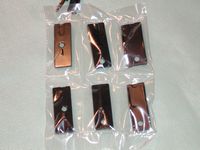 Included also in an extra set of headphone pads, a nice bonus that is something every product should come with, and a headphone jack extension cable. The extension cable ensures the FreePulse is compatible with everything.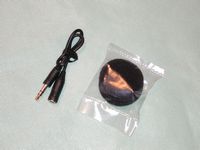 The wall charger resembles you standard wall type but with the special connections required for the FreePulse headphones and transmitter.
The charging connectors resemble small RJ45 plugs or your standard telephone plug, they light up orange while charging and turn off when charging is complete.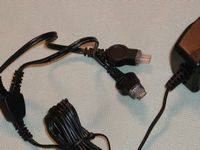 A Better Look at Things Continued 3:
Now we can take a look at the actual Logitech FreePulse headphones; the FreePulse headphones are the neckband style of headphones. These too come packaged with protective plastic over the outer shell of the headphones.
The FreePulse have soft silicone rubber like over the ear supports.
The right ear piece is actually the volume controls, the entire ear plate is the volume button, it is a rocker style switch where you push the top or bottom to make the volume go up and down. I really like this volume button, it is very easy to use and find quickly, it is an excellent feature that I think anyone will appreciate.
The left ear piece is just the ear piece, no buttons or anything on this side.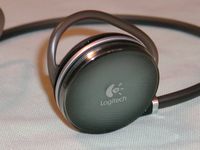 The right side is also where the charging jack and power/connect button is located. The bass boost feature is also activated with the use of the power button and the volume up button combined together.
Overall the FreePulse headphones and all accessories are very well designed and very well made, this is of course to be expected from Logitech, from my experience with Logitech they make excellent quality products. Looks aren't everything though, we need to test these out and see if they sound as good as they look.
Installation, Testing and Comparison
Installation is very simple, just plug them into any available audio port, power the transmitter and headphones on and you are all set. Of course don't forget you do need to charge them first, with the included charger that lights up when charging and turns off when done, charging is made very simple.
I personally don't own an Ipod, nor do I really want one, I am very happy with my Mp3 player. It is, in my opinion the best Mp3 player there is, I have owned five altogether including this one and it is the best overall. The Mp3 player I have is from Swissmemory or Swissbit, it is called the S.beat and it is just very cool and very useful. If you want to check it out HERE is the link to it on the Swissbit site.  I have the 1 gig full version, with in-line remote, and Swiss Army knife, it's an excellent device that would make an excellent gift as well.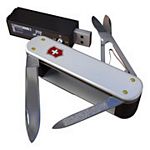 For testing I used the FreePulse headphones with my S.beat and with my computer, my Altec Lansing speakers have a headphone jack located on the side of the right speaker so headphones can be used in conjunction with them.
I also decided to try my Bluetake Bluetooth USB Dongle with the FreePulse as well. The Bluetake dongle is also EDR enabled, and I found that it finds and connects easily to the FreePulse headphones. So you don't have to use the Logitech transmitter if you don't want to with your PC or most likely any other Bluetooth enable media device.
A lot of people out there really don't know what quality audio is, they are happy with what people tell them is quality, or they feel if they pay enough for something then it has to be high quality. You really don't know what quality audio is until you learn what it is, and the only way to learn is to go out and actually do research and essentially experiment with buying things. I personally got involved with higher end audio when I met a guy who owned a high end audiophile store, this was about 15 years ago, and since then I just really can't listen to bad audio. My wife on the other hand is one of those people that just can't tell the difference, I guess you need to have an 'ear' for these things or learn to. I personally own quite a bit of higher end audio equipment and I am proud of it actually, Altec Lansing, Boston Acoustics, Proton, Denon, and Creek just to name a few of the quality products I own.
I like all sorts of music, but have always had a fondness for classical music, to hear classical music at it's best you really need higher end equipment. Sure I do listen to all sorts of other music, metal, rock, classic rock, jazz, and even a little country thrown in there at times.
So I tried the FreePulse using the Logitech transmitter, connecting it is very easy turn them on and essentially they pair together automatically, which is very nice, no need to fiddle with trying to get them to recognize each other etc. I found the range is very good, with line of sight you can easily get over the 33 foot range, I got about 45 feet away actually before I noticed breaks or drop outs in the music. Using it in the house with walls between rooms etc, the reception isn't that great, which is to be expected with most wireless and bluetooth devices, studs, wires pipes etc all interfere with the signals, this is nothing unusual and nothing against the FreePulse.
I mentioned I like Classical music, I have quite a bit of it from Mozart, Bach, and Vivaldi to Handel. My favorite is Vivaldi, with Handel coming in a close second, I've found the Ouverture to Handels' Water Music or Allegro lentamente – Allegro da capo, a piece that has everything in it from high, lows, mids, with a wide variety of instruments, it can easily be used for testing any audio equipment to find if that device can effectively reproduce sounds. Depending which reproduction you have the total time is almost eight minutes for the Overture. If you go to Wiki on it you can find it is a freely available public work in mp3 format if you wish to hear it for yourself.
I've found the Logitech FreePulse headphones effectively reproduce most every sound, how sounds are reproduced depends on your PC or media players equalizer settings. I found that I needed to lower the bass as at higher settings or lower frequencies the bass does become a bit distorted. However pretty much any speaker can sound distorted by adjusting the bass and treble settings, so this doesn't really say to much about the quality of the speakers themselves.
Installation, Testing and Comparison Continued
The Logitech FreePulse does effectively reproduce highs and lows very well, being that the FreePulse does not have separate speakers for highs, lows and mid ranges you cannot expect sound to be perfectly reproduced by them. The overall sound quality is very well for what they are though, I personally am very happy with them, having them on I found that the sound is very immersive and if you close your eyes you can almost imagine yourself being there at the concert. The FreePulse also effectively does block sounds coming from the outside as well.
The comfort of the FreePulse depends on the person, I've had the FreePulse headphones for almost two weeks now and have used them every night for at least three hours at a time, sometimes longer. When you first put them on, you do notice them, they do feel a bit uncomfortable if you are not used to this style of headphones. After a couple days of use though I found that I didn't even notice I had them on, so there is a break in period for the FreePulse, your ears will need to adjust to them. They are very comfortable overall and I found that even using them for extended periods of time there is no problems for me. The ear pads themselves are the standard spongy pads that most headphones have and there is nothing really to say about them. The over the ear 'soft touch comfort rings' do an exceptional job of forming to your ear and comfortably holding the FreePulse is place. I used my Mp3 player while actively working and moving about, and they stayed in place and did not cause any discomfort in any position I found myself in.
One note is the Bass boost feature, it is activated by pressing the volume up and the power button at the same time, this can be a bit awkward while wearing the FreePulse and I really found not much of a difference while using the bass boost and without using it. I could easily adjust the bass from my Mp3 player or PC to the way I wanted it, while some people might like the bass boost feature, it is something I would be happy to never use at all.
The volume button placement is just excellent, I think it is in the perfect spot, it is just so easy to make your adjustments and the button reacts quickly to your activation of it. You can tap it to adjust it slowly or hold it down to quickly change the volume. I can't say enough about the volume placement, it is just excellent. Sure you can use the volume on your PC or Mp3 player, but it is justs easier to set the volume and use the FreePulse buttons to make your adjustments.
I've also found that the FreePulse is silent during periods of silence as well, you might wonder exactly what I mean by this, but some wireless headphones make a barely audible low buzzing or low high pitched noise that you can't hear except during breaks in the music, I found silence and that is it during the breaks in the music.
I did use them while gaming with BF2142, Doom3, Prey and a few other games, and like I mentioned about the sound being immersive with music it is same with gaming. The FreePulse will greatly enhance your gaming experience, and take it to a whole new level.
On a side note, I know that these are essentially just for listening to music, but if these had a microphone they would be a perfect gaming headset. Sure you can use them for gaming but you just don't have the interactivity of the microphone.
Summary and Comments:
In all I found the Logitech FreePulse very crisp and clear with no sound distortion at all. I'm sure you can tell from the review that I was very impressed overall with all the aspects of the FreePulse. At a price point of essentially $100, they are well worth it and you will not be disappointed by them. Being able to use the FreePulse with or without the included transmitter is a very nice feature as well. If you are in the market for a new set of wireless headphones or know someone who is then I suggest you get these for yourself or someone else, they are excellent.
DragonSteelMods gives the Logitech FreePulse Bluetooth Wireless Headphones a 5 out of 5 score and our Editor's Choice Award as well.
Pros:
-Bluetooth 2.0 EDR
-Very comfortable to wear for extended periods
-Very easy volume control, excellent feature
-Lightweight, quality construction
-Excellent sound reproduction
-Very good range, effective past the rated 33 foot range mark in line of sight
Cons:
-Bass boost activation is odd
I would like to thank Logitech for the chance to review the FreePulse wireless headphones and their support of DSM.