I've never understood the need to gamble. Yes sure I gambled in my youth, but it was the little like video poker or video slots, but these days gambling is everywhere and some of them you're not actually winning money, you're paying money to just play. If you look on Facebook and other sites you'll find these little games to play but you don't win anything you just play and then when you run out of turns or lives you pay to get more. What's the point of that exactly? They're free games which they been called freemium as they're free but you can pay actual money to get ahead or for extra lives or bonuses. There's plenty of these gambling programs for mobile and I wanted to see what it was about so I grabbed one from a popular company or franchise that I'm sure you know, Monopoly. They're released a slot game called Monopoly Slots and it's a slot machine style game based on things from the Monopoly board game. So read on…
Tech Specs,Features or the Basic Info
Electronic Arts Inc  – January 10, 2014
MONOPOLY Slots combines big casino-style wins with the beloved world of MONOPOLY. Spin. Win. Go big!
Enjoy premium graphic quality and sound effects… faster action with a real-world feel… multi-slot gameplay… mystery wilds… stacked wilds… 2X multipliers… free spins… and bonus games that really pay off. Plus, get all the fun that only the MONOPOLY brand can deliver. There are lots of slots games to choose from, but there's only one MONOPOLY Slots!
FAST, FUN, FREE
Play through a variety of MONOPOLY-themed slot machines. Double your luck with Twins or take it up a notch with 3×5 slots. Celebrate the big payouts while Mr. MONOPOLY cheers you on!
MORE WAYS TO WIN BIG
Play bonus mini games to make it rain money or take a Chance to "Double" or "Quadruple Up"!
GO WILDER!
Score big bonuses with Mystery Wilds, Stacked Wilds, Free Spins, and 2X Multipliers.
WANT MORE?
Level up to unlock even more FREE slot themes, with new ones added regularly!
Don't miss the winningest slots game on Google Play!
Price: Free
The Review
Nice splash screen for you on start up: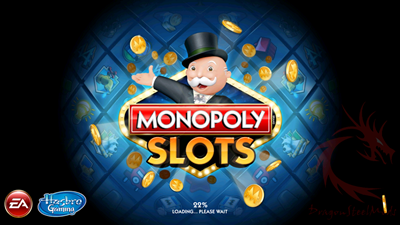 When you start you have to play to continue on, leveling up or collecting stars.
There is a Menu button up at the top corner which opens the options but there isn't many of them really.
You start out playing Easy Street which is classic slots, or as classic as it can get.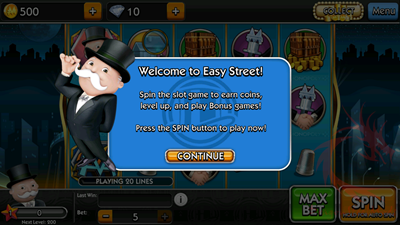 When you're playing you'll find the common things from Monopoly and as you play you get experience points to get to the next level but there are even bonus experience points in the form of stars with numbers on them like below the red star with the 10.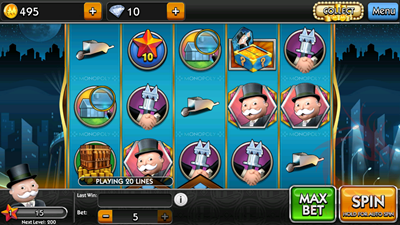 There are numerous ways to win, you can get three across or diagonal or other ways and honestly it kind of weird the ways you can win.
At the top you'll find your money and diamonds. The money is used to play the games and the diamonds are used for bonuses. Off the right side you'll see a 'Collect' button which activates every four hours to give you more money so if you run out you can get free money.
It you look at the above screen shot you'll see a treasure chest above the spin button that if you press will open a mini-game where you can get a 2x or 4x bonus which will double or quadruple what you just won on the last spin. You just tap on a chest and hopefully you'll win double or quadruple your winnings.
So yes it's a free game but you can spend real money buying either coins or diamonds and it can get pricey with for example 1650 diamonds selling for $99.99 in real world money. You can wait four hours for the free coins or go ahead and spend your own hard earned cash to buy coins in the store.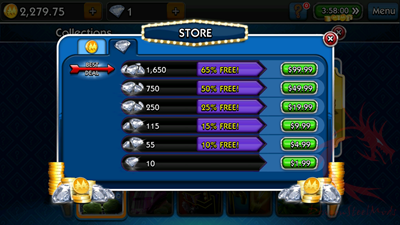 There are mini-game bonuses when spinning like It's Raining Money.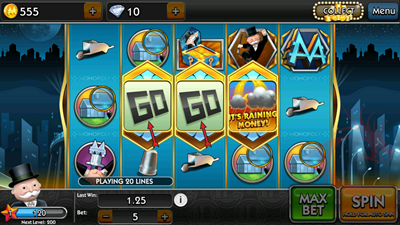 In It's Raining Money you tap a cloud and hopefully it will rain gold coins into your hat. Simple little game, but it's bonus money.
Not quite a mini-game but you can get free spins and it spins automatically for you.
Another mini-game sort of is Chance which is collect and win where you collect Chance cards and once you get sets you can win more coins. If you have diamonds you can actually use them to complete the sets and get your bonuses but that uses one of your diamonds.
When you win big or sort of big you'll be greeted with a splash screen: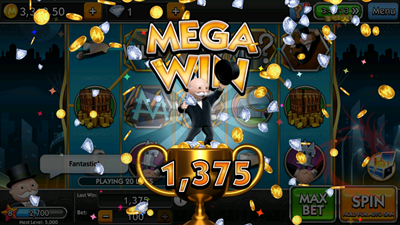 As you progress in the game you'll level up and as you level up you'll be able to bet more and once you get to level ten you'll unlock a new game called Double Slot Express.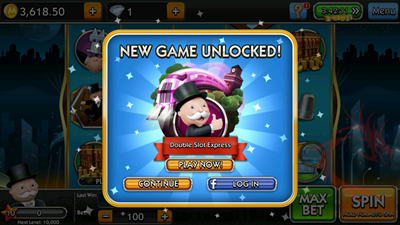 Like other games you'll collect stars or have a trail to follow which leads to the next level and as you keep playing and leveling up you'll unlock more.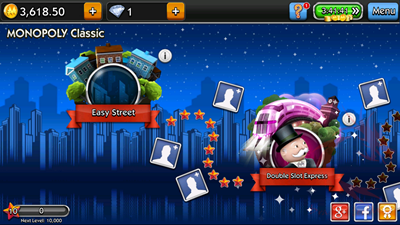 Double Slot Express allows you to play two slot machines at once.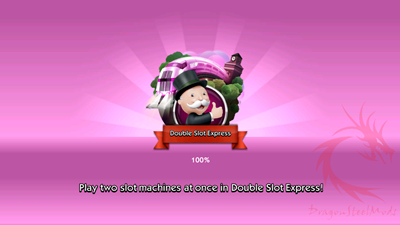 It's exactly as it sounds, two slot machines side by side and honestly I prefer the original version for some reason. Play is the same, you spin and you hopefully win big.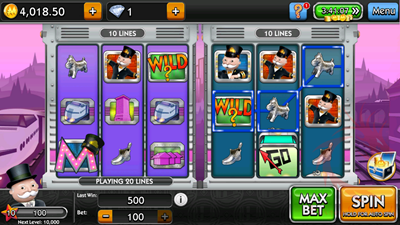 The game is fun I guess, I ended up playing for like an hour straight but I would never actually spend real money on it.
If you want to spend money on gambling then maybe visit a real gambling site like you can check out this page or one of many others out there or go to Las Vegas or Atlantic City or if you're like me you can go to the local casino.
Summary and Comments
Like most little games out there that claim to be free Monopoly Slots really isn't as if you play a lot and lose you have to spend your real world money to continue playing.
Yes it's fun to an extent and I do like the mini-games especially the one It's Raining Money.
There is more to the game, I only got a little past level 10 and unlocked the double slots game, but if you keep playing more will unlock.
Personally I'll be uninstalling it as it's just not my type of game.
That doesn't mean other people won't like it, games like these are obviously very popular or they wouldn't be out there.
If I was going to get a game like this I would make sure it's from a reputable source that's for sure.
DragonSteelMods gives Monopoly Slots for Android a 4 out of 5 score.
Pros:
+Fun
+Lots of ways to win coins
+Mini-games
Cons:
-Can get expensive to play
-Not really free
review# 778
Disclosure: This product was given to DragonSteelMods for review by the company for review purposes only, and is not considered by us as payment for the review; we do not, never have, and never will, accept payment from companies to review their products.
To learn more about our review policy, testing methods and ratings please see this page.