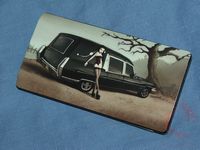 Yesterday I posted my review of the Zune
HD so I figured today would be a good day for a
Zune skin review. This review though is more for you the reader
though as MusicSkins wanted me to share a 20% off code with you.
They asked me to pick a skin to do a brief review of so I can show
you the product, and then give you to discount code so you can go
grab your own. So read on to see the one I picked and to learn more
about the discount code…
Product
Name: MusicSkins
Zune HD Skin and Discount Code
Author: Kristofer
Brozio
Sponsor: MusicSkins
Tech
Specs,Features or the Basic Info:
Pin-Up
Toons – Graveyard Shift – Zune HD
Price: $15.00
No Scratches
MusicSkins protect your
precious device with a durable anti-scratch, anti-UV coating.
Easy On… Easy off
3M Adhesive technology prevents
bubbles and allows easy application and clean removal.
Premium Materials
MusicSkins are Made In The USA.
Ultra Premium vinyl sets us apart from all other skin products.
No Bulk
Ultra-low profile means
flawless integration with all accessories including docks, iTrip,
cases, bags, and armbands.
A
Better Look at Things:
When
you go to MusicSkins you'll see that they've got hundreds of skins to
pick from so choosing just one was a bit hard. I thought about going
with a music themed one but then decided I wanted something a bit
different. I settled on more of an artsy type from the Pin-Up Toons
Series created by Art Impressions. You can check out the Pin-Up Toons
website HERE to see more of their artwork.
I'm not a goth by no means, but I
have a fondness for dark things and of course I like scantily clad
women so I choose the skin called Graveyard Shift for my Zune HD. It
features a black hearse near what appears to be a graveyard with a
goth chick on it wearing a thought provoking outfit. It works for
me…
The skin ships in just a sturdy
cardboard envelope, inside you'll find a sealed plastic envelope with
your skin inside of it. Along with the skin in an advertisement for
MusciSkins as well..
The
skin itself is made from 3M Controltac which is a vinyl material meant to be durable and a mostly permanent
adhesive. The adhesive won't peel off the product after time, it
won't leave residue, but you can easily take it off and re-apply it
if need be. It's good stuff really…
The skin for the Zune comes in
three parts, one large back piece and two front parts with a center
section where the screen would be as a bonus for you..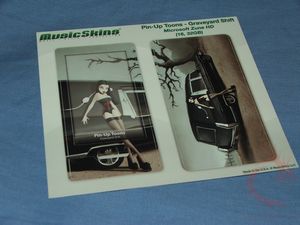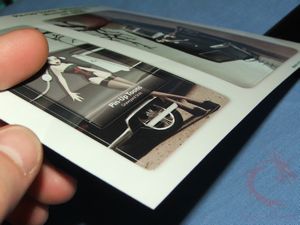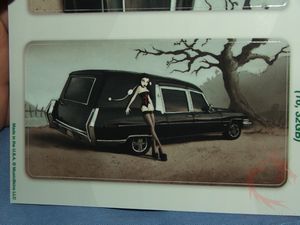 The skin is very nicely done, it
is high quality and it will not only protect your device but make it
look unique as well.
Installation,
Testing and Comparison:
Well here's my Zune HD before the
skin, I should note I do have a screen protector on it as well.
The top part is two sections, a
border around the screen, and then a smaller section below the back
button. I'll be honest the skin was harder to apply than I thought it
would be, but that's only because I wanted it to be perfect so it
took me several minutes to get it applied.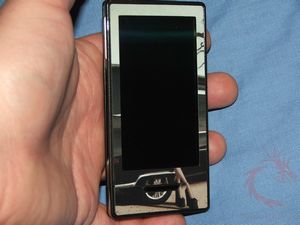 I did learn that you have to be
careful when applying as the skin will stretch out a little if you
pull to hard, then you really have to smooth things over to get the
bubble out and you may end up with a wrinkle or two in it the skin.
The back piece was much easier,
it's just a single sheet and you just need to line it up and stick in
on: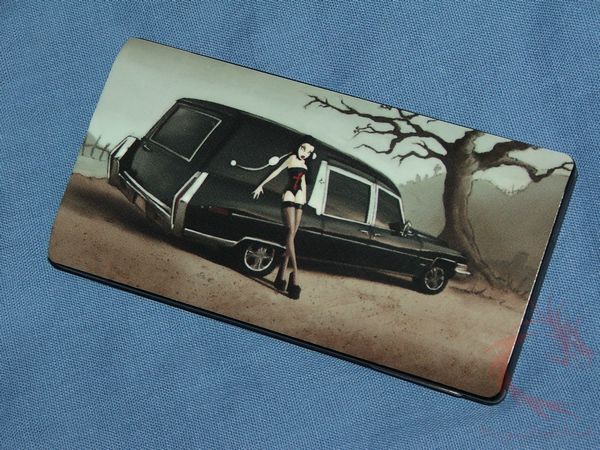 This skin of course isn't for
everyone, it's what I choose for my Zune HD, there's hundreds more
you can pick from or you could even design your own using their
custom online design tool.
If you look back at the front part
of the skin it kind of looks all cut off and I'm not sure I like it
that way as you can't tell what it is.. However you can go to the
MusicSkins site under the wallpaper section and grab a wallpaper that
matches your skin so it fills it in.
It doesn't exactly line up
perfectly since the Zune HD has that gray bar at the bottom with the
arrow on it, but it works:
I'm sure if I wanted it to be
perfect I could mess around with re-sizing the image or cropping it a
bit, but you get the idea… The Zune actually cut the image a bit on
the top and sides, so I'll have to play with it to get it perfect,
probably just resizing it to the Zune HD resolution would do the
trick.
Summary
and Comments:
MusisSkins products are great, I
like them myself. I actually have their skins on other products I
own, I've bought their skins myself so I can personally attest to
their quality and not just because this is a review.
The skins are well made and
durable, they offer a personal and unique touch to your devices that
make them stand out from the rest and they offer good protection
without a lot of bulk so you can still use most cases with your
devices.
In the MusicSkins store you'll
find hundreds of designs to choose from, something for everyone I
would think, or you could just create your own with their online
tool.
Now to the discount code part of
this…
Go
to Music-Skins.com and pick something or many somethings you want and add them to your
cart. When you're checking out there's a space to apply the coupon
code, just enter thankyou to get a 20% discount and your total will
be adjusted automatically.
DragonSteelMods gives the
MusicSkins Zune HD Skin a 5 out of 5 score and our Recommended Award
as well.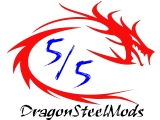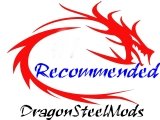 Pros:
+Decent protection
+Hundreds of styles to choose from
+Fairly easy application
+Skin is durable and well made
Cons:
-Skin must be applied with care
review# 670
Disclosure: This product was given to DragonSteelMods for review by the company
for review purposes only, and is not considered by us as payment for
the review, we do not, never have, and never will, accept payment
from companies to review their products.
To
learn more about our review policy, testing methods and ratings
please see this page.