Not much has changed in how we keep our
computers cool, we use fans, yes I know there are other solutions but
the most common is the typical fan to pull air fresh cool air into
our cases and exhaust the hot air out. For the most part this system
works well, but there are always ways of improving the system if we
look hard enough, one way is a fan controller, this not only controls
the speeds of the fans but can also help quiet a loud fan.
Up on the review block today we've got
the Sentry LX Aluminum Dual Bay Fan Controller from NZXT and it's
very well made, easy to install and even easier to use. The Sentry LX
is a stylish black colored aluminum with diamond cut accents so it
will fit in nicely with most any chassis.
So continue on to learn more about the
Sentry LX and see why this is the fan controller for you…
NZXT
Sentry LX Fan Controller Review
Tech
Specs,Features or the Basic Info:
Aluminum dual bay fan
controller
NZXT, a company built on
realizing the dreams of gamers worldwide, is proud to announce the
Sentry LX, a high-performance aluminum fan controller. Sentry LX
boasts a robust feature set providing gamers and PC enthusiasts with
the optimal setup for monitoring and adjusting temperatures
throughout the PC.
-Simple Installation – Sentry
LX slides easily into any dual 5.25" drive bay
-Complete Control – 5
Temperature Probes keep tabs on all areas of your system while the 5
Fan controllers adjust the fans' RPM speed
-Auto/Manual Modes – Allows
users to automatically adjust the fan speeds to correspond to a
specific temperature or manually set your system for extreme
overclocking capabilities or absolute silence
-Temperature Alarm – Instant
notification if temps rise above a designated point
-Intuitive Interface and LCD
Display – NZXT's ergonomic interface design allows you to
customize your airflow on the fly
-Sleek Design – Aluminum
plated front panel is designed to match any high-end chassis
Features:
* Large dual 5.25″ LCD
screen
* NZXT designed intuitive
control, set and change fan speeds and settings on the fly
* Auto/Manual modes, let the
LCD take control or set fan speeds to your liking
* Temperature alarm
* Aluminum finish
* NZXT Designed graphical
interface, easy to read and understand
* Saved Settings, calender and
fan settings are stored even during system off so settings don't need
to be redone
A
Better Look at Things:
The NZXT Sentry LX comes in a nice
little box with pictures and information all over it so you know
exactly what's inside.
The Sentry LX itself is packaged
well for protection, wrapped in plastic and then surrounded by foam
to prevent any damage during transit, the LCD display even has it's
own protective cover as well. Included with the Sentry LX is a user
manual, battery, extra temperature probes and small pieces of tape to
attach the probes in your case.
The Sentry LX is very nicely made,
it's attractively down as well with nice diamond cut accents on the
face surrounding the LCD. On the left side is where you'll find six
buttons used to control the features of the Sentry LX, they're big
and easily accessible.
The Sentry LX is aluminum so it is
fairly lightweight, but it does take up two 5.25" bays. So ti might
be a problem with some cases, but with most it should fit just fine.
The bottom of the frame is open so you can easily pass wires through
it for any cable management, this is a nice touch really, and
something that most companies might not even consider.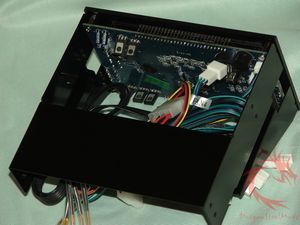 The temperature probes are your
standard style that are used for many types of devices like the
Sentry LX, each one is labeled as well so you can know which goes
where and to what…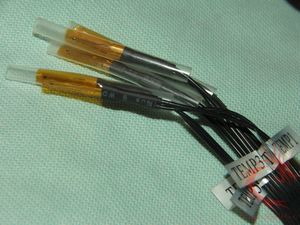 The fan connections are 3-pin
closed style, this means you won't be able to connect a four pin PWN
style fan to the controller, but since it is plastic a pair of wire
cutters can easily and cleanly snip one side off of the connector, in
fact I did just that to hook the Sentry LX up to my CPU cooler.
Finally the Sentry LX comes with a
pass through Molex connection to get power to the controller.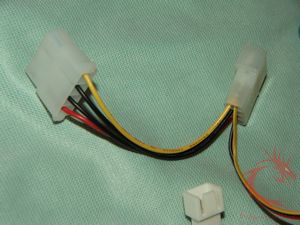 Installation,
Testing and Comparison:
The first thing you'll want to do
with the Sentry LX is install the included battery, this is easy to
do, it just pops into the battery compartment on the PCB of the fan
controller. I guess you don't have to use the battery but if you
don't use it then the time, date, setting etc will not be saved, and
who wants to reset the time every time you power on the computer..
To install the Sentry LX you'll
need to free 5.25" bays of course, so you might have to move things
around to get it to fit depending on your own system. The Sentry LX
installs just like any other 5.25" device, depending on the type of
case you have, it might need rails etc…
I installed the temperature probes
in various locations around my case that I thought I should be
monitoring like the VGA card and CPU cooler. I did find that the tape
isn't very sticky, as it didn't last more than two days in my case,
not sure what the problem was there…
Using the controller is easy, you
can use the auto function and let the Sentry control your fans or you
can manually set them yourself. The display is very bright and easy
read even from across the room so at a glance you'll have easy access
to important information about your system. The little fans are even
animated so you can see if the fans are spinning or not.
Overall the Sentry LX is one of
the nicest fan controllers on the market today, it will be staying in
my system for quite some time, I really like the Sentry LX honestly!
Summary
and Comments:
The NZXT Sentry LX is one of those
products that is very close to being perfect, it's well made, looks
great, is easy to install and just works very well.
One of the things I really like
about the Sentry LX is the large display where all the temperatures
and information is easily readable from across the room, you don't
have to push any buttons to see the temperatures or speeds of the
fans, it's all right there for you in plain view.
I like the large clock and
calendar also, I refer to the clock in my toolbar often to check the
date, and now I can just glance to see all the information right
there in front of me.
The only problem that I came
across was the included tape, it didn't last two days, I opened up
the case to find the probes had come unattached, while this isn't
fault of NZXT or the Sentry LX, it is something that should be
looked into by them. I think I was lucky that one of the probes
didn't get stuck in a fan on my video card or CPU cooler, luckily I
opened up my case to do something else and found the probes just
hanging around in there. It could be that I got a bad batch of tape
as well, and this might not be a problem with others out there
either…
Of course it could be that I
didn't clean the dust out of my case as well as I could have either,
but I did wipe the surface where the probes were to be applied, I
just didn't scrub them or anything to that affect…
DragonSteelMods gives the SENTRY
LX a 5 out of 5 score and our Editor's Choice Award as well.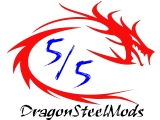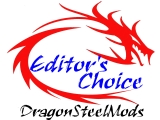 Pros:
-Easy to use
-Easy to install
-Well made
-Easy to see from distance
-Configurable
-Extra temp probes included
Cons:
-Tape doesn't stick well
I
would like to thank NZXT for the chance to review the Sentry
LX and for their continued support of DSM.
review# 483