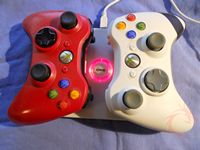 Induction charging has been around for a little bit now, but
it's not exactly popular, at least not as popular as I would have expected it
to be. It's a simple system to use really, but it seems some manufacturers make
thing more difficult than they have to be with making you buy special battery
packs for each of your devices adding to the overall cost. Sure I guess there's
a reason there, and it's because we have no standards in most any industry
really. Look at phones, they all use a different battery and a lot of them use
different connectors. Why can't we have standards for all of that? Wouldn't it
make life easier for everyone including the manufacturers to have a single
battery of connector for everything? No,
that would make too much sense..
Today for review our friends at Gaming Zap have sent me the
Orb Xbox 360 Magnetic Induction Controller Charger. It uses induction
technology to charge the included battery packs, meaning there's really nothing
to plug in. You just put the battery pack in your controller and then set it on
the included charging pad and it charges. That's it, not much to it at all,
couldn't be simpler really. Let's get into it..
Product Name: Orb
Xbox 360 Magnetic Induction Controller Charger – White
Author: Kristofer Brozio
Sponsor: Gaming Zap
Tech Specs,Features or the Basic Info:
Orb
Xbox 360 Magnetic Induction Controller Charger – White
– Comes with 2
special battery packs
– Wire free
charging
– Magnetic panels
hold the controllers in place while charging
– Charge 2
controllers at a time
– Can be used while
console is turned off
– LED lights show
when the controllers are charging and fully charged
The White Orb Xbox
360 Magnetic Induction Charger lets you charge your wireless Xbox 360
Controllers without using any wires! Supplied with 2 battery packs, the Xbox
360 Induction Charger replaces your old battery packs to allow you to simply
drop the Xbox 360 controller on to the charging pad without having to connect
it to anything!
The special battery
packs and chargers are held together magnetically so that the controllers are
always held in line. The charging light in the center of the charging pad glows
red whilst it is charging and glows blue to let you know that it is fully
charged. The charger is USB powered and can be simply hooked up to the Xbox 360
console via the supplied USB cable – it even charges whilst the console is
turned off! The battery packs can also be charged when disconnected from the
controllers. Simple and easy to use, the Xbox 360 Magnetic Induction Charger is
the easiest way to charge your controllers!
Price: £24.46 /
$38.63
A Better Look at Things
:
The Orb Xbox 360 Magnetic Induction Controller Charger comes in a rather
small box. It's green and white like the Xbox360 colors. There's information on
the front and back as you might expect.
Once you get everything unpacked you'll find a sheet of instruction, USB
cable, charging pad and two batteries.
The battery packs look like any other really. The contacts are on the
back edge and not the bottom like the official Xbox battery pack is though. The
packs are the same size and feel to weight the same as the official Xbox 360
packs do.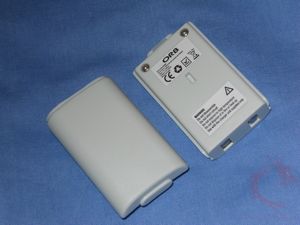 The batteries charge via induction, you just place them on the included
pad which has very faint battery shaped marks on it. You really can't see them
in the picture. In the center is the Orb logo and there's LEDs there as well on
each side. They light up red when charging and blue when complete. There's also
a magnet in the pad that pulls the battery into the correct position for
charging so you'll always be sure to get it right.
On the bottom you'll just see rubber feet to hold it in place to prevent
slipping.
On the bottom or back edge of the pad you'll find a mini-USB connection
for power.
The USB cable is about 40 inches long, which should be of adequate
length for most people. You charge the batteries via the USB port on your Xbox360
or you can use your computer as well.
Sadly there is no external power supply though so you can really only
charge while the Xbox360 is powered on. That doesn't make much sense to me
though as you're using your controllers so how can you charge them?! Well that's not quite right; the front USB ports
on my Xbox360 do provide power when it's turned off normally. My Xbox360
doesn't as I use a TrickleStar adapter that powers everything off when I turn
the TV off to save power. I've just been charging them on my computer sine it's
always on anyway.
Installation, Testing and Comparison
Using the Orb is very simple, just put the batteries on the charger and
let it do its thing. As I mentioned, there are LEDs in it that light red for
charging and blue when done. You can charge the batteries just by themselves in
the pad if you want.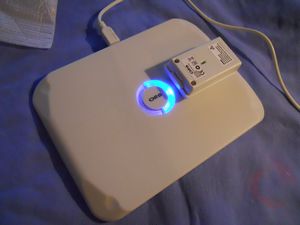 Or you can put the controllers with batteries in them right on the pad.
If the battery is totally dead then it takes about 4 hours to charge them
via USB. That time gets you about 8 hours play time. Yes it is USB powered so
it's not exactly fast charging, but like any type of charger you'll use it when
you're not using your system most likely.
As far as longevity, the batteries do quickly lose their charge; within
a week if you don't use the batteries, they'll be almost completely dead. For
most gamers I don't see that as an issue though, most of you will not let you
Xbox360 sit that long.
Summary and Comments
The Orb Xbox 360 Magnetic Induction Controller Charger works very well,
and for the price I think it's worth it as it even includes two batteries.
The idea of induction charging has been around for a while now, and it
does make life much easier as there's nothing to plug in. To use it you just
sit the battery or controller on the pad and it charges, couldn't be easier.
Battery life is decent, I think eight should be more than enough though
some might find that not long enough I'm sure. I don't know what the average
game play session length is, but for me I'm not going to be sitting in front of
my TV for more than eight hours playing games so the charge is fine for my uses
personally.
DragonSteelMods gives the Orb Xbox 360 Magnetic Induction Controller
Charger a 4.5 out of 5 score.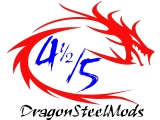 Pros:
+Very easy to use
+Can get about 8 hours on a single charge
+Seems well made
Cons:
-No external power supply, must use USB
review#716
**Quick little reminder, Gaming Zap is also
carrying the Nyko
Kinect Zoom now. They just
wanted me to let everyone know…
Disclosure: This product was given to DragonSteelMods for review
by the company for review purposes only, and is not considered by us as payment
for the review; we do not, never have, and never will, accept payment from
companies to review their products.
To learn more about our review policy, testing methods and ratings
please see this page.