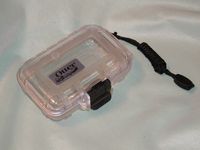 Today for review I have something a bit non-technical, but yet can be used to protect those 'techie' things you might have. Otterbox has sent me the Otterbox 1000 for review, it is a small case that is very tough, water-proof and just plain cool. So whether your trekking through the Andes or running through the rain to get to a meeting your belongings can be protected. The Otterbox 1000, and all Otterbox products are very useful, high quality products that not many people really know about, so continue on to learn more about the Otterbox 1000 and what Otterbox has to offer you…
Otterbox 1000
Reviewed by: Kristofer Brozio AkA Dracos
Sponsor: Otterbox
Tech Specs,Features or the Basic Info:
The OtterBox 1000
The Otter Box waterproof box is crushproof and they float. Protect your valuables from the elements with any of our small waterproof boxes. Our small waterproof boxes are great for water-tight storage of: pager, car keys, film & batteries, credit cards, small wallets and cell phones.
Otter Box is the world leader in water-proof protection and the selection of small waterproof cases. You'll see why our slogan is "Never Out of Its Element" when you choose our small waterproof cases.
Price: $11.49
Specs:
Ext. Dimensions 4.837"x 3.682"x 1.652"
Int. Dimensions 4.003"x 2.488"x 1.293"
Uses:
-Keys & wallet
-Film & batteries
-Medication
Features:
OtterBox are rated and guaranteed to 100 feet deep. Over 10 times as deep as our closest competitor!
The type of plastic used to make the colored OtterBoxes is an ABS plastic thats reinforced with fiberglass. The type of plastic used to make clear OtterBoxes is high impact polycarbonate. All Otter Boxes (regardless of material used) offer the same protection.
Find more Otterbox products at ShopZilla!
A Better Look at Things
:
There isn't much in the way of packaging for the Otterbox 1000, mine arrived in a small cardboard box stuffed with 'air-pillows' for protection. The Otterbox 1000 has a yellow plastic hang tag with the Otterbox logo on it.
As you can see by the dimensions I have listed in the specs, the Otterbox 1000 is small, just big enough to carry a cellphone, keys, batteries, or any small items that you need to protect from the elements. The Otterbox I received for review is clear, it has the Otterbox logo on the front, attached to it is a nylon cord that can be unwrapped to its' full length if need be. The Otterbox 1000 is also available in many other colors as well, so you can choose the one that is right for you.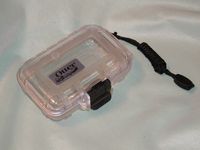 The bottom of the Otterbox 1000 looks the same as the top, but not clear, more of smoke color, but semi-transparent.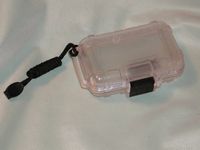 The Otterbox 1000 opens fairly easily, the clasp is very strong, and there is a heavy duty hinge that runs most of the length of the back of the Otterbox 1000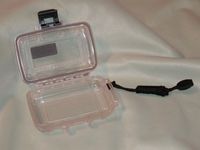 Find more Otterbox products at ShopZilla!
A Better Look at Things
Continued:
Taking a closer look at the front of the Otterbox 1000, or the side actually, we can see that Otterbox also included a space for a small lock if need be, next to the locking clasp. The clasp is thick, sturdy plastic making the Otterbox 1000 fairly easy to open, it require a bit of force to open it and close it, this insures that the Otterbox 1000 is sealed to keep the elements out and to protect your belongings.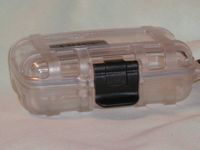 Speaking of seals, the seal for the Otterbox 1000 is inset into the lid, when you close the case the latch forces the seal onto the bottom half of the Otterbox forming the watertight seal.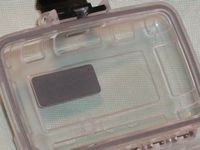 Here's a close up shot of the latch, optional locking loops and the seal.
I can personally attest to Otterbox products, I own an Otterbox Laptop case and I love it, I have had many compliments on it and friends/strangers wanting to know where I got it from. Otterbox makes excellent products, not only for protecting your gear from the elements but also protection from the everyday things that happen in life. Their products are very unique, and easily the best in their product category, actually though Otterbox products could be in a category of their own, because if you want the best protection for your 'stuff' there is no other choice except Otterbox…
Find more Otterbox products at ShopZilla!
Installation, Testing and Comparison
As for the installation process, well, you open the Otterbox 100, put something in it, close it and away you go, very simple easy to use, easy to protect your belongings.
Small cellphones, like mine (LG C3100) will fit into the Otterbox 1000.
and the Otterbox 1000 fits a pack of cigarettes perfectly, gotta protect the smokes dude!
As for testing well, I wasn't quite sure how to test it, but I got creative and decided to take a shower with it, yep I took a shower with my Otterbox 1000… don't worry, there's no pictures of the testing!
Anyway I decided to put a few sheets of facial tissue inside the Otterbox 1000 and throw it in the tub while I was taking a shower, I used facial tissue because you can really see when it gets wet. So, there it floated, and got kicked around a couple times while I took my shower, and I am happy to report that the Otterbox 1000 protected the tissues from getting wet.
As for the comparison section of this review, well there really is no comparison to an Otterbox, I'm sure there are some of you out there that might argue that point, but to those that wish to argue about it I have to ask: Do you own and Otterbox?
The Otterbox 1000 is just one of many products that Otterbox makes to protect your valuables, they make specific laptop cases for varying sizes of laptops, they make Ipod cases, Zippo cases, and many other types of cases that will protect your stuff. If you have never heard of Otterbox, stop by there site and browse around, they have some really cool and useful products.
Find more Otterbox products at ShopZilla!
Summary:
Bottom line is that if you want a case that will absolutely protect your belongings from the elements or just the everyday routine, then an Otterbox is for you. The Otterbox 1000 is great for carrying your little stuff around with you, whether you are hiking up a mountain or trekking through the urban jungle, the Otterbox 1000 will insure it arrives safely. Otterbox products feature a lifetime guarantee as well, that in itself is something special. As I mentioned earlier I own an Otterbox laptop case, and now I have the Otterbox 1000 as well, I can honestly recommend their products to everyone I meet.
DragonSteelMods gives the Otterbox 1000 a 5 out of 5 score and our Recommended Award as well.
Pros:
-Water-proof
-Tough and rugged
-Quality made
-Easy to use
-Lifetime guarantee
Cons:
-none
I would like to thank Otterbox for the chance to review the Otterbox 1000 and for their support of DSM.
Find more Otterbox products at ShopZilla!