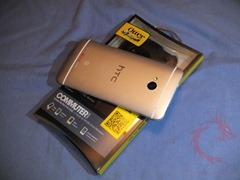 I'm back with another video review for you of the Commuter Series case for the HTC One from OtterBox. If you need a rugged case that will protect your phone then an OtterBox is what you want surely. Read on…
Tech Specs,Features or the Basic Info
As the protective case partner of the made for HTC devices, we worked closely with HTC to design the ultimate case for the HTC One — resulting in a lineup of cases with precise form, fit and function that complements every innovative feature of this device. The Commuter Series HTC One case is one result of this collaboration. You can thank us later.
Unlike many cases out there, the Commuter Series case for the HTC One is more than a good-looking, fashionable case. The Commuter Series is slim, sleek and attractive, but it is also extremely protective. With a slick exterior made of a hard polycarbonate plastic shell that allows your HTC One to slide easily in and out of your pocket and an inner silicone layer that acts like a cushion to absorb shock and impact, the two-layer Commuter Series case for the HTC One is made for on-the-go, always-on use. Staying protected — and connected — never looked this good. If you're looking for more robust protection check out our Defender Series HTC One case.
Features:
Limited 1-year warranty
Exterior shell is slick enough to easily slide in your pockets
All buttons and sensors are fully functional through the case
Silicone plugs provide access to all ports
All microphones are fully exposed for call clarity
Case allows for the use of camera and flash
Material:
Clear, self-adhering screen protector prevents scratches (comes with bubble squeegee and cleaning cloth)
Silicone inner layer absorbs bumps and shocks
Polycarbonate outer shell protects the device from impact
Weight & Dimensions
Approximate Weight: 1.56oz / 44.45g
Approximate Dimensions: 5.65in x 2.97in x 0.60in / 143.67mm x 75.52mm x 15.30mm
Price: $34.95  (from Otterbox at time of review)
Price: $25.99 from Amazon at time of review
Video Review
Photo Gallery
review# 786
Disclosure: This product was given to DragonSteelMods for review by the company for review purposes only, and is not considered by us as payment for the review; we do not, never have, and never will, accept payment from companies to review their products.
To learn more about our review policy, testing methods and ratings please see this page.