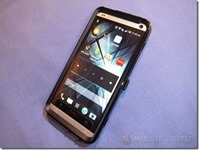 I've got an HTC One and I love it but it definitely needs to be in a case, so one of them I got was the Otterbox Defender Series and I recently reviewed it over on Mobility Digest, so stop on by and check it out..
Link: http://mobilitydigest.com/mobility-digest-review-otterbox-defender-series-case-for-htc-one/
Quote: "Today I have what turned out to be a rather large review of a case for a phone. When you think of cases for phones, you think of simple things and usually reviews for them are small. Somehow this review got really big with forty plus pictures in it, I'm not sure what happened but I guess I just had a lot to show you about this case. I think everyone by now knows that if you want one of the best cases for you phone then you buy an Otterbox case and that's what I have for review today, the Defender Series for the new HTC One Android phone. The Otterbox Defender Series is the top of the line case you can get if you want the most protection for your phone. This case offers multiple layers of protection from bumps, drops, scrapes, scratches and more and it even comes with a built-in screen protector and a belt clip so your phone will always be handy. So if you're looking for the ultimate in protection for your new HTC One, then read on…"