So these are for iOS right now, but I can use them with my iPod Touch and I'll be happy I think?! Anyway, add these to my Xmas list please, the Griffin Moto TC Mania R/C cars! One is controlled via Bluetooth and the other is RF or Radio Frequency. Full info and pictures below for you! You know you want one!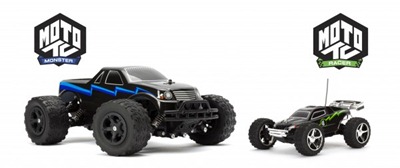 Griffin Technology, one of the world's foremost creators of innovations for everyday life, has announced its newest remote-controlled accessories – the MOTO TC Monster, available now, and the MOTO TC Racer, slated to launch in mid-November. Both vehicles feature touch controls on iOS devices powered by apps: the MOTO TC Monster App or the MOTO TC Racer App, respectively. Both put you in the driver's seat to create, record and replay custom routes.

MOTO TC Monster, available now for $59.99, is a remote-controlled monster truck that uses a Bluetooth connection to iOS devices for the controls. After downloading the free MOTO TC Monster App, users can drive in four different ways:
Touch: maneuver using a virtual steering wheel and throttle on the Multi-Touch display
Motion: control steering by tilting the iOS device
Slide: slide a finger across the Multi-Touch display to direct the truck
Tracks: drive using a series of preset routes already configured in the app, including figure eights and track laps

MOTO TC Racer, available beginning mid-November for $29.99, is a remote-controlled car that will feature a built-in RF (radio frequency) transmitter for easy set-up and automatic connection. After downloading the forthcoming MOTO TC Racer App, users can drive in one of two ways:
Joystick: maneuver using a virtual joystick and throttle on the iOS device
Motion: tilt the iOS device to steer the Racer
Both MOTO TC Monster and MOTO TC Racer require iOS 5.0 or later; and are compatible with iPhone 5, iPhone 4/4S, iPhone 3GS, iPod touch (3rd, 4th and 5th generations) and iPad (all generations).
Order your MOTO TC Monster today at store.griffintechnology.com/moto-tc-monster. The MOTO TC Monster App can be downloaded at itunes.apple.com/app/id529631918. Visit www.griffintechnology.com/moto-tc for more information on MOTO TC Monster and MOTO TC Racer. For more information about Griffin Technology, visit www.griffintechnology.com.