I think most of us have a fascination with Japan, be it for their Anime and Manga or just for their sometimes very off the wall stuff they come up with. Cellphone Charms are very popular in Japan and are slowly getting popular here in the United States, our friends at Strapya World have sent me a full set of Death Note cellphone charms for review and to giveaway. It's actually two full sets, or sixteen pieces, and these things are excellent in their quality and in the details that went into making them. So read on to learn more about them and how you can win one of fifteen Death Note Cellphone Charms, yep I said fifteen because I'm keeping one for myself….
Review and Giveaway: Death Note Limited Figure Collection Cellphone Charm from Strapya World
Tech Specs,Features or the Basic Info:
Death Note Limited Figure Collection Cellphone Charm from Strapya World
Death Note became movie, and stylish figure!
Death Note, a best selling Manga in Japan, have got a big hit by its stylish drawing and exciting story. If you don't know Death note, but don't you think each figure is so cool? These figures are items and character which took important role in the story.
Sorry, you can't specify the figure. It's a surprise until you open a pack. Unless you buy the entire set with display box, then you get all of them.
Model: 300-523492
Choices are:
-Apple bitten by Death
-Misa doll
-L's favorite coffee
-Death's Dice
-L's favorite chair
-Hamper used for captured Misa
-L's PC
-Death note Raito hid in his desk
$2.57 each US
A Better Look at Things
Here's a brief intro to Death Note from Wiki:
Death Note is a Japanese manga series originally written by Tsugumi Ohba and illustrated by Takeshi Obata. The series primarily centers around a high school student who decides to rid the world of evil with the help of a supernatural notebook that kills anyone whose name is written in it.
You can visit the Death Note Wiki and read everything if you wish for more detailed information, but if you follow Japanese manga and/or animation then you'll know that Death Note is extremely popular and needs no explanation…
Strapya World was kind enough to send me the entire Death Note Collection in the display box for review, the display box actually includes 16 pieces or 2 of each Death Note figure. The display box itself is very cool and highly detailed with lots of pictures including those of the actual pieces inside.
Inside the box each of the figure is encased in a cool triangular package, but there are no identifying marks so you don't know what you get.
For me to get pictures of each piece I have to open every package to get a complete set, but I kept eight of them sealed in their plastic bags as they were inside of the triangular package.
Each collectible cellphone charm comes with a Death Note and little pamphlet.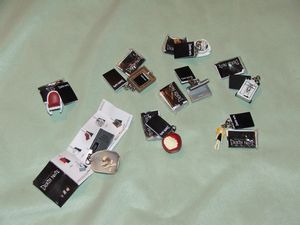 The eight collectible figures are:
-Apple bitten by Death
-Misa doll
-L's favorite coffee
-Death's Dice
-L's favorite chair
-Hamper used for captured Misa
-L's PC
-Death note Raito hid in his desk
The attention to detail is just amazing on these little tiny figures, you can click each picture above to get a larger view. The quality is excellent of the figures themselves and the clasps are nice and strong so you will not have to worry about loosing them.
They are made of PVC plastic so they should last for quite some time hanging from your cellphone or wherever else you wish to hang them from.
There really is no installation for these except attaching them to your cellphone so there's no need for that entire section in this review.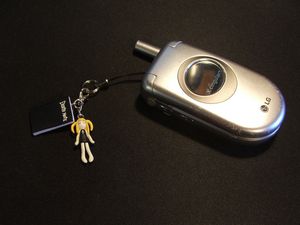 Summary and Comments:
Well we know the Japanese are a bit eccentric when it comes to technology and all things related to it, but cellphone charms are one of their more 'tame' ideas and are actually kinda cool.
So stop by on over at Strapya World and check out the hundreds of Japanese products that can be shipped right to your door very inexpensively.
DragonSteelMods gives the Death Note Limited Figure Collection Cellphone Charm a 5 out of 5 score.
Pros:
+Excellent details

+Great quality

+Durable, strong clasp
Cons:
review# 274