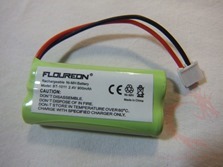 So I have an excellent cordless phone from Vtech, it's the LS6425 and I got it about six years ago and yes it still works great, but I needed a new battery for it and tried locally but they were expensive so I went to Amazon of course and found them very cheaply at under $8 for two of them. The batteries are from a company called Floureon and they're 900mAh in capacity and they fit perfectly in my phone. These batteries fit numerous brands besides the VTech that I have, but anyway, read on to learn more…
Tech Specs,Features or the Basic Info
Floureon 2 Packs Rechargeable Cordless Phone Batteries for BT1011 BT-1011 BT1018 BT-1018 BT1022 BT-1022 BT184342 BT284342 BT18433 BT28433
Specifications:
-Brand: FLOUREON
-Type: Replacement Battery
-Rechargeable: Yes
-Chemistry: Ni-MH
-Cells: AAA * 2
-Voltage: 2.4V
-Capacity: 900mAh
-Color: Fruit Green
-QTY: 2 Pieces
-Unit Weight: 25.00g
-Total Weight: 65.00g
Price: $7.66 (from Amazon at time of review)
The Review
The batteries ship in a small white box inside of a plastic bag and then the batteries themselves are individually wrapped in bubble wrap for protection.
The battery pack is small as it's essentially two AAA batteries stuck together with red and black wires and a connector coming out of it. The pack itself seems well made for what it is and it has basic specs listed on it for you.
The battery in my VTech LS6245 was only lasted about 8 minutes for talk time so I figured that didn't seem right and I need a new battery and went looking on Amazon and found these very inexpensively.
The original battery is 750mAh in capacity and these Floureon batteries are 900mAh in capacity which means I should get more talk time from them which is a good thing of course. The battery itself fits fine in the phone but the wires are slightly longer than the original battery which meant I had to twist and move the wires around a bit to get the back cover back on as the compartment is very tight, just enough for the battery really. Not a big issue but one worth mentioning I think.
I should note the batteries did arrive partially charged, it seemed about 75% when I put it in my phone.
Summary and Comments
So honestly I'm not sure if I get more talk time from these batteries when compared to the original capacity ones as I didn't test it since the battery needed replacing. I can say though that they work fine and I can talk a lot longer now than I could with the old battery installed.
I don't really talk much on the phone honestly, I spend time on hold more than I talk actually it seems, but I noticed I can sit on hold for a long time without worrying about the battery now.
The price is great I think, it's less than $4 for each battery. I checked locally at brick and mortar stores and the cheapest I found was $17.50 for a single battery, so this is a great deal.
As far as longevity, only time will tell as it were. I installed these on May 22nd and it's now July 2nd and they still work perfectly fine, still hold a charge and talk time doesn't seem to have changed at all.

DragonSteelMods gives the Floureon 2 Pack Rechargeable Cordless Phone Batteries a 5 out of 5 score.
Pros:
+
Very inexpensive

+
Larger capacity than original

+
Works fine so far
Cons:
–
None so far
Disclosure: I purchased this product for my personal use and thought a review would benefit other consumers in making an informed purchasing decision.
To learn more about our review policy, testing methods and ratings please see this page.