Not sure what to file this under, toys and gadgets or things for hobbies, but magnets are useful and fun. I've got a thing for magnets, don't know why, I love taking apart a dead hard drive and taking the magnets out to use for whatever as they're very strong. I've got magnets of all shapes and sizes floating around, they can be useful for all sorts of things, arts and crafts, hobbies or as a tool. Today I've got a 50 piece pack of round ceramic ferrite magnets from Mr Magnetus. These magnets are fairly large actually, much bigger than I expected honestly and they've inexpensive for the quantity you get I think. Read on to learn more…
Tech Specs,Features or the Basic Info
Mr.Magnetus – Ceramic Magnets – Ferrite Magnets Bulk for Crafts, Science, Hobbies, Art – Round Magnets (Disc) 0,7″x0.19″ (18x5mm), Y30, Grade 5 – Industrial Magnets 50 pcs. in 1 BOX!
THE MOST WIDLY USED MAGNETS
Ceramic Ferrite Magnets are the most widely used magnets, they are very great for Science, Crafts, Office, Home, school projects, Hobbies, Art, Product Manufacturing applications.
SPECIFICATIONS
Mr.Magnetus – Our Industrial Magnets are made from Magnetic material contents including ferric oxide, barium and strontium.
-Diameter: 0.709″ (18mm)
-Thickness: 0.197″ (5mm)
-Magnet Type: Disc Ferrite/Ceramic
-Strength: Y30, Grade 5
-Qty: 50 pcs/Box
-Extras: Magnetized through 0.197″ (5 mm)
DURABLE MAGNETS
Ceramic disc magnets are made with Grade 5 hard ferrite magnetic material with high magnetic flux density and coercive force, remarkable resistance against corrosion that makes coating unnecessary
THE MOST INCREDIBLE DEAL – 50 MAGNETS in 1 BOX!
You get 50 High Quality Bulk Magnets for the best price! 50 Craft Magnets in 1 Box – this will be enough to implement all your creative potential.
UNLOCK YOUR CREATIVE POTENTIAL
Make your own fridge magnets, small signs, whiteboard magnets, magnetic buttons, locker magnets, bottle cap magnets and all kinds of arts and crafts. Your imagination is boundless!
Price: $15.99 (from Amazon at time of review)
The Review
The magnets ship in a small white box with the Mr Magnetus logo on it and inside you'll find ten neatly wrapped stacks of five magnets in each stack. The magnets are wrapped in tissue paper to protect them during shipping and to keep them apart to help you get to them easier.
The magnets are much larger than I expected. I've bought other magnets before and they were tiny, just smaller than I expected really, but these are larger than I expected so that's a good thing.
The magnets are about 3/4 of an inch across and almost 1/4 inch thick. The exact dimensions are 0.709″ (18mm) in diameter and 0.197″ (5mm) thick. To give you a better idea or example, they're almost exactly the same diameter of a dime.
The magnets are fairly strong but not as strong as neodymium ones are though which isn't a bad thing exactly. They are a bit difficult to get apart yes and they can snap back and pinch you if you're not careful.
Summary and Comments
Not sure exactly how one goes about reviewing a magnet but I'm doing my best here. For the price I think these are well worth it, you get 50 of them for about $16 and they are a decent size, much larger than I expected them to be.
These are ceramic ferrite magnets and that means that they can chip if you're not careful with them. That's not exactly a 'con' though as that's just how ceramic magnets are, you just need to be careful and not let them snap together.
These are more than strong enough to hold papers on the fridge that's for sure. All in all I like them, I'm sure they'll be put to good use.

DragonSteelMods gives the Mr. Magnetus 50 Pcs Ceramic Magnets a 5 out of 5 score.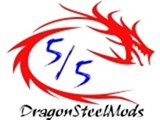 Pros:

+Packaged well

+Inexpensive

+Nice size
Cons:

-Can chip fairly easily
if not careful

Disclosure: This product was given to DragonSteelMods for review by the company for review purposes only, and is not considered by us as payment for the review; we do not, never have, and never will, accept payment from companies to review their products.
To learn more about our review policy, testing methods and ratings please see this page.