I've got a quick review for you today of a small but useful product, it's a 3350mAh USB battery pack for mobile device from a company called Ombar and it's called the iJuice. The capacity is small yes, but it's good enough for at least one charge for most device making it great for emergency situations. Put it in your bag or purse and you'll have power when you need it. Read on to learn more…

Tech Specs,Features or the Basic Info
Ombar iJuice 3350mAh Portable Charger External Battery Pack for iPhones,Smartphones and more – Grey
Lipstick Design
The sleek, unique design will not only let you stand out from the crowd but also let you recharge your devices in style.
Portable & Convenient
Ombar iJuice is a lipstick-sized and just with the weight of 79g.
It is easy to hold in hand or to put into pocket or bag.
Making it an ideal emergency power backup in lots of different situations, e.g. party, BBQ and outdoor activities like camping, mountain climbing and picnic.
3350mAh Capacity
3350mAh Capacity can charge up your iPhone 6 1.2 times or Samsung S6 Edge 0.9 time.
Widely Compatible
Ombar iJuice with the micro USB output port is compatible with most smart devices with DC 5V input, e.g. smartphones (iPhone,Android), tablets, PSPs, Bluetooth speakers, amp, headphones and so on.
Specifications
Capacity: 3350mAh x 3.6V=7.92 Wh
Battery type: Lithium-ion battery cell
Input: DC 5V 1.0A (max)
Output: DC 5V 1.0A
Size: 3.74 x 0.86 x 0.86 inches
Weight: 71 g / 2.8 oz
Price: $9.99 (from Amazon at time of review)
The Review
Let's start with a video  unboxing and then move on:
The packaging for the iJuice is a nice looking box with plenty of information on it about the product inside.  Once you get it opened and unpacked you'll find the battery, micro USB cable and user guide. The micro USB cable is used for charging the battery itself and can be used for charging your stuff too.
The battery seems well made, it has a metal casing and a clip on the side. The iJuice is about 3.75 inches long, it's round and it's almost an inch in diameter so it's very portable and won't take up much space at all.
On one end you'll find the standard UBS port for charging your stuff and then the micro USB port for charging the battery itself.
The first thing you'll need to do is charge the battery and there's an LED on it to let you know it's charging.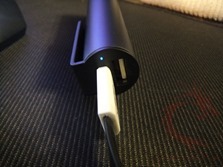 For testing I charged my Samsung Galaxy S6 Android phone and it seemed to work fine. It was a bit slower than normal but I didn't expect fast charging either. There's an LED that lights up when charging to let you know it's working.
Summary and Comments
The Ombar iJuice is a simple product but it can  come in handy to give you extra power when you need it most.
It's not a bad little battery, and yes it's small making it very portable so you can easily take it with you on the go.
It works fine but it is slow to charge your devices, then again I don't think anybody expected it to be a fast charger either.
It is what it is and it's fine really, it works.

DragonSteelMods gives the Ombar iJuice a 4.5 out of 5 score.
Pros:
+Small and very portable
+Well made
+Simple to use
Cons:
-Slow charging

Disclosure: This product was given to DragonSteelMods for review by the company for review purposes only, and is not considered by us as payment for the review; we do not, never have, and never will, accept payment from companies to review their products.
To learn more about our review policy, testing methods and ratings please see this page.