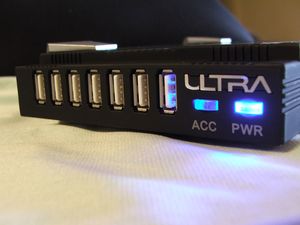 With so many things running off of USB today it's very easy to quickly run out of USB ports on your computer for all of them. One solution would be to not have so many things but that's not going to happen, so the next solution would be to get a USB hub to add a few extra USB ports to your computer. There are many types of hubs out there today and most are small, offering three to four extra ports, these are powered off of your computer and are usually very portable. Sometimes though we might need more ports than what a little portable USB hub can supply, let's face it we're lazy creatures and just leave everything plugged in, after all it's just such a pain to unplug something to make room for something else isn't it?! Anyway, when you get over three-four additional USB connections there then becomes a need for an external power source as your computers' USB port just can't power more than that.
Ultra Products has introduced an entirely new line of products called Stackables, and I have to say they are very cool and useful. The Stackables line consists of assorted accessories that can be stacked, or used on their own as a stand alone product. I've got the entire line of Ultra Stackables here for review, but we're going to start with the Stackable 7-Port USB 2.0 Hub and more reviews will follow as the days go by of the rest of the line up. The 7-Port hub is just what it sounds like, it adds seven more USB ports to your computer for you to fill up with all those gadgets and gizmos you have floating around. What's interesting about the Stackables is that they all come with their own power supply or can be combined and stacked to be used with the special Stackable Power Supply, eliminating the need for that external plug, but we'll get into that later, for now read on to check out the Ultra Products Stackable 7-Port USB 2.0 Hub…
Review: Ultra Stackable 7-Port USB 2.0 Hub
Tech Specs,Features or the Basic Info:
Ultra Stackable 7-Port USB 2.0 Hub
Product Part # ULT33056
MSRP $49.99
Stackable 7-Port USB 2.0 Hub
Ultras new portable, stackable 7-port hub lets you dramatically expand your digital capabilities. Simply connect a USB cable from the 7-port hub to your PC, and youre in business! Youve got a compact source for the quick transfer of digital data from multiple sources. You can place the Ultra 7-port hub in three different positions. You can stand it up by using the foot stands provided in the package. You can lay the unit down by using the four rubber feet also provided. Or you can stack units right on top of each other. Think of all you can accomplish with your Ultra 7-port hub. You now have the ability to create a full service office thats ideal for a small business or corporate division.
Specifications:
Ports: 7
Speed: 480Mbps
Dimensions: 184 x 122 x 28mm
Weight: 250.5g
Input: DV 12V 2A
Features:
Hot Swappable
Plug and Play
7-Port Full Speed USB 2.0 Hub
LED Indicator
Portable and Stackable
Supports Windows 98SE/ME/2000/XP/Vista and Mac 9.0 and above
A Better Look at Things
:
The packaging for the Ultra 7-Port USB 2.0 Hub is bright and colorful and full of information all about the USB hub. There's plenty of pictures and of course the specs and features listed as well.
Inside the box you'll find another cardboard pack that has compartments for each part of the hub. Inside you'll find the hub itself, external power supply, USB cable, rubber feet, plastic stand, user guide and a warranty card.
The hub is made mostly of plastic, is very lightweight and attractive. Across the front you'll find all of the USB ports and two LEDs for activity and power.
Since this is a Ultra Stackable, both the top and bottom have indentations for the rubber feet, the rubber feet get attached to the bottom of a Stackable and sort of lock into place to the one underneath.
On the back of the 7-Port USB Hub is the power connection and the USB cable connection.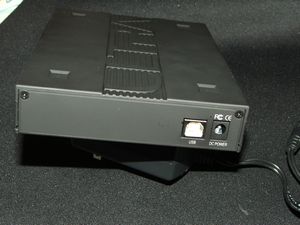 You can mount the Ultra 7-Port USB Hub vertically using the included silver plastic stands if you wish, this helps to save limited desk space and work if you aren't using the Stackables system.
Overall the 7-Port USB 2.0 Hub from Ultra feels well made, it is very lightweight making it portable if need be. It is plastic, but it has a rubber like non-slip texture to it, it's attractive and should match most systems.
Installation, Testing and Comparison
There's really nothing to the installation process just plug it in and Windows XP/Vista will recognize the Ultra 7-Port USB 2.0 Hub and automatically install it for you, very easy indeed…
It does feature two bright LEDs, one is blue to indicate power and the other is red to indicate activity.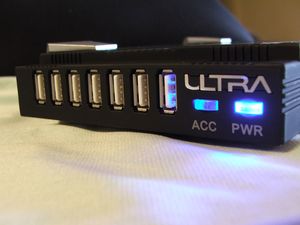 Here's a quick shot of all of the Ultra Stackable that I have put together, on the bottom is the power supply, then the USB hub, HDD, card reader and another HDD enclosure.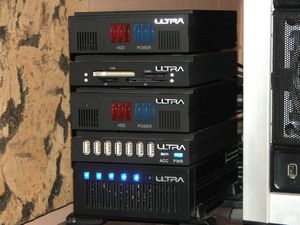 I ran HDTach from SimpliSoftware to get some quick benchmarks of the speeds and compared it to a direct connection to my PC. I used my OCZ ATV Turbo 4gb USB drive for the testing. In the following screenshot of HDTach comparison graph the RED colors are for the Ultra 7-Port Hub speeds, and the BLUE is for the direct to PC connection.
For the most part the speeds are pretty much even except for burst speed where we see a slight drop while using the Ultra Hub, and you'll also notice an increase in CPU utilization as well by approximately 3% while using the Ultra 7-Port Hub. While I'm sure you really won't notice the differences in real-time, there is a difference while using the Ultra Hub, still though it's quite fast in comparison and of course it all depends on the speed of the device you are using as well.
Summary:
If you need to add more USB ports to your computer then the Ultra Stackable 7-Port USB Hub is the way to go, it's well made, looks great and it offers fast data transfer rates.
While it's not quite as fast as a direct USB connection, it's still very fast and I don't think you'll really notice the difference in speed, just having the additional USB ports more than makes up for the small decrease in transfer speeds.
The Ultra Stackable 7-Port USB 2.0 Hub is somewhat portable as well, if you wish to carry the external power supply with you that is, but many portable devices require this so it's really nothing new to us. The way to go though is with the entire Ultra Stackable line of devices, well not all of them, but just what you need really, they are truly of useful sort of accessories…
DragonSteelMods gives the Ultra Stackable 7-Port USB 2.0 Hub a 4.5 out a 5 score.
Pros:
-Well made
-Dual powered
-Lots of USB ports
-Looks cool
-Dual mounting options
-Lightweight
Cons:
-A little bit slower than direct USB connection
I would like to thank Ultra Products for the chance to review the Ultra Stackable 7-Port USB 2.0 Hub and for their continued support of DSM.
review# 316