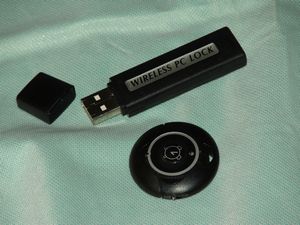 PC security is something that most people take seriously at least the software end of it, they go out and buy anti-virus software, firewalls, spam blocker, pop-up blockers etc. Most people don't think about what happens when they walk away from their computer to go the restroom, fill up their coffee or whatever, most people just leave their PC unattended and open for anyone to access.
I've got a little gadget today that can solve that problem and has the ability to act as a parental control as well, it's called the USB Wireless PC Timer lock and it's from our friends at USBFever. It's very easy to use and comes in quite handy to secure your PC if you forget. It works with two parts, a transmitter and receiver that are wirelessly connected to each other. One part looks like a USB thumbdrive that plugs into your computer, the other looks sort of like a small car security key fob. When these are separated by more than two meters your PC will lock, and only a password or bringing the fob back into range will unlock your PC. There is a timer that you can set using the key fob to allow access to your computer for a set amount of time as well, this can be very useful for parents who want to limit their childs time on a computer. So read on, it's a interesting and useful little gadget that adds a bit more security to your computer…
Review: USB Wireless PC Timer Lock
Tech Specs,Features or the Basic Info:
Product Code#:E114-B015
Price: US$24.99
Highlights:
If you think our PC Lock is still not enough, then we have another option that definitely will be right for you!
It is wireless! It locks your PC if you are away more than 2 meters, otherwise, keep unlock!
Features:
– USB interface
– Wireless
– Effective range: around 2 meters
– The computer automatically enters "Lock Mode", when the user is away from computer for around 2 meters
– The computer automatically resumes normal operation when the user is back to an effective range
– Dual control – either unlock by a password or by the transmitter/receiver
– Timer Range to lock (for locking after PC is unattended): 1 minute to 8 hours
– The Remote itself can be turned off for saving attached battery's power
– A LED will be flashing when the Remote is on to remind you that it is on.
– 1 Remote can be using more than 1 computer.
– Attachable to your key chain.
– Lightweight
Compatible with:
– Works with Windows 98SE/ME/2000/XP
Package Contents:
– PC Lock x 1
– Remote Control (battery included) x 1
– Driver CD x 1
A Better Look at Things
:
There's not much to this product, it comes packaged in a sealed plastic clamshell that you'll need to cut open to get at the contents.
Inside you'll find the USB Dongle, key fob, software/driver disc and a mini lanyard attachment for your keychain. The batteries come pre-installed in the remote, you just need to pull the plastic tab to make the contacts.
Installation, Testing and Comparison
Installation is fairly easy, it does come with batteries installed so that's a nice bonus there, if you need to change the battery in the remote it uses a readily available watch type battery.
You'll need to install the software first, then it will prompt you to plug in the USB transmitter/receiver to recognize it and finish the installation process.
Once installed you'll need to create a password that you can use to unlock your computer if you loose the remote, or the battery dies or you just feel like entering a password.
After that there are only two options available from the menu, and that is the Password Rescue feature and the Time of Lock settings. The Time of Lock setting is to change how long it takes for the computer to lock after the transmitter is taken from range, the Password Rescue is just that, if you forget your password you'll need to answer questions to reset it like most other applications allow.
You can also use the button on the remote to set a locking time as well, continually pressing it adds more time up to eight hours. This can be useful as a type of parental control as well where you can limit your child's access while you are away.
The USB Wireless PC Timer Lock does put a small icon in your taskbar that also gives you a short menu when right-clicked.
There's not much to actually using this gadget, once the software and USB dongle are installed you're basically ready to go, to make it work you just need to get out of the 2 meter range of the transmitter. It works and works well, but it doesn't work on dual monitor setups, it will only lock the main monitor so if there's anything on the secondary monitor those things can still be accessed possibly.
Summary:
All in all the USB Wireless PC Timer is a cool little product that has a couple uses that people might appreciate. The idea that you can lock your PC automatically if you walk away is something that might appeal to many people who might need the added protection that it can offer.
I can also see this device used at lans where you don't want someone messing around with your PC while you're in the restroom or wherever…
DragonSteelMods gives the USB Wireless PC Timer Lock a 4.5 out of 5 score.
Pros:
-Small, portable
-Easy to use
-Adds security if you forget
-Great for lans
-Great as a parental control device
Cons:
-No instructions
-A bit overpriced
-Only single monitor locking
I would like to thank USBFever for the chance to review the USB Wireless PC Timer Lock and for their continued support of DSM.
review#339